Liverpool's Luis Suarez and Uruguay's Copa America Run on the Brink of Glory
July 22, 2011
Lars Baron/Getty Images
Liverpool's No. 7 Luis Suarez scored a goal at the death of the first half in Uruguay's opening Copa America match versus Peru on July 4th, 2011. His effort unfortunately would only result in a 1-1 draw. 
A tough test saw La Celeste come out with only a point, while Chile took the lead in Group C with a 2-1 victory over Mexico that same day.
From then on, Uruguay were playing catch up in the group stage as they pushed for a chance to claim their first Copa America title since 1995. The team would have a chance to at least tie for the group lead when they faced Chile four days later.
This time Uruguay took a 1-0 lead through a goal for FC Porto fullback and now Liverpool target, Alvaro Pereira at the 53rd minute.
Shortly after, Luis Suarez nearly made it 2-0, but it would be the Uruguayans' turn to feel the sting of an equalizing goal. Just nine minutes after they had taken the lead, Chile's 22-year-old Alexis Sánchez would net a 64th minute goal to bring the game level.
It would result in the same end score and Uruguay would be sitting third in Group C with only two points.
However, they would have one last shot to move on as they still faced a win less Mexican National side on July 12, 2011.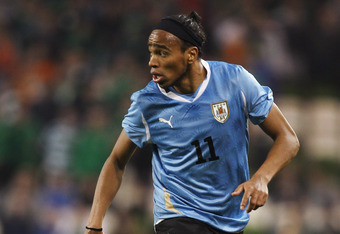 Ian Walton/Getty Images
Once again Alvaro Pereira would be the lone goal scorer for the Uruguayans as a Diego Forlan free kick was miss handled, and the fullback struck taking a 15th minute lead.
It would prove to be all they needed as they finished the Group with five points and in second place thanks to Chile defeating Peru.
With that a tough Group stage led to an even tougher match up in the first knockout stage as Suarez and company would now face their toughest test of the tournament when they faced off against their geographical neighbors Argentina.
La Albiceleste had been the heavy favorites to win the tournament thanks to their superstar rich squad that boasts some of the top talent in the world including Barcelona sensation Lionel Messi.
Argentina had booked their place after they too had faced a tough group stage but achieved a victory on the last day to finish second in Group A.
The stage was set for an exciting game and they two teams delivered just that. Uruguay took the lead through a fifth minute goal from 31-year-old midfielder Diego Pérez after he had already received the first booking of the night in the second minute.
Uruguay's lead would not last however as Real Madrid front man Gonzalo Higuaín would put his side back on level terms at the 18th minute.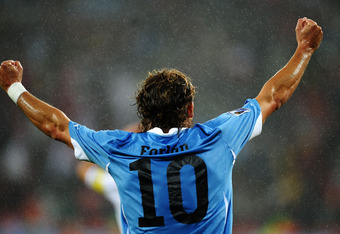 Laurence Griffiths/Getty Images
Disaster would soon strike for Luis Suarez and company as their goal scoring hero of the night would become their own enemy when he was sent off seven minutes before half time, leaving his side a man down with over 50 minutes left to play.
Argentina however, would not be able to take advantage as the Uruguayan defense dug in for the rest of regular time, plus lasted through all of extra time to take the game to penalties.
Lionel Messi and Diego Forlan were the first to step to the line for their nations and both scored. The second set paired AS Roma defender Nicolás Burdisso against Luis Suarez, and again, both struck the back of the net.
It would be the next round of kick takers that would set the drama off even more as Carlos Tevez stepped to the line and failed for Argentina, and 35-year-old Colo Colo defender Andrés Scotti, who had been a 19th minute substitute, stepped up and put his side in the lead 3-2.
Javier Pastore, another highly tracked name this summer, stepped up and scored immediately to give Argentina hope, but it was lost on the next goal for Uruguay from Napoli midfielder Wálter Alejandro Gargano who was a last minute substitute in anticipation of the shootout.
Argentina would again draw level as their goal scorer Higuaín stepped up and leveled once again placing all the pressure once again on Uruguay. As 24-year-old Sevilla defender José Martín Caceres walked to the spot it was time to shine, and that did.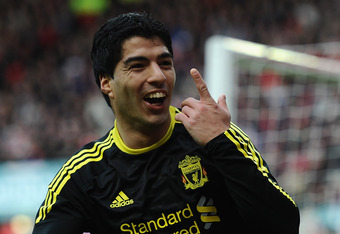 Laurence Griffiths/Getty Images
His penalty saw his nation on to the semifinals where they would face off against Peru, and they again proved the better of Argentina just as they had done in the World Cup last summer.
Luis Suarez took center stage for his nation in the semi-final match as he delivered a brace, scoring two goals in five minutes of each other at the 52nd and 57th minutes of the second half.
He was then subbed off as his coach looked to save him for the possible impending final this coming Sunday. Indeed his substitution proved a good move as Uruguay are set to win their record 15th Copa America and gain the all-time lead from Argentina in the competition.
Suarez recently was interview on Liverpool's official site with these comments about the upcoming final against Paraguay, which he faces before returning for the Reds final three preseason matches, as well as his chance of securing the golden boot for the tournament:
"Being top scorer is not the important thing for me," said Suarez. "The main issue is the collective dream of winning the Copa.

"Personal stuff is secondary to that."
The Liverpool forward also had this to say about the possibility of taking a record 15th title and about the status of Uruguayan national level football:
"We'll not forget about those titles (but) we are thinking about the present, about carrying on winning. Uruguay are not going to waste time celebrating past achievements and past titles won."

"The U20 team has been doing well, qualifying for the London Olympics, while the U17 side were runners-up at their World Championship and we were fourth at the World Cup in South Africa. Now we are in the final of the Copa."
Liverpool fans worldwide wish our man the best of luck for himself and his country this Sunday. You'll Never Walk Alone Suarez, and of you, "We Just Can't Get Enough."
You can follow me on Twitter @thedailyatz and on Facebook.