LSU Football: LSU Has Cleared the Air with the NCAA, Oregon Still in Trouble
July 17, 2011
Chris Graythen/Getty Images
Back in February 2011 a sports story came out questioning the relationship of Willie Lyles of Houston, Texas, and the University of Oregon.  At question is the school's payment of a large amount ($ 25,000) of money to Lyles for recruiting services that he provided to Oregon for Texas high school football players, in particular those that eventually signed with Oregon.
The underlying tone of this issue are the accusations saying that Willie Lyles was paid to steer players like LaMichael James and Lache Sistrunk and possibly others to sign with Oregon.   
While it is common for all major schools like LSU and Oregon to contact and pay for information and DVDs on potential players they are interested in,  Oregon's financial accusations have made any school having contact with Willie Lyles a subject of interest.
In the mist of this story, LSU's name was also mentioned, as they had paid Willie Lyles $ 6,000 for his services and for information on players mainly in Kansas and Texas.
Last week, the LSU football coaches sat down with the NCAA and had a question and answer session regarding the school's dealings with Willie Lyles and the recruiting services that he provided to LSU. 
During this session the coaches were very candid and they addressed LSU's involvement in detail. It appears they have cleared the air with the NCAA regarding their payment and use of Willie Lyles' recruiting services.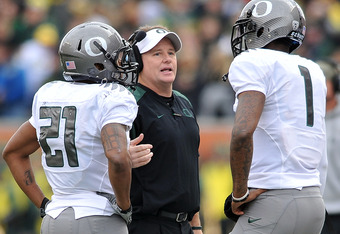 Steve Dykes/Getty Images
In light of this story, LSU only signed one player from Junior College in Kansas, Zack Mettenberger, and one high school senior, Trevon Randle from Houston,Texas.
Of the two players signed by LSU, Willie Lyles was only involved with Trevon Randle.  But, according to Randle's high school coach, LSU assistant Brick Haley was accompanied by Lyles on a recruiting visit to see Randle.
However, no particular influence was given by Lyles to help LSU with Randle, and the school is not accused of any questionable payments or other involvements with Willie Lyles. So even though Brick Haley's visit with Lyles was certainly ill-advised the school has not been accused of any wrong doings with its recruitment of Randle. 
The NCAA persons that visited LSU did not do so as a pre-investigation or accusation of wrong doing on LSU's part, but LSU wanted to sit down with the NCAA and discuss all contact the school had with Willie Lyles and how they used the recruiting services that he provided.
Even though LSU's visit with the NCAA appears to have cleared the air for LSU,  it seems that Oregon's interview will take on an entirely different air.
Oregon's payments of $25,000 are substantial and the fact that they signed players like LaMichael James and Lache Sistrunk, which are two players known to have a close relationship with Willie Lyles, they will become central to this investigation. .
Of further interest to this story is Darron Thomas, the Oregon quarterback who was originally committed to LSU but changed his mind at the last minute and signed with Oregon.  So, with both Lache Sistrunk and Darron Thomas being two big recruits that were very high on LSU but then changed their minds at the last minute to sign with the Ducks makes this story just a little more interesting.
As an addition to the drama, it is said that Lache Sistrunk's mother wanted him to sign with LSU, but that did not happen. 
According to news reports, Oregon has now hired a law firm with a former NCAA enforcement staffer as one of the lead lawyers to represent them in this matter.  
In most criminal investigations, it is a general perception when a suspect hires or requests a lawyer while being questioned or investigated a possible sign of guilt.  I am not going to say that is the case with Oregon, but the presence of a lawyer does not look good.   
Willie Lyles even says that he was paid by Oregon to make sure the student athletes that commit to Oregon are scholastically eligible and that they fulfill their commitment to sign with Oregon.  I am afraid this sounds very suspect to say the least.
Also, during an interview recently, Lyles stated that earlier this Spring he put a 2010 booklet together at the request of Oregon prior to the breaking of this story.  In that package he gave mostly an outdated and somewhat incomplete 2009 list but it had very little about 2010, so the book was of little use to anyone.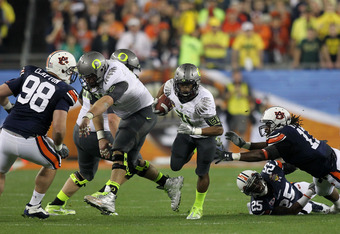 Jonathan Ferrey/Getty Images
Futhermore, Willie Lyles now confesses in his interview that he went beyond just providing a recruiting service for Oregon when he was paid and even says he made a mistake, and admits he is big enough to admit it and say he was wrong.
One more thing that looks bad for Oregon is the fact that Oregon paid a $25,000 check to Willie Lyles on March 2010 just after Lache Sistrunk signed with Oregon.
Obviously the timing was very bad, but the fact that Lyles did have a strong relationship with Sistrunk will not look good either when all of this is brought out in an investigation.  
When Willie Lyles sits before the NCAA in an investigation and under questioning, these statements he is making publicly will weigh very heavily against Oregon in this matter.
In light of Willie's statements, it may be in Oregon's best interest to just cut their loses with lawyers and other expenses and come clean with the NCAA.
The NCAA will not like it at all if Oregon is found holding out, hiding, or trying to deceive them in this matter.  If Lyles just tells the NCAA what he is telling the public, and can prove it,  Oregon will have little to stand on. 
The big question will be, How believable is Willie Lyles in the eyes of the investigators? 
No matter how good Coach Kelly has been at preparing his teams and focusing on the game at hand, this issue with Willie Lyles could become a large distraction for the Oregon Ducks when they prepare to meet the LSU Tigers on September 3rd in Cowboy Stadium, Dallas, Texas.  
I guess the best thing for Oregon at this point is that the NCAA is usually very slow with their investigations, and a full investigation of this matter will probably not come out for some time in the future.