Hope Solo: 5 Fun Facts About Team USA's Star Goaltender
July 11, 2011
Martin Rose/Getty Images
Hope Solo, goaltender for the U.S. women's national team, is quickly becoming one of the most recognizable female athletes in the world. She's got a lethal combination of being stunningly attractive and having the raw talent to legitimize her in her sport.
She's outspoken, confident and currently leading the US through the World Cup with her world-class goalkeeping.
Here are five facts about America's favorite goalkeeper.
Hope Solo was a Parade All-American forward
Hope Solo didn't always play in the box. She was a two-time Parade All American at Richland High School. It wasn't until she went to Washington that she was moved to the goalkeeper position. Solo scored 109 goals in high school, taking her team to the state championship in her senior season.
Solo was a three-time All-American in college
Solo made the transition to keeper fairly easily. She was a natural for the position and became a three-time All-American goalkeeper. She made the All Pac-10 team in each of the four years she attended Washington and enjoyed a record breaking career there despite being new to the position.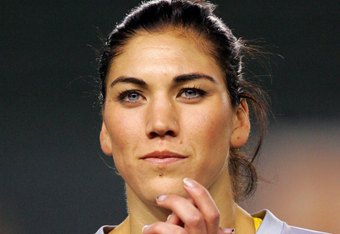 Victor Decolongon/Getty Images
Solo's Tweets have landed her in hot water
Solo once went on a rant about officials' integrity that landed her a one-game suspension and a $2,500 fine. Another one of her moments of controversy on Twitter came after a game against the Boston Breakers, when she Tweeted,
"To all the Boston fans and especially the young children that I didn't sign autographs for I'm sorry. I will not stand for ... An organization who can so blatantly disrespect the athletes that come to play. Perhaps the WPS or Boston themselves ... Can finally take a stance to the profanity, racism and crude remarks that are made by their so called 'fan club' ... To the true fans, I hope to catch you at the next game. Thanks for your support and love for the game."

Solo isn't afraid to speak her mind on the pitch, computer or anywhere else.
Solo got benched in the 2007 Women's World Cup
While Solo is regarded as a world class keeper, she saw the bench just four years years ago. Coach Greg Ryan benched Solo for Briana Scurry. After losing the match 4-0, Solo had this to say,
"It was the wrong decision, and I think anybody that knows anything about the game knows that. There's no doubt in my mind I would have made those saves."
The US went in a different coaching direction and haven't looked back since. Some questioned Solo's attitude, accusing her of not being a team player. The perception of her has taken a complete 180 degree turn.
Solo has an Olympic gold medal
Just one year removed from the 2007 Women's World Cup debacle, Solo took her team to the 2008 Olympics, where she earned a gold medal by taking down Brazil in a shutout victory, 1-0. Solo's road to redemption had been complete and her presence on the US team had been validated once and for all.