Could the Philadelphia Phillies and Atlanta Braves Meet in the NLCS?
July 11, 2011
Hunter Martin/Getty Images
Despite the 14-1 shellacking that the Phillies gave the Braves earlier on Sunday, I believe the first two games of the series are much more indicative of how evenly matched these two teams are.
In my opinion, these two squads are the best teams in the National League (the Giants are up there too) and could very well meet in the NLCS.
Just to show you how evenly matched these two teams are, listed below are some team statistics.
Pitching
Team ERA: Atlanta (1) 3.02 , Philadelphia (2) 3.04
WHIP: Philadelphia (2) 1.17, Atlanta (4) 1.18
K/BB: Philadelphia (1) 3.12, Atlanta (4) 2.68
Bullpen ERA: Atlanta (2) 2.90, Philadelphia (9) 3.24
Batting 
Runs Scored: Philadelphia (16) 370, Atlanta (18) 360
HR: Atlanta (9) 95, Philadelphia (18) 77
AVG: Philadelphia (21) .247, Atlanta (26) .239
Although both teams' pitching staffs have similar statistical numbers, they get the job done in completely different varieties.
With the current fearsome threesome of Roy Halladay, Cliff Lee and Cole Hamels, Charlie Manuel wants his starters to go deep into games. When Oswalt gets back maybe it'll be back to the fearsome foursome. The Phillies' 11 complete games leads Major League Baseball. Atlanta has just three.
The Phillies bullpen has been the biggest surprise of the first half so far. With Ryan Madson, Brad Lidge and Jose Contreras currently on the disabled list, Antonio Bastardo and Michael Stutes have done a stupendous job. In 33 innings pitched, Bastardo has a minuscule 0.82 ERA. He's doing a great job of locating his fastball and controlling his sweeping slider. Stutes got roughed up on Saturday night, but in 30.1 innings pitched, Stutes has a 3.26 ERA to go along with a 1.15 WHIP.
Another name to keep an eye on is Juan Perez. In the 10th inning last night, he became the first Phillies pitcher to strikeout the side in nine pitches since Andy Ashby in 1991. Control is his issue, but when he has his command his slider is tough to square up. He complements the slider with a mid-90s fastball.
Atlanta likes to get quality starts from Jair Jurrjens, Tommy Hanson, Tim Hudson, Derek Lowe and Brandon Beachy. From there, they hand the ball over to their deadly bullpen. 
The starting staff is a nice mix of youth and playoff experience. Hanson and Jurrjens have been the best statistically, while Lowe and Hudson provide the coveted playoff experience.
Jurrjens leads the NL in wins (12) and ERA (1.87). Hanson has won five of his past six starts. He's fifth in the NL in ERA (2.52) and is 10-4 on the season.
Hudson and Lowe aren't having their finest seasons, but both lead the NL in ground ball ratio.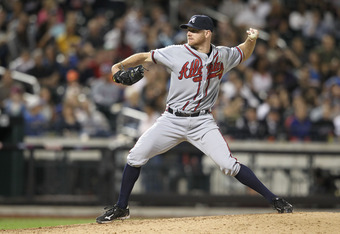 Nick Laham/Getty Images
Atlanta's bullpen ERA (2.90) is currently second in baseball. 
Jonny Venters has a 96-97 mph sinker to go along with a nice slider. He leads all relievers in appearances (50) and has accumulated a 1.49 ERA, a .98 WHIP and 58 strikeouts. Either he or Mike Adams of the Padres is the best setup man in baseball. Take your pick! 
Craig Kimbrel shuts the door in the ninth by striking everyone out. He has 70 strikeouts in 45 innings pitched. He's stepped into Billy Wagner's role quite nicely.
With the Phillies lineup filled with lefties, the Braves have two other effective left-handed options in the pen in Eric O'Flaherty and George Sherrill. 
Both the Braves and Phillies have struggled offensively. Philadelphia's been searching for a right-handed slugger to place behind Howard for months. Perhaps they'll go after a right-handed outfielder at the trading deadline.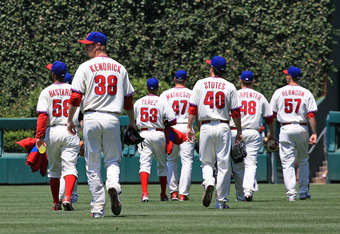 Hunter Martin/Getty Images
Victorino, in limited plate appearances, did a stellar job before landing on the disabled list. The Flyin' Hawaiian is the only Phillie hitting over .300. He also has nine long balls, 34 RBI and nine triples. 
Chase Utley has sparked the lineup since his return. He's currently on an 11-game hitting streak. 
Domonic Brown's average has crept up to .252 to go along with five home runs and 16 RBI. The balls that he hit hard earlier in the season are starting to fall.
The Braves are looking for someone to complement Brian McCann. In my opinion, McCann would be in the top three of my MVP ballot if I voted today. He's as clutch as they come. He's hitting .311 with 14 home runs and 48 RBI.
Rookie Freddie Freeman struggled early, but he's up to .278 with 13 home runs and 43 RBI. He has a solid eye at the plate.
Chipper Jones just went on the disabled list with a torn meniscus, so who knows what his contributions will be in the second half of the season.
Dan Uggla has been by far the most disappointing player so far. Although he's been better lately, his average is still just .185. He's tied for the team lead in home runs with 14. Thus far, he's either struck out or gone yard.
Jason Heyward's suffered a sophomore slump, Nate McLouth has yet to get it together and Jordan Schafer hasn't done his job at the leadoff spot. He does have fantastic range in center field.
As we head towards the second half of the season, I expect the Phillies to hold onto the NL East crown, but I don't think the Braves will go down without a fight. I'll say the Phils win the division by three to five games.
Let's speculate that these two teams do wind up meeting in the NLCS. Middle relief and base running will be the key if extra inning games are played.
I'd take the Braves middle relief over the Phils—yeah, I know the Braves relief got roughed up today—but Philadelphia has the advantage in base running.
Atlanta ranks dead last in stolen bases. Jordan Schafer is their only threat to swipe a bag. For the Phillies, Jimmy Rollins, Shane Victorino and Domonic Brown all have the ability to steal and put themselves in scoring position. Michael Martinez can pinch run and steal a bag.
With effective pitching and two struggling lineups, I expect a close NLCS with low scoring and a bunch of one run games. Ultimately though, I'd take the Phillies in six.
Of course, we'll probably wind up seeing Arizona and Pittsburgh duke it out for National League supremacy.
Please feel free to check out my podcast with PSB Braves writer John Morgo as we discuss some Phillies and Braves baseball. Morgo does play-by-play for baseball, basketball and hockey for Georgia Perimeter College, a JUCO in the Atlanta area.
http://www.talkshoe.com/talkshoe/web/audioPop.jsp?episodeId=510576&cmd=apop