Could Alabama Be Headed for Another 2004?
July 10, 2011
Alabama fans got some unwelcome news this week that one of their top running backs Dee Hart injured his knee and will be out for the year.  With two other running backs having transferred out after falling behind Hart, the once deep running back corps is looking shallower every day. 
In 2004 Alabama also began the season with a deep running back corps but things went terribly wrong.  Could Alabama be heading for another train wreck?
The top runner in '04 was Kenneth Darby, an experienced dynamic back who had speed, moves and power (sound familiar?).   
Behind Darby was a player most felt could be even more dangerous.  Ray Hudson, a north-south runner with blinding breakaway speed, also had some experience.
If that was not enough Alabama had Tim Casteel, a versatile and experienced runner who could play tailback, fullback, or even tight end.  Casteel was also a very dangerous receiver out of the backfield.
Finally Alabama had freshman scat back Aaron Johns.  Most expected him to redshirt.
Alabama started out winning their first three games but stumbled against Arkansas and South Carolina.  Then in a win against Kentucky they lost Ray Hudson for the year with an injury.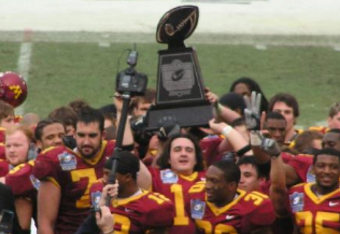 Alabama still had talent at running back and the team began to pull back together when they absorbed another blow at running back.  Tim Casteel badly injured his knee against Tennessee.  His injury was so severe he would never fully recover while at Alabama.  After several years he would recover to become a starting fullback in the NFL.
Kenneth Darby was the lone quality running back remaining.  He played with intensity and reckless abandon but the pounding eventually caught up with him.  His last effective game was a horrible loss to LSU in which Alabama ran him 35 times.
Alabama walked into Bryant Denny to face arch rival Auburn with a banged up Kenneth Darby and the  freshman scat back Aaron Johns.  The results were a disastrous 21-13 loss.  Johns was only able to get 24 yards in nine attempts.  Darby tried to play but averaged only 1.4 yards per carry on 14 attempts.
It got even worse in Alabama's bowl game in which they floundered against Minnesota in Nashville, losing 20-16.  In that game Alabama's leading rusher was wide receiver Keith Brown who ran once for 17 yards.
The question is can it happen again?  The answer is yes it can but, don't bet on it.
Alabama lost many players to injury in 2004 including the top two quarterbacks.  Alabama was also weakened by probation and had a young poorly coached offensive line.  While injuries can make any team a loser Alabama's roster today is oceans deeper than what was available in 2004.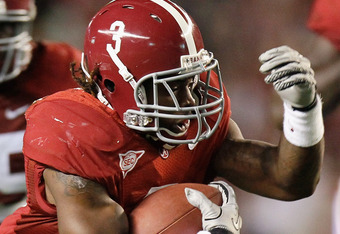 Kevin C. Cox/Getty Images
Alabama has two runners who would be considered bankable SEC quality tailbacks, Trent Richardson and Eddie Lacy.  If one or both remain healthy all season it's unlikely Alabama will have to make many adjustments.
If both were to get hurt all bets are off. 
One adjustment that you are likely to see is Blake Sims moving back to running back.  He started there last year but moved to quarterback in the spring as an emergency option.  Alabama probably can't afford to keep him as an emergency quarterback any more.
Sims is the only player on the roster who has the dynamic ability to move to running back and actually be effective.  I think you will not only see him make the move but play an active roll in Alabama's offense this season.
Alabama has a power back in Jalston Fowler.  The rash of transfers and injury will likely put him on the field for significant time.  If there is any upside to this it is that we will finally get to see what this physical beast can do on the field.  He has shown flashes,  but it's clearly an opportunity for him to step into the spotlight. 
Another reason Alabama may avoid a return to 2004 is a deeper, more talented and better coached offensive line.  Hopefully they will be able to open some holes for Trent and Lacy so that they don't take the kind of pounding that Darby had to endure.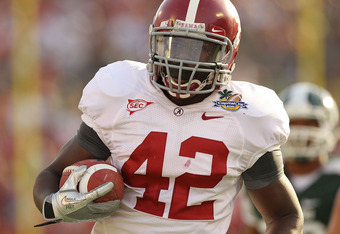 Mike Ehrmann/Getty Images
The biggest problem Alabama could face would be lining up a runner that does not scare anyone on the other side.  If that happens the linebackers will flood the middle of the field and make it very hard for Alabama to pass the ball.  Any time you become one dimensional in the SEC you are going to lose games.
This months attrition at running back will also effect Alabama's recruiting.  Alabama has missed out the last two years on bell cow running backs Marcus Lattimore and Isaiah Crowell. Ironically what hurt Alabama the most in recruiting was the thought that they would not get to play immediately.  If Crowell had signed with Alabama he would most likely have had plenty of playing time this year.
Alabama also lost out to Auburn for the verbal commitment of TJ Yeldon, a four-star rated prospect who many consider to be the best running back in the state of Alabama.  His commitment isn't final however and it wouldn't shock me if the sudden lack of bodies in Tuscaloosa causes him to take a second look at the Tide.
Alabama was already desperate to get someone in the mold of Ingram and Richardson before.  At this point it may be Alabama's top recruiting priority.
Alabama's top targets include Barry Sanders (5' 11", 190 lbs. from Oklahoma City) who happens to be the son of Hall of Fame running back Barry Sanders of the Detroit Lions.  Sanders is rated a four-star prospect by Rivals.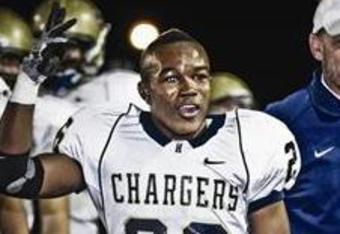 Another top target is Aliquippa, PA running back Rushel Shell.  Shell is 6' 0" 210 lbs and also rated a four star prospect.
Atlanta area runner Kenyan Drake has already verbally committed to Alabama's 2011 class.  He is considered an athlete who could play running back or linebacker.  His eventual position may be determined by speed.  He is a powerful downhill runner but does he have enough speed to play running back in the SEC?
Alabama also has two very good quarterbacks to help keep things going.  While the 2004 squad had a very talented Brody Croyle behind him they had nothing like AJ McCarron or Phillip Sims.  Hopefully the eventual winner of that battle will be determined by wins on the field and not injuries.
Time will tell how the attrition at running back will effect Alabama.  I for one don't like seeing a skeleton crew line up against Auburn.