Women's World Cup Bracket: Group Stage Results, Quarterfinals Schedule and More
July 7, 2011
Scott Heavey/Getty Images
With the Group Stage now over for the 2011 FIFA Women's World Cup, the biggest surprise is a matchup between two powerhouse teams (USA and Brazil) that we weren't expecting to see until later in the competition.
However, an American upset at the hands of Sweden during the last day of the Group stage has resulted in a Brazil vs. USA head-to-head battle in the second stage of the tournament.
Here are the results and complete schedule for the rest of the competition.
2011 FIFA Women's World Cup TV Schedule (Original schedule was put together by B/R's Adam Hirshfield)

 All times Eastern; Schedule is subject to change
| | | | | | |
| --- | --- | --- | --- | --- | --- |
| Date | Time | Network | Match | Group | Site |
| Sunday, June 26 | 8:45 a.m. | ESPN2 | Nigeria 0:1 France | A | Sinsheim |
|   | 11:30 a.m. | ESPN | Germany 2:1 Canada | A | Berlin |
| Monday, June 27 | 8:45 a.m. | ESPN | Japan 2:1 New Zealand | B | Bochum |
|   | 11:45 a.m. | ESPN | Mexico 1:1 England | B | Wolfsburg |
| Tuesday, June 28 | 8:45 a.m. | ESPN | Colombia 0:1 Sweden | C | Leverkusen |
|   | 11:45 a.m. | ESPN | USA 2:0 Korea DPR | C | Dresden |
| Wednesday, June 29 | 8:45 a.m. | ESPN | Norway 1:0 Equa. Guinea | D | Augsburg |
|   | 12 p.m. | ESPN | Brazil 1:0 Australia | D | Moenchengladbach |
| Thursday, June 30 | 11:45 a.m. | ESPN | Canada 0:4 France | A | Bochum |
|   | 2:30 p.m. | ESPN2 | Germany 1:0 Nigeria | A | Frankfurt |
| Friday, July 1 | 8:45 a.m. | ESPN | Japan 4:0 Mexico | B | Leverkusen |
|   | 12 p.m. | ESPN | New Zealand 1:2 England | B | Dresden |
| Saturday, July 2 | 7:45 a.m. | ESPN2 | Korea DPR 0:1 Sweden | C | Augsburg |
|   | 11:30 a.m. | ESPN | USA 3:0 Colombia | C | Sinsheim |
| Sunday, July 3 | 7:45 a.m. | ESPN2 | Australia 3:2 Equa. Guinea | D | Bochum |
|   | 12 p.m. | ESPN | Brazil 3:0 Norway | D | Wolfsburg |
| Tuesday, July 5 | 12 p.m. | ESPN | England 2:0 Japan | B | Augsburg |
|   | 12 p.m. | ESPN2 | New Zealand 2:2 Mexico | B | Sinsheim |
|   | 2:30 p.m. | ESPN | France 2:4 Germany | A | Moenchengladbach |
|   | 2:30 p.m. | ESPN2 | Canada 0:1 Nigeria | A | Dresden |
| Wednesday, July 6 | 11:45 a.m. | ESPN | Equa. Guinea 0:3 Brazil | D | Frankfurt |
|   | 11:45 a.m. | ESPN2 | Australia 2:1 Norway | D | Leverkusen |
|   | 2:30 p.m. | ESPN | Sweden 2:1 USA | C | Wolfsburg |
|   | 2:30 p.m. | ESPN2 | Korea DPR 0:0 Colombia | C | Bochum |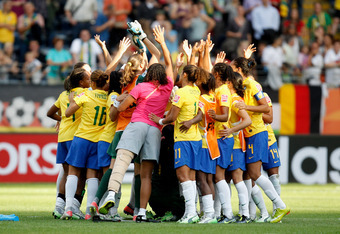 Friedemann Vogel/Getty Images
Quarterfinals
| | | | | | |
| --- | --- | --- | --- | --- | --- |
| Date | Time | Network | Match | Site | Match # |
| Saturday, July 9 | 11:30 a.m. | ESPN | England 1:1, 3:4 PSO France  | Leverkusen | 26 |
|   | 2:15 p.m. | ESPN | Germany 0:1 Japan  | Wolfsburg | 25 |
| Sunday, July 10 | 6:30 a.m. | ESPN | Sweden 3:1 Australia  | Augsburg | 27 |
|   | 11 a.m. | ESPN | Brazil 2:2, 3:5 PSO USA  | Dresden | 28 |
 Semifinals
| | | | | | |
| --- | --- | --- | --- | --- | --- |
| Date | Time | Network | Match | Site | Match # |
| Wednesday, July 13 | 11:30 a.m. | ESPN | France 1:3 USA | Moenchengladbach | 30 |
|   | 2:15 p.m. | ESPN | Japan 3:1 Sweden | Frankfurt | 29 |
Third-Place Match
| | | | | | |
| --- | --- | --- | --- | --- | --- |
| Saturday, July 16 | 11 a.m. | ESPN2 | Sweden vs. France | Sinsheim | 31 |
2011 FIFA World Cup Final
| | | | | | |
| --- | --- | --- | --- | --- | --- |
| Sunday, July 17 | 2 p.m. | ESPN | Japan vs. USA | Frankfurt | 32 |