LeBron James and "The Decision:" What I Can't Figure Out
February 22, 2011
Jim Rogash/Getty Images
Sure, I'll admit it. I don't care for LeBron James.
I love basketball and I love watching players who can take over any game at any time, which is something LeBron does better than anyone, but I still don't like him.
I enjoy watching Kobe more than LeBron, and I'm a Celtics fan. Kobe's track record against Boston is much better than LeBron's is, but I still don't like LeBron. 
I'm not hating on Lebron's skills; he's the best in the game. Better than Kevin Durant, Carmelo Anthony, Monta Ellis, Dwayne Wade, and yes, even Kobe. His player efficiency ratings are tops in the NBA, and it's not very close between himself and the second most efficient player in the league, Chris Paul (LeBron's alternate player efficiency rating is 28.47, CP3's 27.52; Kobe is 5th in the league with an APER of 26.67).
Not only can LeBron score at will when he's running full bore down the court, he can hit open shots, play very stellar defense, and he may be the league's best passer. He's on a Magic-Bird-MJ level with his distribution abilities (friggin' commies). 
The All-Star Game was a great example of how good LeBron is. The West had a comfortable lead throughout, but the East came roaring back in the fourth to make it a game because LeBron put the entire team of All-Stars on his shoulders.
He was unguardable, slashing to the hoop through multiple plus-plus defensive stoppers over and over again.
LeBron is the epitome of basketball dominance. He almost led an improbable comeback against the best players the West has to offer, while playing in Los Angeles, and he joined MJ as the only two dudes to earn a triple-double in the ASG.
If it weren't for the Celtics' Big Four playing like uncoordinated Justin Biebers, they might have made it all the way back.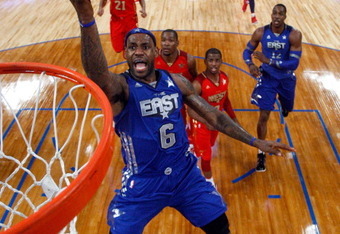 Pool/Getty Images
LeBron exhibited the stuff of legends, even if this almost happened in a glorified exhibition game (The NBA All-Star game ranks as the second most interesting all-star game, trailing only the MLB's, which actually counts for something [whether or not I agree with it is a different column all by itself]. The NBA All-Star game obviously has more viewers than the completely uninteresting Pro Bowl and the NHL All-Star Game, which is interesting, but they only broadcast hockey on ham radio).  
Yet, I don't like him.
It's not "The Decision." LeBron was a free agent and he had the right to go anywhere he wanted to, and as heartwarming as it would have been to have LeBron maintain his status as the hometown kid trying to bring his city back to prominence, was it fair for us to expect that of him?
What did the Cavaliers ever do in order to keep him around? Make a trade for Antawn Jamison? That'll inspire confidence in your management. In fairness, Carlos Boozer hung the Cavs out to dry before the 2004 season, but if Cleveland had retained him, that team could have turned into something great.
Boozer would have provided a dependable low-post presence on both sides of the ball. When LeBron wouldn't be able to streak to the basket like a banshee due to double- or triple-coverage, he could have found Boozer somewhere inside the perimeter for some easy points.  
Also, LeBron's front court would have been more than solid defensively. Anderson Varejao and Boozer would have eventually become one of the most pesky tandems to outboard in the entire league.
Other than all that ALMOST happening, the Cavs did almost nothing to keep LeBron happy.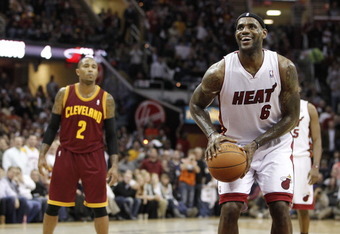 Gregory Shamus/Getty Images
It wasn't how he delivered the news to Cleveland, either. Yeah, it was crummy of him to rip out the hearts of his beloved fans like that, and it was such an egregious display of Lebron's perception of self, but how could that not have been aired on TV?
LeBron is the most talented athlete in any major sport to ever enter the free agent market, and that distinction should remain for at least one more year, when Albert Pujols' contract expires.
Everything is televised. War, famine, natural disasters, pregnant teenagers, those D-bags you see at the clubs, and Lady Gaga. If the favorite to win it all could change literally seconds after a decision is made, wouldn't it make sense to air that decision?
People would watch that, and they did.
It was an experiment worth testing out, and it worked, to an extent. A lot of people watched that special, but nobody was happy with it. We should thank LeBron for providing us with the litmus test for big-name free agents announcing their decision on live television.
It only makes our heroes into ego-maniacal pariahs, and for that, we'll probably all still have respect for Prince Albert after he decides behind closed doors that he'll play for the Marlins with Delmon Young, and the ornery reanimated corpse of Ty Cobb.  
AND, LeBron was able to turn "The Decision" into a $2.5 million dollar donation to the Boys and Girls Club. You've never done anything that nice for anyone ever.
It wasn't that commercial that was longer than Barry Lyndon, either. It spawned three of my all-time favorite You Tube videos. Cleveland's Response, The Michael Jordan mash-up, and the Brett Favre parody (slightly NSFW). 
It's not even that he chose to join a band of mercenaries. I think a lot of people read into that MJ quote a bit too much. When he said, "There's no way, with hindsight, I would've ever called up Larry, called up Magic, and said 'Hey look, let's get together and play on one team,'" I thought that was hyperbole.
D-Wade, as good as he is, is not a game changer of the level of a Magic Johnson. Bosh is not comparable to Larry Bird, either. Wade is a great all-around player, but he's mostly a scorer. Bosh is basically just a scorer as well.
I'm of the belief that Miami is still D-Wade's team since he was there first, but when history looks at this team, it will end up showing D-Wade as one of the best sidekicks to any legendary player ever, and Chris Bosh will have been traded before he could even get to join any sort of discussion about who the GOAT wingman is.
And, oh yeah, MJ didn't work alone.
He played with Scottie Pippen, one of the greatest players of all time in his own right. He also played with Dennis Rodman, a soon-to-be HOFer, and a myriad of better-than-average players like John Paxson, Horace Grant, Bill Cartwright, Steve Kerr, and Luc Longley.
Larry Bird wasn't alone, either. Kevin McHale and Robert Parish, anyone? They were Celtics, too! Practically everyone who ever played for the Celtics is a HOFer!
Magic had Kareem and James Worthy. The latter two are arguably a better tandem than what Miami has now. I don't think LeBron is chasing rings through the easiest methods possible; every championship season is a grueling endeavor. The Heat are stacked, but that's nothing new.  
There are plenty of perfectly good reasons to not like LeBron; these are just a few, and I'm just playing devil's advocate here. There are two sides to every controversial thing he's done.
He had a lot of reasons to leave Cleveland, some more personal than others. He's a bona fide Basketball God at 26 years old, and with that comes a level of pressure that can cause some moments of immaturity, which is reasonable to expect, especially since he has been told that he's going to be a god before he could possibly concoct the idea of driving his Hummer H2 into some old lady's car.  
But, do you know what irritates me about LeBron James the most? LeBron James has never participated in the dunk contest!
How on EARTH are you supposed to be the heir to the throne of His Airness and never take flight!? There's no way that I'm the only one really upset about this.
Do you realize how awesome it would be to see LeBron James in the dunk contest? The guy is a beast and can do things in the air that not even Blake Griffin can do. We've seen glimmers of it even when LeBron was in high school. He might be the best dunker of all time, yet he's never even been in the contest. What a freakin' waste!  
First of all, he went against his own word about it and I have the video to prove it. He did say preliminary, but why even plant the idea in our heads only to end up ripping it out by the root? Does LeBron James secretly love to disappoint people? 
Secondly, one possible excuse perplexes me. When Shaq gave his genius idea to have a dunk contest with the league's best aerial artists, he said ""As his manager, I will only allow 'Bron to do the dunk contest if Vince Carter comes back out." I watch a lot of basketball, and I can't even remember the last time Vinsanity made the SportsCenter top 10 with a dunk.
In fact, I'm not even sure if Vince Carter plays basketball anymore.
I see him on the court from time to time, but I think it's some dude who just looks like Vince. It's a ridiculous condition. It's like saying that you're ready to become the best boxer in the world, but insist on taking on the 2011 George Foreman for the title.
LeBron is still young, and he can make up for this cataclysmic career choice he's made by simply changing his mind, but he could feel like the fans have turned on him, and as a consequence of that, he won't ever do it.
Or, he's scared. Or, he's waiting for the game to take place in Miami. Whatever it is, I must admit that I find it disturbing that a decision to decimate the economy of a wounded city was an easier decision to make than committing to a dunk contest.