B/R Recruiting Breakdown: Uncommitted 5-Star DT Marvin Wilson
October 12, 2016
Credit: Student Sports
Each week, Bleacher Report National Recruiting Analyst Tyler Donohue analyzes a different prospect based on in-person evaluation and intensive film study. Here's our latest scouting report of a promising young athlete and how he projects as a college player.
A self-proclaimed "Real-Life Goon," Marvin Wilson landed on the national recruiting radar early in his prep career. He's continued to assert himself as one of America's finest defensive prospects during showcase events and game action at Episcopal High School near Houston.
This lauded interior lineman erupted for 103 tackles—34 for loss—and 19 sacks as an underclassman, accepted an invitation to compete in the U.S. Army All-American Bowl and stood out among elite peers this past summer at The Opening. 
Among the most passionate prospects in this recruiting cycle, players gravitate toward Wilson. It's no surprise a lengthy list of committed athletes are attempting to bring him into their respective classes, as he carries nearly 30 scholarship offers.
Rated the No. 1 defensive tackle and No. 11 overall recruit in Scout.com's 2017 rankings, Wilson isn't expected to announce a decision until after his senior season. It's a process that could last all the way through national signing day. 
This Lone Star State standout enters the spotlight for our latest foray into prospect assessment. Here's a closer look at what makes Wilson one of the country's truly coveted playmakers.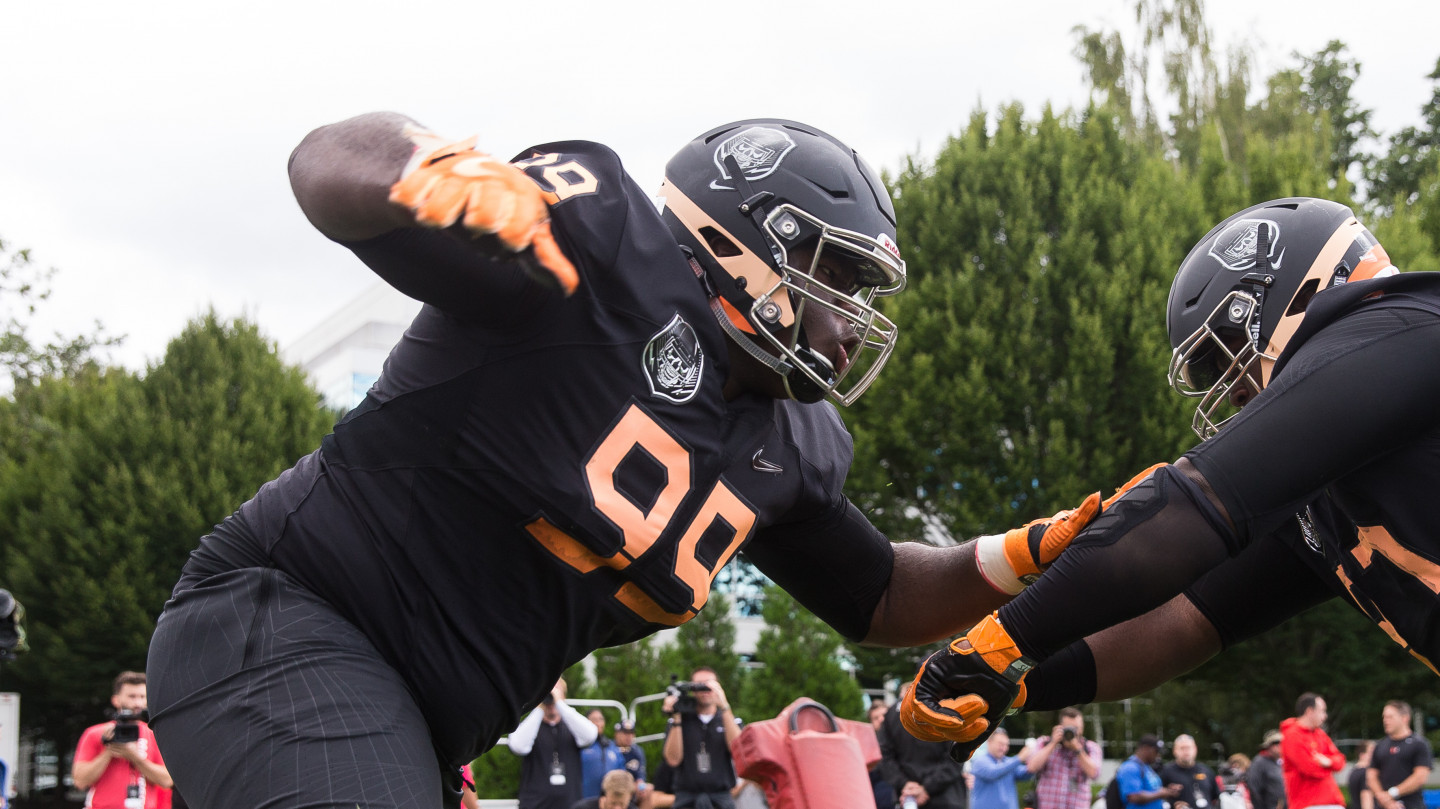 CFB National Signing Day 2019 Did Not Disappoint

Martell Is Leaving Ohio St. and Is on His Way to the U

White House Treats National Champions to Fast Food Cheat Day

Northwestern May Have CFB's Most Hyped Coach

Army's Historic Bowl Beatdown Caps Off Epic Season

Purdue Football's No. 1 Fan Is Inspiring the Team

CFB's Creative Entrances Put WWE to Shame

CFB's Walk-on Scholarship Season Has Returned

Tua Continues to Take Hawaiian Football to Another Level

CFB Players Teaming Up to Tackle Hunger in Miami

4'2" WR Will Walk on at Baylor University

Felder's Film Room: Ferocious Front 7's Will Decide National Championship

UAB Is Making CFB Even More Fun and Having Its Best Season at the Same Time

Heisman Hopefuls: B/R Highlights Finalists Prior to Trophy Ceremony

Who Should Be the 2017 Heisman Finalists?

Miami vs. Clemson: Which Elite Defense Will Prevail in ACC Championship Game

College Football Top 25 Upset Alert for Week 11

College Football Top 25 Upset Alert for Week 10

Which CFB Stars Need More Heisman Hype?

College Football Top 25 Upset Alert for Week 9
The Basics
High School: Episcopal (Bellaire, Texas)
Size: 6'4", 329 lbs
Recruitment Status: Offers include Alabama, Florida State, LSU, Ohio State, Oklahoma and Texas
Prospect Assessment
Provides a vocal presence as the anchor of a defensive front. He approaches the trenches with confidence and brings substantial bravado into

matchups

.
He backs up this noticeable swagger with his play, bullying opponents through the whistle. Wilson will get under the skin of offensive linemen, potentially causing them to lose focus during the course of four quarters.
Elite strength at a college-ready size. Won't need to shed a ton of weight upon arrival on campus and possesses enough brute force to challenge for reps as a true freshman.
Advanced handwork enables him to efficiently shed blockers en route to the offensive backfield. Fires off the snap with low center of gravity to deliver a jolt beneath the sternum of his counterpart.
Collegiate coaches will have options for how to implement Wilson, dependent on roster needs and scheme.
His skills set the stage for snaps in a variety of roles. He could handle nose guard duties with progressive weight training that packs on additional mass, though Wilson is quick enough to influence

matchups

as a 3-technique force.
Carries significant pass-rushing prowess for an interior lineman, due in large part to an explosive get-off that leaves opponents unbalanced and allows him to surge toward space. 
Will need to develop a deeper arsenal of pass-rush techniques in college because even his outstanding bull-rush efforts will be stifled with greater frequency against collegiate competition.
His height makes him an asset in pass defense, as Wilson can bat down passes at the line of scrimmage. This length also shines when he extends laterally to fill rushing lanes.
Gradual improvement is noticeable on high school game film, which is a promising sign as the bull's-eye on his back has grown year-to-year. Double-team blocking efforts are standard and he's responded with relentless pursuit.
Won't give up on run plays that initially get past him. He chases down ball-carriers and finishes with authority, encouraging fellow defenders to swarm. 
The following series serves evidence of Wilson's resiliency in the trenches. Again, facing a combo blocking scheme from the center and right guard, he is tasked with handling multiple offensive linemen in pursuit of a play.
Here, the Episcopal defense is dealing with a red-zone situation as approximately eight yards of turf lie between Wilson's back and the end zone. Off this snap, the center does a nice job meeting him at the point of attack before passing duties off to the right guard, who is able to turn Wilson away from a rushing lane that threatens to spring the quarterback for a score:
Credit: Hudl.com
Rather than assuming his impact on this play is over, Wilson fights to gain leverage and turns his attention toward the quarterback, who likely believes he needs to beat just one Episcopal linebacker for a touchdown:
Credit: Hudl.com
This is when Wilson's explosiveness shines, as he rebounds from strong blocking efforts to burst toward the ball-carrier. Long strides and aggressive pursuit enable him to close ground in a hurry, as he thwarts this scoring chance and allows his defensive to fight for another down:
Credit: Hudl.com
Let's look at another running play, much different in execution and this time set at Episcopal's 40-yard line. Wilson is unsurprisingly targeted by two offensive linemen on the play, and a big gain is likely if he can be eliminated from the equation.
The center greets him off the snap by targeting underneath and attempting to cut this tall defender down at his trunk. Wilson counters with a low get-off of his own, keeping a straight back and extending his hands to gain separation and sustain upfield momentum: 
Credit: Hudl.com
With the center discarded, he encounters a pulling left guard who reaches his point of attack in time with solid acceleration. This matchup would end up in a stalemate at best for most high school defenders but Wilson, reiterating the fact he's a special specimen, essentially bench presses the guard and sets sights for a running back who has room to work toward the sideline: 
Credit: Hudl.com
Now in control of this scrum, Wilson keeps his right hand on the guard's chest plate and extends left to carve out a clear path of pursuit. He accelerates laterally and eviscerates the rusher, who manages just a one-yard gain:
Credit: Hudl.com
This sequence is a solid summation of what separates Wilson from the pack at defensive tackle. His blend of physicality, technique, quickness and reaction produce tremendous results. 
Long-Term Outlook
Wilson is likely to land in a collegiate scheme loaded with elite supplemental talent across the defense. Tenuous head coaching situations at Texas and LSU will undoubtedly contribute toward the ultimate outcome of this recruitment, while programs such as Oklahoma, Ohio State, Florida State and Alabama will attempt to capitalize on long-standing rapport, track record and campus visits.
Regardless of where Wilson lands and how many former All-Americans he encounters on a depth chart, this recruit is capable of pushing for an immediate role in the defensive rotation. A climb toward collegiate stardom will likely start with situational snaps, which could be plentiful considering his penetrative presence against both run and pass attempts.
If Wilson maintains health, he should be in excellent position to progressively gain confidence from a coaching staff and vie for an expanded role during 2018 spring camp. Multiple years as a starter and all-conference consideration are realistic expectations for the nation's top-ranked prospect at his position.
Tyler Donohue is a National Recruiting Analyst for Bleacher Report. Player ratings courtesy of Scout.com.

Follow Tyler via Twitter: @TDsTake.