Predicting Premier League's Hidden Gems in 2015/16
July 24, 2015

Getty Images
B/R recently constructed in-depth scouting portfolios on some of the game's emerging stars. From Jack Grealish in the Premier League to Jose Maria Gimenez in La Liga, emerging faces of their respective leagues were analysed and tallied up, offering the chance to really get to know the skill sets of players set to make major impacts on the biggest stages.
We now turn our attention to the hidden gems, the diamonds in the rough. Some readers will already be familiar with the players listed here—especially if the player plays for your favourite club—but the wider world remains largely oblivious to these five Premier League starlets who could come from nowhere to make a real splash this season.
Jordan Amavi, LB, Aston Villa
French football aficionados won't consider Jordan Amavi a hidden gem because he tore Ligue 1 to shreds last season, but the typical Premier League fan stands very poorly acquainted with him. 
Expert reviews on him vary from "promising but rough around the edges" to "the best left-back in France last season." It's difficult to gauge how well he'll settle in a new league, but what no one doubts is that he could, feasibly, become a true star in his position.
Think of him as an extremely early version of Gael Clichy, back when he landed on the Premier League's shores with Arsenal—a slender attacking outlet with recovery pace and intent to die for but a little shabby defensively and in need of a stern season of coaching by those best-placed to do so.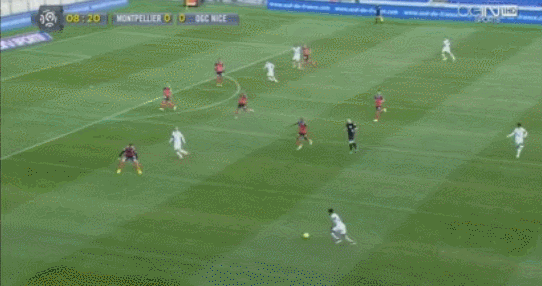 Credit: beINSport
Amavi is a brilliant one-on-one dribbler. He loves to knock the ball forward and run onto it, can out-pace almost anyone and is happy to underlap as well as overlap. His crossing is OK, his distribution is OK, and he managed four goals in Ligue 1 last season—symptomatic of his willingness to burst into the penalty box on a delayed run or make an impact from a set piece.
He's a converted winger, and it shows in the way he attacks the edge of the box and how he times his off-the-ball runs. It also shows defensively too, as while his work rate is unquestionable and he can find himself in the right place at the right time, there's plenty for him to learn when it comes to initial positioning and spatial awareness. When to stand off, when to step in and how to position your body to limit an attacker's options are skills that look lost on him at times.
He's also pretty reckless, all told, when embarking upon his mazy dribbles. He could be just inside his own half and opt to buccaneer forward, taking on two men. Sometimes it works; sometimes he places his team in hot water.
Credit: beINSport
The deal that took Amavi to Villa was worth a total of €15 million, with €11 million being paid up front and €4 million in bonuses, this column has learned. The two clubs agreed a fee two weeks before the Frenchman finally opted to move to B6, hoping in vain for Lyon or Atletico Madrid to show interest first. 
Reaction to this initial reluctance to join the Villans should be tempered—who wouldn't hold out for a UEFA Champions League move first and foremost? Don't doubt that Amavi is extremely ambitious and will work hard to improve from Day 1. He's slated to start at left-back for Sherwood's Villa.
Joe Gomez, Liverpool
Liverpool fans are trying their hardest not to get carried away with regard to Joe Gomez right now, as his 90 cumulative minutes in Australia have given plenty of reason for optimism. 
Gomez played most of the previous season for Charlton Athletic at right-back but completed every minute of every game at the 2014 Under-17 European Championship for England at centre-back as the Young Lions lifted the trophy. He's played at both left-back and right-back for Brendan Rodgers Down Under this summer, showcasing remarkable versatility considering his age.
Credit: Charlton
At 6'2", he's of ideal size to play centre-back, but he has the core agility and mobility to play wide throughout his career. His physicality has allowed him early advantages, as recovery pace and great spring have led to a knack of readjusting and making impressive interceptions on longer passes directed toward his man. He rarely gets caught out in behind.
Credit: Charlton TV
On the ball, he is stellar, capable of weaving away from trouble, dealing with pressure and playing positive passes on the move. Despite often receiving passes in potentially dangerous positions, where a turnover could result in a lethal counter-attack, he's proved reliable at skipping past challenges and stepping out of defence, opening passing lanes and creating pockets for others to utilise. It's what Emre Can did so well when playing at right-centre-back for the Reds last season.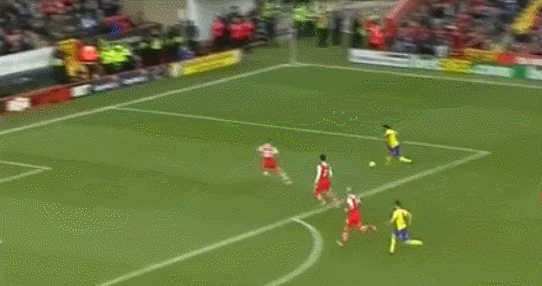 Credit: Charlton TV
A blunt initial comparison may just be John Stones: a good-sized centre-back, extremely capable at full-back, extremely good on the ball and brilliant when dealing with pressure. He takes fewer risks than Stones and is heavier set. While he's not at the Everton man's level just yet, he projects as a brilliant player.
An interesting potential storyline to watch: Will his versatility hinder his overall progress in his best role? Hundreds of players before him have ultimately failed to reach their optimal level as a result of this.
Baily Cargill, CB, Bournemouth
Eddie Howe told the Bournemouth Echo this summer that Baily Cargill has "Premier League potential" and intends to hone it, not send him out on loan for the year. The defender has yet to make a splash in Bournemouth's first team, only featuring sporadically in 2014-15, but he could well suss out a chance in the coming months.
Cargill's short career to date has been full of twists and turns. Relocating from the Midlands to the south coast, he swapped Leicester City for Southampton at youth level and stood out as an emerging talent at left-back. Unfortunately, another young talent by the name of Luke Shaw blocked his path to the Saints academy. Bournemouth acted swiftly, taking Cargill in.
Credit: beINSport
Nine years on, he has all the raw ingredients to become a bruising, yet composed, Premier League centre-back—not left-back. He can still deputise on the flank, drawing on his natural skills, but his muscular frame and 6'2" stature lend better to a central role.
He started every game for England at the 2015 Toulon tournament—world football's iconic summer expose for the next generation—and proved to be the best performer in the defensive line. He's proactive, willing to step out and tackle and titanic in aerial tussles.
Cargill trusts his instincts in picking his moments, aptly identifying when to sit in and when to step out. With Bournemouth acquiring Sylvain Distin from Everton this summer to likely play in his very position, the young man should see it as an ideal chance to learn from a seasoned professional rather an obstacle blocking his path to first-team football.
Credit: beINSport
He's a decent passer from the back but hardly commanding, and his physical advantage means his footwork isn't the finished article—when he steps out, he deals with danger, but he can get his feet in a mess on occasion. They are two things easy to train and iron out, and he has the help of the enthusiastic Howe and a model pro in Distin to do it.
Andreas Pereira, Manchester United
Arguably the biggest storyline emerging from Manchester United's 2015-16 pre-season tour is that of Andreas Pereira; the Brazilian is lighting up the pitch every time he takes to it and has arguably been the best attacker in the two games so far.
Credit: MUTV
Louis van Gaal was far from impressed by his side's second half against the San Jose Earthquakes on Tuesday, but he singled out Pereira as the lone exception—"the only highlight was the goal from Pereira," the Dutchman commented, relayed by the Manchester Evening News.
B/R spoke to United under-21 manager Nicky Butt about Pereira in March 2014, and his assessment was both promising and frank:
[Pereira] is different; more of a tricky player. He's Andres Iniesta-like coming off the left onto his right foot and can play from the right too.

He's very young too, still maturing, he needs to be aware it's not all about trickery and sometimes you have to show how good you are doing the simple things—then every now and then show a bit of magic.

If he learns that, he can be a superstar; he's got the X-factor you need to play at this club.
Pereira's goal against San Jose, a good header from a Jesse Lingard cross, was atypical of his game; as Butt explains, he's tricky, agile, mobile and extremely good on the ball. He can play off either flank or as a No. 10, and his truly remarkable goal against Serbia in the FIFA U-20 World Cup this summer was a more accurate illustration of his talents.
Credit: Eurosport
He'll be hunting for first-team minutes this season, looking to edge out both Lingard and Adnan Januzaj for a spot in the rotation. He belongs on the wing for now and could feasibly make the same type of impact Januzaj did under David Moyes.
Kelechi Iheanacho, ST, Manchester City
Nigeria's big hope at No. 9 is Kelechi Iheanacho, and every time Manchester City allow him the chance to strut his stuff, the excitement surrounding his potential jolts forward another notch. Per the Manchester Evening News, Manuel Pellegrini has told the striker he's set to feature in the first team in 2015-16 and that he's ready to handle the senior duty his undoubted talent demands.
While City looked a disparate set of individuals rather than a team during their FA Youth Cup final loss to Chelsea last season, Iheanacho played well. He proved he's capable of playing as a lone No. 9 by the way he approaches the game: His willing running in behind and ability to drop in and play football is mixed with aggression in occupying the centre-backs and outmuscling his markers in dangerous areas.
Credit: MCTV
City's pre-season so far has seen them adopt a 4-3-3 look, rather than a 4-4-2 or 4-2-3-1, and it's feasible Iheanacho slots in as the third striker in the rotation behind Sergio Aguero and Wilfried Bony—providing Stevan Jovetic and Edin Dzeko leave. It's a perfect combination of guile, power and youthful exuberance.
The Nigerian boasts predatory instincts in the box and sweeps home stray balls with ease. He likes a near-post run and has the strength to hold off a marker long enough to sweep the leg and guide the ball past the goalkeeper. His balance, strength and poise are impressive.
Credit: SaintsTV
He has obvious work to do with regard to decision-making and passing on the ball when dropping in, though he does have the ability to turn and surge onward rather than simply knock it wide every time, keeping him reasonably unpredictable in his approach.
In short, Iheanacho has the raw materials—pace, power, size, natural finishing ability and a footballing IQ—to be a top player as long as his talents are nurtured and harnessed correctly.