NBA Draft 2012: Breaking Down Best Rookie of the Year Candidates
June 30, 2012

Chris Graythen/Getty Images
Now that we finally know where the next generation of NBA stars will be playing following the 2012 NBA draft on Thursday night, it is time to look ahead to what we can expect from them in their rookie season. 
Specifically, we want to look at those players who are in the best position to win the Rookie of the Year award. There are certain ways a player can win the award, particularly if he has the preseason hype machine behind him, but the easiest way to win is simply by playing. 
That is the one thing the players on this list will have in common, besides being immensely talented, we know they are going to see a lot of minutes on the court. 
Anthony Davis, New Orleans Hornets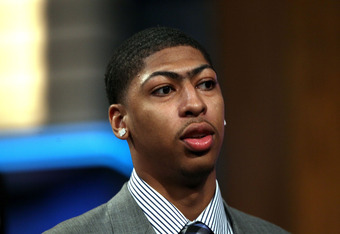 Elsa/Getty Images
Despite what some might have you believe, Davis is far from a finished product. His defense is NBA-ready right now, no one will deny that. He is long and has an uncanny ability to time his attacks that will play immediately. 
However, his offensive game is going to need some work. Davis is not particularly smooth with the ball in his hands, but he does have enough strength to muscle his way into the paint and throw down a lot of dunks. 
Everyone knows he is going to be starting the second the season begins, so I expect him to be the leader in the clubhouse for the prestigious award. 
Dion Waiters, Cleveland Cavaliers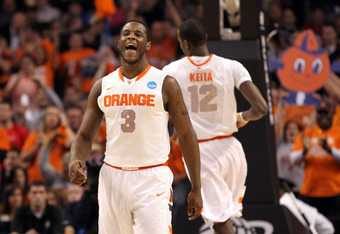 Jim Rogash/Getty Images
There seems to be some backlash for the Cavaliers making Waiters the fourth overall pick in the NBA draft, but he makes perfect sense for what the direction this franchise is headed (no, that's not a joke about them being terrible, either).
Waiters is going to be an amazing scorer as he is so fast and willing to drive the lane, unlike most shooting guards his size. He does need to tighten up his defense to become a superstar, though I am not worried about that right now. 
Pairing Waiters with Kyrie Irving is almost like handing the rookie 15 points per game. Add in his ability to create his own shot, and you have a dynamic scorer that everyone will fall in love with. 
Thomas Robinson, Sacramento Kings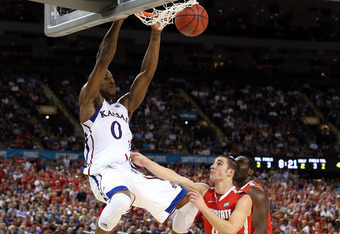 Jeff Gross/Getty Images
I am going to paraphrase a line from The Dark Knight in analyzing the Kings' selection: Robinson was the player they needed but not the one they deserved. Yet somehow, some way, he was sitting their waiting to be taken with the No. 5 pick. 
The Kings needed another low-post player who has some versatility. Robinson can play on both sides of the ball right away. He got better every year of his career, and was the biggest reason Kansas made it to the National Championship Game. 
Robinson is going to be a star in the NBA, will play right away, and is going to continue to progress as a player.