Marlon Byrd Suspension: Positive Test Shows Drug Use Will Never Go Away
June 26, 2012

J. Meric/Getty Images
Ever since Major League Baseball "strengthened" its drug policy in 2004, there have been dozens of suspensions through the pros and the minor leagues.
Veteran outfielder Marlon Byrd was suspended for 50 games on Monday for testing positive for Tamoxifen, per the Boston Herald. According to Hardball Talk, it's a drug that can mask steroid use and is used to block estrogen.
Per the Boston Herald, Byrd said that he had surgery for a "condition that was private and unrelated to baseball" a few years ago. He said last winter the condition emerged again and he had to treat it with a medication which including the banned substance, but he didn't intend on using it as a performance-enhancer.
Either way, Byrd is suspended, and baseball's reputation is once again in the mud.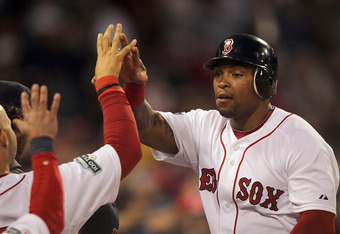 Jim Rogash/Getty Images
You would think baseball players would wise up after the Mitchell Report came out in 2007. When you start seeing superstars' careers get tarnished, that's probably a good sign that you should stop using PEDs, or at least be careful of what you put into your body.
Either that, or the Steroid Fairy is at it again.
I don't know what's worse: taking PEDs or being bone-headed enough to accidentally take PEDs—or Tamoxifen, or whatever is getting ball players suspended these days.
The most puzzling thing about Byrd's case was that he wasn't even playing in the major leagues when he was suspended on Monday. The Boston Red Sox, after acquiring Byrd in April, designated him for assignment on June 9.
It goes to show you that, no matter who the player is, he could be using drugs, and it appears that trend isn't going to end.
Heck, Guillermo Mota of the San Francisco Giants was suspended 100 games this season—he had a 5.06 ERA in nine games before the suspension.
It's beginning to look like players will test the limits to potentially get an advantage over the competition no matter what the punishment. They could be superstars looking to be Hall of Famers, stars looking to be superstars, or your average, everyday ball players trying to make it in the big leagues.
After all baseball has gone through, it's still in the spotlight for the wrong reasons.
Follow me on Twitter. We can talk about baseball together.