Toronto Maple Leaf Goaltending Options: Going After Tim Thomas
June 23, 2012

Patrick McDermott/Getty Images
There's a lot of talk around Toronto Maple Leaf hockey circles that Vancouver Canucks goaltender Roberto Luongo may be coming to the Blue and White.
With Luongo, the Leafs make the playoffs, they say. It won't take much to get him, they say. I tend to agree, but then there's his decade long $46 million albatross contract. 
Not to mention his sporadic play.
Luongo oscillates between unstoppable and Swiss Cheese, and any Leaf fan has surely already imagined a porous Leaf D letting Luongo get lit up, night after night, year after year. 
Yes, Leaf fans, your nightmare can actually get worse. 
However, there's another interesting option that suddenly became available and might have all the advantages without the contract headache—or at least a smaller headache of another kind. It's a hangover compared to chronic migraines, you might say.
Yesterday, Bruins goaltender Tim Thomas agreed to waive his no-trade contract, according to the Boston Globe. Very unlike Luongo's, Thomas's deal has one year left. It pays only $3 million and comes with a $5 million cap hit.
Let's consider this from the Leaf's perspective.
As far as goaltending goes, Thomas is arguably a better option than Luongo. With Thomas, you know what you're going to get every night between the pipes, and with the way the Leafs scramble around in their own end, Thomas' unorthodox but dependable style is surely better than Luongo's.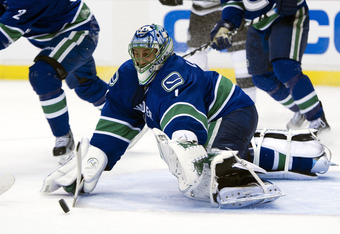 Rich Lam/Getty Images
As far as contracts goes, Thomas's one year is obviously far more digestible than Luongo's 10.  If Thomas succeeds, we can sign him to another short contract. He can give the Leafs just enough great service before James Reimer, Ben Scrivens or another minder is ready to take the reins.
That said, if the Leafs acquired Thomas but couldn't get him to play, that's a $5 million cap hit the struggling club couldn't use on any other player. It's simply money down the drain. 
This is what Bruins GM Peter Chiarelli wants to rid himself of naturally. 
While such a blunder would surely be the end of the Brian Burke era should the Leafs fail to make the playoffs again, this cap hit is exactly what other teams interested in Thomas want from the Bruins.
These teams need to hit the cap floor. It's essentially a saving of $5 million in exchange for giving up putting on the ice what that money can buy. Whether Thomas actually plays is just a bonus.
So let's say the Leafs trade for Thomas but cannot convince him to play. Couldn't they then turn around and make the same deal with one of these teams seeking the cap floor? Is it worth trying?
Well, first we have to consider whether Thomas can be convinced to play in Toronto.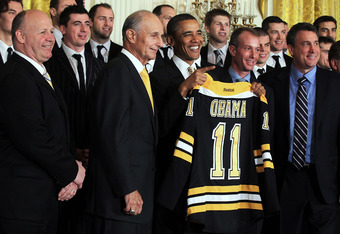 Alex Wong/Getty Images
How serious are Thomas's assertions that he will take a year off? Would a 38-year-old Thomas really turn down the chance to play out his last years as a No. 1 goalie with another original six hockey club? One headed by the GM of Team USA whom he wishes to play for in the 2014 Sochi Olympics?
I think there is more than a reasonable chance Thomas would come to his senses and play for Toronto.
Furthermore, could it be that his claim that he needs to spend more time with the three F's (family, friends and faith) be a way of getting out of Boston, a team that needs to give more playing time to Tuuka Rask and thus easily scapegoated and alienated him for his politics and refusal to meet President Obama?
How much of a concern should this political attitude be to Toronto? I say "who cares?" How many Leaf fans would? If Tim Thomas wants to listen to Glenn Beck that's fine with me—as long it doesn't affect his play.
I think you can argue that his play and his politics were mutually exclusive. Thomas didn't have his best year, but he was still very good. He was downright fantastic against the Capitals in the first round. No one can hang losing that series on him.
Moreover, you don't have to agree with him, but he does have every right to speak his mind.  I for one prefer outspoken players for their mere entertainment value. Off the ice, give me Brett Hull over Quoteless Joe Sakic any day of the week. Who doesn't miss Ron Wilson's curmudgeonly postgame press conferences?
At any rate, surely Thomas's politics will be instantly forgotten if he simply mans the pipes like he's capable of doing. 
So let's say it comes down to this: Burke waits for July 1 and tries to sign big names like Zach Parise and Ryan Suter. If no luck there (and there will be no luck there), take advantage of Thomas' low stock and get him for next to nothing. If the Leafs can't convince Thomas to play by the end of the summer, dump his contract on a team trying to get to the cap floor and go after Luongo.  Vancouver GM Mike Gillis can be waited out.
I admit, it's not a no-brainer.
It's a gamble, but I think it's arguable that it's actually less of a gamble than going after Luongo. Burke would be putting himself out there with a move for Thomas, but if he can simply convince him to play it would be a coup de grâce. 
Should the Leafs do it? What do you think, Leaf fans?