NBA Finals: How Michael Jordan and Johnny Carson Ruined It for Everyone
June 22, 2012

LeBron James won his first NBA title last night. It should have been the crowning moment of his career. He has won the league's MVP three times. He has played in the NBA Finals three times. And when he finally won a title, he was the series MVP.
He should have nothing left to prove. No critics should have any ammunition against him. And yet in the middle of the celebration, an ESPN commentator said that LeBron has a long way to go to catch Michael Jordan.
And thus an absurdity in the NBA continues. The narrative for the superstars can no longer be unique nor stand in their own merits. Every elite player has to follow Jordan's script or be be considered less of a star.
Each player who aspires to be the best in the league has to not only be an MVP, not only lead their team to the title, not only be the Finals MVP, not only do it with a flair for the dramatic, not only do it with an assassin's mentality, but do it six times.
Anything less than that means they are not Jordan's equal. In other words, unless you are on par with the consensus pick for the greatest player ever, then your career has a gigantic hole in it. Does anyone else see how absurd and damaging this is?
When Shaquille O'Neal retired, there was actually a debate to whether or not he underachieved in his career. Sure he won four titles, three finals MVP, the league MVP and retired in the top five all time in scoring. And he had fun and had a sense of humor about himself, making him an endearing star.
But he did not win as many times as Jordan. And some people fixated on his career versus Jordan's as opposed to appreciating his own unique career and persona.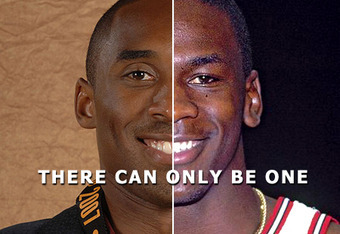 Tim Duncan, one of the best players of the post-Jordan era, has delivered title after title to San Antonio of all places. But his praise has been muted as he does not have Jordan's charisma. Duncan's former teammate, the great David Robinson, was an MVP and two-time champion. But compared to Jordan, The Admiral lacked the killer instinct.
Kobe Bryant, the most consistent post-Jordan champion, is stuck on five titles. Only six titles will satisfy any Jordan comparisons. And actually Bryant's first three titles are negated in some people's eyes because he played the Scottie Pippen role to Shaq's alpha dog in 2000, 2001 and 2002.
And the players seem to be aware of the long shadow of Jordan. Was it a coincidence that when Bryant became the leader of the Lakers that he changed his number from No. 8 to 24, one higher than Jordan? When James famously promised multiple titles to the fans in Miami, he counted up to seven titles, one more than Jordan's total.
This need for multiple titles won in a specific manner did not used to be a requirement for greatness. As Colin Cowherd pointed out on his ESPN Radio show, Jerry West was called "Mr. Clutch" even though his teams lost eight of the nine finals he played in. Of those named on the 50 Greatest Players of All Time in 1996, nine never won a single title and 16 won once.
Does anyone look down upon Julius Erving for only winning one title? Or Elgin Baylor for winning none?
Comparing everyone to Jordan is making the greatest and arguably most unique talent the game has ever seen into the standard instead of a once-in-a-lifetime phenomenon.
This absurd need to make the Jordan narrative mandatory is reminiscent of how Johnny Carson's legacy has become the litmus test of success in the late night comedy world.
Carson ruled late-night television for 30 years and then retired with a spectacular ending. Then he had the good sense not to make a comeback and have his equivalent of Jordan's ill-fated Wizards seasons.
And instead of seeing that as a remarkable never-to-be-replicated achievement in television history, Carson's legacy, like Jordan's, has been the windmill that all late night host aspire to conquer.
David Letterman, Jay Leno and Conan O'Brien all cited their desire to carry on Carson's legacy when they vied for the Tonight Show chair. All three have unique on-screen personas and passionate audiences and have been on the air spanning decades in a time where keeping a show on the air for three or four seasons is monumental.
But none of them dominate the landscape like Carson or were considered to be the undisputed king of Late Night. If Conan's career ended when he left The Tonight Show, he would have been a network host for 17 years, a mindbogglingly long tenure. But compared to Carson, it would have been a failure.
Jordan and Carson were transcendent figures in American culture. Reaching such a unique height should be celebrated and not expected from the successors. Enjoy the greatness of others in a manner that does not require being the equal to the greatest.
No, James is not Jordan. Letterman is not Carson. They are their own great figures whose uniqueness should be appreciated.
You don't need to be Carnac to figure that out.