NBA Finals 2012 TV Schedule: When and Where to Catch Critical Game 5 Clash
June 21, 2012

Mike Ehrmann/Getty Images
OKC is still breathing.
While the Oklahoma City Thunder are officially in win-or-go-home mode, down 3-1 in the 2012 NBA Finals to the Miami Heat, they have yet to wake up from their championship dreams. Believe it or not, it's easier to come back from such a deficit than it sounds.
Watch Game 5 on ABC Thursday, June 21st at 9:00 p.m. EDT (via NBA.com).
Only eight teams in league history have rallied from down 3-1 in a seven-game series to advance in the playoffs. No squad has accomplished it in the title. Despite those odds, don't deliver the Heat their rings just yet.
All it takes is one win.
If OKC defeats the Heat in Game 5, all of a sudden, the tables will turn.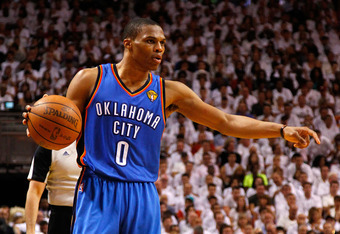 Mike Ehrmann/Getty Images
The remainder of the series would be played in the comfort of the Chesapeake Energy Arena. Oklahoma City only lost one game on their home floor all postseason long—Game 2 against the Heat. In front of the most passionate fanbase in the NBA, the Thunder would catch their second wind.
In Game 6, the pressure would be back on the Heat. Just one more loss would result in OKC entering a do-or-die Game 7 in their house coming off of a two-game winning streak.
And that's something Miami would love to avoid at all costs.
Two summers ago, the Los Angeles Lakers were aided by the 2-3-2 format to fight back against the Boston Celtics. If the Thunder win Game 5, they'd be in the exact same position that the Lakers were heading into Game 6.
If a comeback is so simple, why haven't other teams been able to pull it off? Because there's a reason why a squad builds a 3-1 lead on another: The ballclub is either more talented or it has a superior game plan that the opposing team hasn't been able to counter.
With a gun to my head, would I bet that OKC steals the Larry O'Brien Trophy? No way—I'd have to be clinically insane. But if the Thunder regain their confidence and hunger, they possess the ability to claim the crown.
David Daniels is a featured columnist at Bleacher Report and a syndicated writer.