LeBron James: Why Michael Jordan Ruined the Way We View & Analyze LeBron James
June 16, 2012

LeBron James is having one of the greatest seasons in NBA history, with regular season averages of 27.1 points, 7.9 rebounds and 6.2 assists per game, and postseason averages of 30.8 points, 9.5 rebounds and 5.1 assists per game.
In spite of that, it seems like LeBron just can't catch a break and get the respect he deserves from fans, analysts and experts of the game.
In just nine years in the NBA, LeBron has won three NBA MVP awards, he's led his teams to three NBA Finals appearances and only missed one NBA All-Star game.
Sure, the "Chosen One" doesn't have a ring and has missed a clutch shot or two, but since when is that all we focus on when we are assessing greatness?
The time when we started ranking players based on rings and game-winning shots was the moment that Michael Jordan decided to call it quits and hang up his laces with the Chicago Bulls back in 1998.
The moment when Jordan left the game, we stopped assessing greatness on an individual basis and started to compare every player and his level of achievement to the greatness known as Michael Jordan.
It's not Jordan's fault that he won 10 scoring titles, six NBA championships, six NBA Finals MVPs, five NBA MVPs and hit an insane amount of game-winning shots.
It's our fault for valuing his performance and his greatness so much that all we care about is trying to figure out which player is going to be the next Jordan.
Instead of wanting LeBron to be the next Jordan or the next "great one," we need to just appreciate the player he is and value the unique, rare and immense talent he has.
Before Jordan changed the game, greatness was assessed on a truly individual level.
Magic Johnson was great because he changed the point guard position forever. Larry Bird was great because he played the game with intensity and pure scoring ability like never before.
Oscar Robertson was great because of the complete way he played the game. Bill Russell was great because of the dominance on the defensive side of the ball and his ability to out-rebound every man on the court.
I could go on and on about what made/makes players great, but the point is, before Jordan, players' abilities weren't evaluated based on a comparison to one player who was considered the pinnacle of greatness.
Players were evaluated based on what they brought to the game and the way their play impacted the game as a whole.
I know that kind of conversation is a massive generalization, but the way we compare every elite player in the NBA to Jordan isn't fair to the players, and it certainly isn't fair to the legacy of the game.
The Jordan comparison that we all fall into isn't fair either to the legacy that LeBron is going to leave once he's done playing basketball.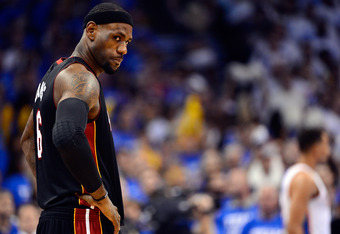 Ronald Martinez/Getty Images
It's fine if you don't like the fact that LeBron chose to leave Cleveland and take his talents to South Beach—but don't disagree with his decision based solely on the argument that, "Jordan wouldn't have done it."
It's okay if the reason you think LeBron isn't an elite player is because in the past he's had a tendency to pass the ball with the game on the line—but don't base your reasoning on the argument that, "Jordan wouldn't have done that."
The point is that greatness isn't something that is ever replicated. Greatness is created by every person in his own unique way. 
If there was a formula for greatness, the world would be a boring and mundane place. Replication would be the name of the game, and individuality would fall to the wayside.
LeBron James and Michael Jordan are never going to be the exact same players, even if LeBron ends up winning 10 scoring titles, six NBA titles, six NBA Finals MVPs, five NBA MVPs and hits every game-winning shot from here on out.
We all just need to get over the fact that we will never see another Jordan.
Once we do that, we can finally begin to truly appreciate the greatness that exists within LeBron James.