NBA Finals 2012: ESPN's Jeff Van Gundy on OKC Thunder's Russell Westbrook
June 15, 2012

Ronald Martinez/Getty Images
In the opening moments of last night's Game 2 of the NBA Finals, ESPN's Jeff Van Gundy remarked that Oklahoma City Thunder point guard Russell Westbrook is no John Stockton or Maurice Cheeks. Van Gundy continued his statement by saying that John Stockton and Maurice Cheeks aren't Russell Westbrook either.
The likeable, highly astute Van Gundy's seemingly contradictory, but simply profound statement also proved to be prophetic as the game's first quarter unfolded. 
The immensely talented Westbrook quickly demonstrated how amazing athletic ability does not always translate into good decision-making, capable leadership and NBA playoff victories. With a shoot first, pass second mentality, Westbrook showed exactly why he's no John Stockton or Maurice Cheeks during Oklahoma City's 100-96 loss to the Miami Heat. 
I fully understand how scoring point guards like Tony Parker, Chris Paul and Deron Williams have succeeded, but the younger Westbrook has not matured to the extent to know when to take the foot off his own accelerator and allow his capable teammates like Kevin Durant and James Harden to take control of the wheel and put their own Nikes to the floor pedals. 
Westbrook may have finished last night with impressive stats: 27 points, eight rebounds and seven assists; however, his 2-10 first-half shooting (10-26 overall) shot the Thunder right out of last night's game.
His ill-advised shots forced the Thunder to play catch-up again against the motivated Heat and placed them in another nearly insurmountable hole from which Kevin Durant's fourth-quarter heroics could not extricate them.
The game's controversial no-call on LeBron James' contest of a Kevin Durant leaner in the waning moments and a blown second-quarter call on a legal Serge Ibaka block of a LeBron James shot didn't cost the Thunder last night's game. Westbrook did.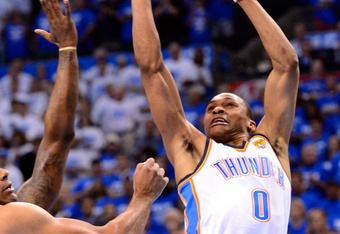 Ronald Martinez/Getty Images
If the gifted Thunder guard wants to become the scoring-oriented point guard leader of an NBA Championship team, then his shot selection must improve, his senseless fouls must cease and the ebb and flow of games must be managed and dictated effectively by him with the ball in his hands and not sitting on the bench because of foul trouble. 
If he can make these changes to his already brilliant overall game, Russell Westbrook will make himself and his team better. 
Contrary to what Jeff Van Gundy remarked, Westbrook will then become a lot more like John Stockton—an NBA Hall of Famer, but even more like his Thunder coach Maurice Cheeks—a current NBA Hall of Fame finalist, and more importantly, 1983 NBA Champion.
Straight talk. No static.
MIKE—aka Raffone—the ultimate talking head on sports!