Stanley Cup Finals 2012: NJ Devils Have Plenty of Lessons to Take from Cup Loss
June 12, 2012

Jim McIsaac/Getty Images
The New Jersey Devils put up a good fight, but a 3-0 series deficit was too much to overcome on Monday night, as they lost to the Los Angeles Kings in Game 6 of the Stanley Cup Finals.
Although the season ended in disappointment, especially when one considers that this could be one of Martin Brodeur's last great moments, the Devils have nothing to be ashamed of. In fact, a lot of lessons came out of this that can be applied as the team looks forward to the 2012-13 season.
The Devils began the season looking to get back to the playoffs after missing them in 2011 for the first time in 13 seasons.
With a new head coach in Peter DeBoer and a healthy, newly appointed team captain in Zach Parise, the Devils stepped up to claim fourth place in the Atlantic Division and sixth place in the Eastern Conference. Along the way, their fans were treated to the emergence of rookies Adam Henrique and Adam Larsson and Brodeur's determination to end what might be his last season on a high note.
However, it wasn't all easy. New Jersey got a taste of adversity with constant trade talk surrounding Parise, financial problems and injuries to valuable defensemen such as Henrik Tallinder and Andy Greene.
But then the playoffs came, and that was when the real lessons were learned.
Parise, in his first postseason as team captain, got the Devils past a Florida Panthers team that was underestimated and wouldn't go down without a fight.
New Jersey then got revenge on a Philadelphia Flyers team that had a Conn Smythe favorite in Claude Giroux and had defeated the Devils in the 2010 Eastern Conference quarterfinals. This time, New Jersey was the team that dispatched Philadelphia in five games.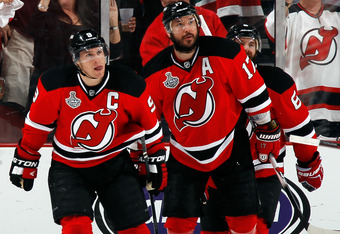 Bruce Bennett/Getty Images
From there, the Devils went on to defeat their biggest rivals, the New York Rangers, and found themselves in their first Stanley Cup Finals since 2003.
Parise surely had a lot of pressure on his shoulders, and he handled it with grace the entire postseason. He also backed it up on the ice, ranking first in the league with eight goals and sixth with 15 points.
This should give New Jersey more incentive to keep him come July 1. Otherwise, we could see him leading another team to Stanley Cup glory in 2013.
Alternate captain Ilya Kovalchuk also gained experience he could have never gotten if he were still on the Atlanta Thrashers/Winnipeg Jets. He played in a Game 7 in the quarterfinals and experienced the Rangers-Devils rivalry at its highest level. He also got to the finals for the first time in his career.
Kovalchuk finished the postseason first in the NHL with eight goals and third with 19 points, which should give him more merit when it comes to the discussion of elite NHL players.
Henrique was arguably the most valuable rookie of the postseason, scoring series-clinching goals against the Panthers and Rangers. He never went away in the finals, either, scoring the game-winning goal in Game 4 and the Devils' lone goal in Game 6.
This is not the first time he has experience being on a team that faced a 3-0 deficit. His Windsor Spitfires team was in the same hole in the 2010 Memorial Cup Finals.
Although the Devils weren't able to come back from being down in the finals, Henrique surely taught even his more experienced teammates about not giving up when the chips are down and being the best possible player one can be in such crucial moments.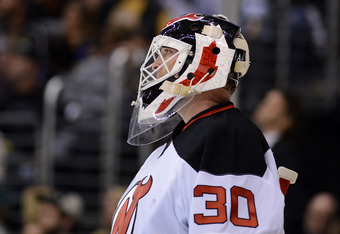 Harry How/Getty Images
Brodeur indicated last night that he would return for another year (via Rich Chere of The Star-Ledger), and it seems like he has nothing to learn at this point in his career.
However, even if this was his last shot at playoff glory, he should not forget to cherish his memories of past Stanley Cup runs and know that whenever he decides to hang up his skates, he got another shot at Cup glory.
Finally, DeBoer came to the Devils from the Panthers this year without any NHL playoff success. He had to learn to make adjustments against experienced playoff squads, motivate his team to step up their game and keep them going during the tough points of the postseason.
DeBoer will be able to take this and once again get New Jersey back to the playoffs, making him a stronger coach, which will earn him more respect from his players.
The Devils may have ended their season without a Stanley Cup, but they can also go back to New Jersey and pack up their lockers knowing that they are a stronger team than they were at the start of the season. That alone will make them a force to be reckoned with as the rest of the Eastern Conference looks forward to puck drop come October.
This article also appears at The Hockey Writers.