Why Andrew Luck Won't Win NFL's 2012 Rookie of the Year Award
June 12, 2012

Joe Robbins/Getty Images
Andrew Luck will not win the NFL Rookie of the Year award.
In fact, I don't think even think he will have the best season of any of the rookie quarterbacks.  Robert Griffin III will have a better season than Luck, and I have my eye on Russell Wilson to emerge as a dark horse stud rookie QB.  
Luck is the prototypical starting NFL quarterback, the type of guy that gets GMs salivating over the opportunity to build a franchise around him.  Still, the odds are just too stacked against him to have a ROY-type season.
Don't get me wrong, however, I am not prematurely writing off Andrew Luck as a bust, a la JaMarcus Russell.
This season is the first step in the multi-year process of rebuilding and rebooting for the Indianapolis Colts organization.  In 1998, when the Colts drafted Peyton Manning, he went 3-13 as a starter, throwing 26 touchdowns and 28 interceptions.  It was the worst season of his career.
Fast forward six seasons and Manning throws for 49 TDs and 10 INTs in 2004, one of the best seasons ever by an NFL quarterback.
If everything goes according to the Colts' plan of drafting Luck to be Manning 2.0 then he will struggle this season and eventually become an All-Pro.
The Colts still have many pieces to add if they want to see their plan come to fruition, though.
First of all, their offensive line was decidedly porous last season.  Colts GM Ryan Grigson did a good job of picking up three veterans during free agency this year, but they are still untested as a unit, and the lack of continuity on the line will affect Luck during his first year in the league.  Not only will he be feeling pressure from the likes of Kamerion Wimbley and Brian Cushing throughout the season, but if Indy can't establish a run game it will put even more pressure on Luck to perform at a high level.
Even if the additions of Winston Justice, Samson Satele and Mike McGlynn shore up the Colts line problems, they still don't have a consistent running back.
Donald Brown has shown flashes of potential to be the guy, but he has largely been a first-round bust at this point in his career.  Colts fifth-round pick Vick Ballard has been looking impressive at OTAs and could see some playing time, too.  Still, the names Donald Brown and Vick Ballard sound more like a two characters from a TNT lawyer show than NFL running backs and will not strike fear into the heart of opposing defenses.
To sum up the last eight paragraphs, the Colts aren't very good and they aren't going to be very good next year.  
In fact, according to an article in Business Insider, since 1998 teams that take a quarterback in the first round and use that player as their primary starter the following season only averaged six wins the following year.
Let's just say for a minute the Colts largely exceed expectations next season and end up going 8-8.  In order for that happen, Luck will have to have a good year, but—even if that happens—he still won't win Rookie of the Year.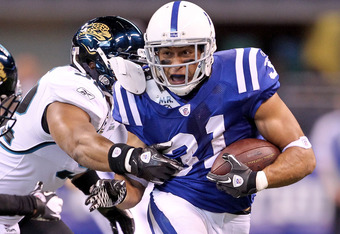 Andy Lyons/Getty Images
Robert Griffin III is coming to a Redskins team that went 5-11 with Rex Grossman as their quarterback and added some big pieces in the offseason.
Many Redskins fans think the team was only a few pieces away from being a playoff contender last season.  While that outlook may be a little optimistic, the Redskins' should undoubtedly improve on last season.
RG3 will have the likes of Santana Moss, Pierre Garcon, Chris Cooley and Fred Davis to throw to.  The Redskins also have Tim Hightower, Roy Helu and Evan Royster in their backfield.  I guarantee one of those backs will have a breakout fantasy season next year.
Without a doubt, Robert Griffin III has to be the favorite to win Rookie of the Year next season.  
If he doesn't win, then it will be Trent Richardson.  I mean, how much more could the Browns' offense consist of besides handing him the ball?  I expect 25 touches a game for the guy and, as we saw at Alabama, he's a workhorse.
Between the Colts' inevitable state of disarray this coming season and the abilities of the other candidates, Andrew Luck will not be following the footsteps of other former No. 1 overall picks Cam Newton and Sam Bradford and winning the Rookie of the Year Award.
Luck's day in the sun will come—just not this season.