Notre Dame Football: Comparing a Once Great Program to Recent Champs
June 7, 2012

Al Messerschmidt/Getty Images
Since the creation of the BCS, the Fighting Irish have yet to win a national title or even compete in the national title game. This probably goes a long way in explaining why conferences are clamoring for the Irish to join. They bring a large fan base, lots of money and don't compete at an elite level. This allows for the conferences to improve their prestige and revenue stream and for a conference's traditional powers to feel secure in their supremacy.
I made this argument in a previous article and the question was raised in the comments as to whether Notre Dame is a mediocre program. I admit they are one of the most successful and storied programs in college athletics, and perhaps in all of American sports. But that doesn't mean it currently competes on a level with the nation's best.
Because it hasn't won a national championship within the last quarter century doesn't mean it's not a top team. So in this piece I look for more evidence in support of the point that Notre Dame football is not among the nation's best.
Because the ultimate measure of success is wins, that is where I will look. Heisman Trophy winners, All-Americans, and players in the NFL are marks of success, but they don't make a program great unless those things translate into wins.
Since 1997, when Bob Davies took over from Lou Holtz, the Irish have a winning percentage of just over 57 percent. Irish apologists will blame this on a strong strength of schedule. And they would be right; Notre Dame does not do well against quality opponents. Since 1997 the Irish are 2-8 in bowl games, which translates to a 20 percent winning percentage.
But these numbers alone don't prove anything. They must be compared to how other programs have fared during the same time frame.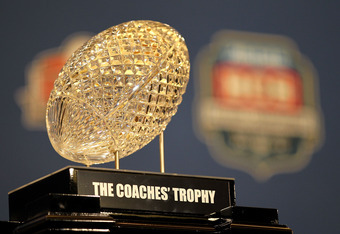 Andy Lyons/Getty Images
To see if Notre Dame should be considered elite let's look at national championship teams. For clarity's sake, let's keep the number of teams we compare to Notre Dame to five. I will take the last five different national champions and try to establish a baseline. The list of teams, with year of national title win in parentheses, includes Texas (2005), Florida (2006, 2008), LSU (2007, 2003--though 2003 is outside the sample I include it here as a point of reference), Alabama (2009, 2011) and Auburn (2010). In case you weren't aware, the SEC has been pretty good the past few years, which nullifies Notre Dame's strength of schedule excuse.
Here is each team's regular season win percentage and bowl win percentage since 1997. A fifteen year window seems like a fair sample for establishing recent success. It is important to look at bowl game win percentage in addition to regular season in order to establish a rate of success against quality opponents, which goes directly to the strength of schedule argument.
I do not look at end of season rankings as subjectivity is all too prevalent in such rankings. Prestigious teams usually get a bit of a bump based upon reputation and not merit.
So here goes.
Notre Dame: regular season win percentage is 57 percent and 20 percent in bowls. This includes no undefeated seasons or national titles. 
Texas: 76 percent win percentage in the regular season and 69 percent in bowls, which includes two national title games with a win in 2005 and a loss in 2009.
Florida: 74 percent in the regular season and 60 percent in bowl games with national championships in 2006 and 2008. Though it is outside of the sample it is worth noting that in 1996 Florida won the national title and lost in the national title game against Nebraska in 1995.
LSU: won 73 percent of its regular season games and 69 percent of its bowl games, which include victories in two national title games and a loss in 2011.
Alabama: 63 percent winning percentage in the regular season and 45 percent in bowl games, which includes two national championship game victories in 2009 and 2011. Its winning percentage would have been higher in both the regular season and in bowl games had it not been forced to vacate 21 wins from 2005-2007 for textbook violations.
Auburn: 67 percent winning percentage in the regular season, which includes two undefeated season in 2004 and 2010, and a bowl winning percentage of 75 percent, which includes its national title game win in 2010.
If looked at objectively, Notre Dame's lack of a national title from 1997-2011 and by far the worst winning percentage of any of the teams in the regular season or bowl games means that Notre Dame does not deserve to be considered one of the nation's elite football programs.
This doesn't prove it's an average team, nor does it show it's a bad team. All it shows is that Notre Dame does not deserve to be considered as one of the nation's elite.
This isn't to say the program can't turn it around, it simply says it hasn't. And until it does, Notre Dame shouldn't be in the discussion of who the nation's best teams are.