NBA Playoffs 2012: Story Still the Same, as Pressure Mounts, LeBron Wilts
June 6, 2012

Mike Ehrmann/Getty Images
As the great Led Zeppelin once wrote, the song remains the same.
Last night, once again, LeBron James was nowhere to be found come crunch time. Not offensively, not defensively. Just stuck in his usual corner come the final minutes of the fourth quarter of an extremely important game for the Heat.
LeBron posted a game-high 30 points for the game, but I can't remember a single basket that mattered. He attempted just five shots in the fourth quarter, with just two of those shots coming in the last five minutes of the game. One of those two shots came when the Heat were already done.
This is all too familiar.
James put on similar performances during his final games with the Cavaliers, and most recently, the 2011 NBA Finals against the Dallas Mavericks.
LeBron defenders continue to persist that the supporting cast around James is too weak. That he doesn't have the playmakers and guys who can consistently make shots to actually bring a title to South Beach.
This, however, is far from the root of the problem.
The problem is that LeBron James talks a big game and can't back it up. When he signed with the Heat, he set the bar for himself and his teammates at eight championships when he proclaimed the Heat would become the greatest dynasty of all time.
In doing so, James changed the culture in Miami and now they look like nothing more than an All-Star team.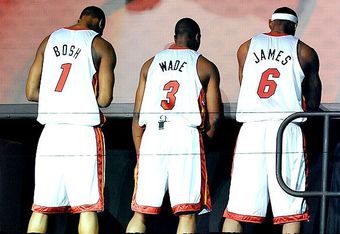 They're a team that can put the flash on and awe the crowd with a series of transition alley-oop dunks, but that's about it.
When it comes time to actually having to play nose-to-nose in a basketball game of serious implications, the Heat have no idea how to handle themselves. They cripple offensively, and at times, look lost defensively.
Jon Barry of ESPN's coverage team said it best last night. When the Heat are winning, it's all smiles and flashy plays, but when they're losing, they play stressed and fail to alter their style of play.
It's beating a dead horse at this point, but LeBron James has the skill, body size and ability to play every position on the floor. It's unfathomable to believe that this guy cannot take charge of this team, along with two other All-Stars, and whip through the Eastern Conference.
Perhaps the biggest difference between the Heat and this veteran Celtics team is something you can't find on a stat sheet.
Heart and will to win.
Rajon Rondo and Kevin Garnett refused to let the Heat run away with this game, even when the rest of their team was struggling early.
Rondo shot poorly on the night, but constantly found Garnett in position to score. He hustled for every loose ball and because of that extra effort, the Celtics got five extra points on second chance opportunities late in the game that proved to be the difference.
James may have had better numbers than Garnett, but the veteran Celtic proved to be huge and timely on all of his baskets. Every time Boston needed a score, Garnett found a way to get it done. He is playing his best basketball since the Celtics last won the title, and you can tell he's hungry for another one.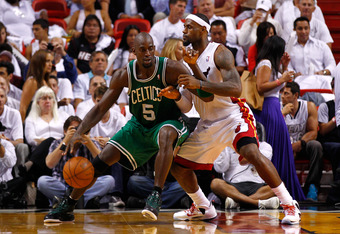 Mike Ehrmann/Getty Images
Turning back to James, he was nowhere to be found when the Heat needed him most last night. He's becoming the most passive superstar in the history of the NBA, and it's magnified because he claims to be the greatest of all time.
He is so afraid of failing that he'd rather not even have an opportunity. By just comparing his desire to that of Wade, his own teammate, you can easily tell the difference.
Late in the game, Wade ran practically from half-court to try and put back a shot off an offensive rebound and was able to draw a foul. LeBron is twice the size of him, there is no reason why he can't put forth the same effort and energy during a play that wasn't originally designed for him.
This isn't LeBron bashing, this is what is actually happening. The "Chosen One" is choosing to watch his teammates do all the work late in the game, a bit ironic don't you think?