2012 Stanley Cup Finals: Analyzing the Los Angeles Kings' Postseason Dominance
June 12, 2012

Bruce Bennett/Getty Images
The Los Angeles Kings have captured the Stanley Cup.
In perhaps the most unlikely Cup crowning in NHL history, the Kings routed the New Jersey Devils 6-1 Monday night to finish off a postseason run utterly unparalleled in hockey history.
With the victory, Los Angeles becomes the first eighth-seeded team to ever capture the league title, but that record isn't the one that will truly enshrine this squad as one of the most memorable Cup winners ever.
The Kings' route through all four rounds of the 2012 NHL Playoffs is both incredible and well-documented; their 16-4 overall postseason record ties the second-best mark ever (topped only by the Gretzky-led 1988 Oilers), and their 10-1 postseason road record is now tied for the best ever.
But those two statistics have been the hottest buzz of the sports world for weeks. Since the Kings defeated the top-seeded Vancouver Canucks 4-1 in the opening round of the playoffs, the world has been eagerly keeping tally of L.A.'s remarkable win-loss record.
Now that Los Angeles has capped off the streak, it's time to dive a little deeper into the jaw-dropping set of numbers these 2012 Kings have left in their wake.
The Kings' stunning 16-4 record came against the West's No. 1, 2 and 3 seeds and the East's No. 6 seed—four teams who had posted a combined 24-10 postseason record before encountering the Kings.
Additionally, L.A.'s 10-1 road record took place in four different foreign arenas—Vancouver's Rogers Arena, St. Louis's Scottrade Center, Phoenix's Jobing.com Arena and New Jersey's Prudential Center—located an average of 1,366 miles away from Los Angeles' Staples Center (per GeoBytes.com's distance calculator).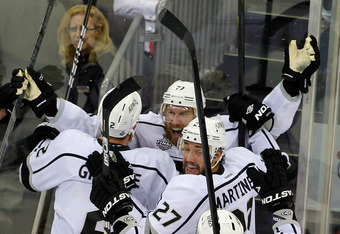 Paul Bereswill/Getty Images
The four teams based out of those arenas (the Canucks, Blues, Coyotes and Devils) had posted a combined 103-42-19 record in their home rinks this season. In series against the Kings, though, they won just one time in 11 attempts.
Moreover, Los Angeles is the first-ever team to go up 3-0 in every series since the league expanded to the four-round format in 1980—the '88 Oilers' two losses both came in Game 3s.
Conn Smythe Trophy-winning Jonathan Quick's .946 save percentage during the playoffs is the best since Marty Turco's .952 mark in 2007, and also the best among goalies who advanced past the first round since the NHL began keeping its archives in 1998.
By comparison, Tim Thomas' 2011 playoff save percentage, with which he also won the Stanley Cup and the Conn Smythe Trophy, was only .940.
Brian Elliot's '11-'12 regular season save percentage, the best in the league, was only .940 as well—and among goalies who played over half of their team's 82 games, the best was Mike Smith and Henrik Lundqvist's .930 mark.
Likewise, Quick's 1.41 playoff GAA (goals-against average) was the best since Turco's 1.30 in 2007 and, among goalies advancing past the first round, Curtis Joseph's 1.39 in 2004.
Thomas' 2011 playoff GAA was a whopping, at least in comparison to Quick, 1.98. Elliot's league-leading '11-'12 regular season GAA was 1.56.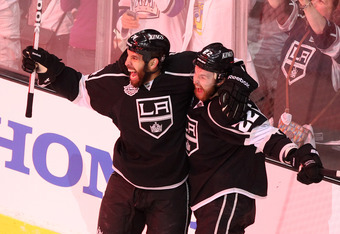 Christian Petersen/Getty Images
The team's offense has also stolen their share of headlines. After a much-discussed 29th finish in the regular season (only Minnesota scored less than the Kings' 2.29 goals per game average), Los Angeles' attack tallied an average of 2.85 per game in the postseason—ranking third among all 16 playoff qualifiers.
The Kings touted the only two players (Anze Kopitar and Dustin Brown) to hit the 20-point plateau in the playoffs, as well as six of top 12 overall scorers (Kopitar, Brown, Drew Doughty, Justin Williams, Mike Richards and Jeff Carter). 
Further, five of the seven NHL players to post plus/minus rating of plus-nine or better were Los Angeles players, including Kopitar and Brown's respective plus-16 marks that stood four ticks higher than anyone else.
In addition to taking the postseason scoring title with eight goals and 12 helpers in 20 games, Brown also tallied a league-leading 93 hits during the playoffs, at least eight more than any other player on any other team.
Franchise cornerstone Anze Kopitar, coming off of his sixth consecutive 20-plus goal regular season, didn't disappoint in the playoffs, either, with eight goals and 12 assists of his own.
Former 30-goal scorer Dustin Penner, after scoring only 17 points in 65 games during an extremely disappointing regular season performance, also experienced a postseason revitalization. Penner racked up eight assists, 11 points and a plus-four rating in 20 playoff appearances.
February trade deadline acquisition Jeff Carter, after struggling through most of the '11-'12 season, caught fire in the postseason as well. The 27-year-old tallied eight goals, including two in Monday's Cup-deciding game, and five assists over the course of the playoffs.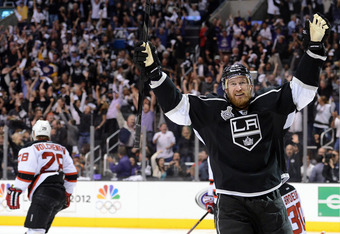 Harry How/Getty Images
Youngsters Dwight King (five goals, three assists) and Trevor Lewis (three goals, six assists) each chipped in with surprisingly noteworthy contributions of their own, as well.
Moreover, the Kings' shocking goal-scoring success also translated into fantastic clutch play down the stretch, as the team outscored opponents 22-8 in third periods and overtimes throughout the playoffs. 
That domination under pressure helped L.A. go 15-1 in games they led or were tied in at the second intermission.
All in all, Los Angeles outscored the Devils by a combined score of 16-8 in the Stanley Cup Finals and outscored all four of their opponents by a 57-30 aggregate over the entire course of the postseason.
But, at least for now, the Kings don't care much about any of these stats.
They're just celebrating the 34.5 lb. cup of silver currently decorating their locker room.
So, regardless of how many obscure records and odd statistics L.A. really did set this spring, Los Angeles' remarkable postseason dominance can still be boiled down to just two mere numbers.
16 wins.
And four losses.
Mark Jones is a Bleacher Report featured columnist for the Carolina Hurricanes and the NHL. In three and a half years with the site, he has written more than 380 articles and received over 505,000 reads.