Terrell Owens Reportedly Considering Suing Allen Wranglers After Being Released
May 30, 2012
Christopher Polk/Getty Images
Terrell Owens just isn't ready to let go.
After being released (cut, fired, whatever you want to call it) from the IFL's Allen Wranglers, the former Pro Bowl NFL wide receiver is reportedly considering fighting back, according to TMZ:
Terrell Owens ain't taking his latest pink slip laying down—TMZ's learned he's considering a lawsuit against the Allen Wranglers...claiming they breached his contract when they 86'd him yesterday.

Sources close to T.O. tell us the former NFL superstar is pissed because Wranglers execs blasted him for skipping a team appearance at a children's hospital. We're told T.O. believes he was not required to attend the event by the terms of his contract—and as a result he feels the team is in breach.
It seems that just going to the event at the children's hospital in the first place probably would have been a whole lot easier, but nonetheless, here we are.
Let's take a closer look at this newest development in the story that is Owens' life. 
What It Means
To me, it means Owens isn't ready to give up the spotlight. 
T.O.'s contract could have very well been breached, and he could be 100 percent right in this entire situation.
But does it really matter?
Would getting back on the Allen Wranglers really mean that much to him? Did he really enjoy playing with them so much that he is willing to go to court to get back on the team? Could he possibly need the extra money?
I'm willing to answer all of those questions with a resounding "no" and say that going through all of this really isn't worth it.
Instead, it would be safe to say that this is just another attempt at hogging the limelight. 
Owens could very well feel wronged, and I understand the attempt to right the ship after something like this, but at some point, you just need to move on.
What's Next
It's not official yet, but it appears court will be next for T.O. and the Allen Wranglers.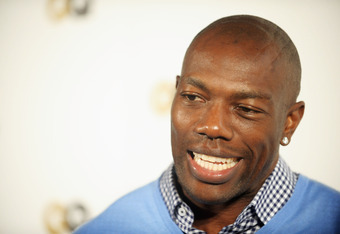 Gustavo Caballero/Getty Images
I'm not an expert on the whole lawyer thing, but I would assume if Owens' side wins, he would be reinstated to the team and get to ride out the rest of his contract. 
Also, you can probably expect another Owens story in the near future.
The guy is one of the greatest wide receivers in NFL history, but he is doing a great job of making sure no one forgets his eccentricity. 
This isn't the last you've heard of Terrell Owens.