2012 NHL Playoffs: Jeremy Roenick and Mike Modano Talk Playoff Beards and Hockey
May 17, 2012

Ronald Martinez/Getty Images
Jeremy Roenick and Mike Modano aren't trading goals on the ice anymore. That doesn't mean that they can't work up some fabulous facial fuzz.
The two retired NHL legends are rocking some serious playoff beards thanks to the folks at Phillips Norelco, who have created a series of Internet videos set to run starting May 17.
Philips Norelco knows beards. Funny or Die has produced a series featuring Roenick and Modano that is intended to have some fun with the long-standing hockey tradition.
You can find part one of The Playoff Beard Follies: Missing The Beard on the web at the Philips Norelco page on Facebook (Facebook.com/PhilipsNorelco).
I got the chance to talk to the two stars of the series Wednesday for Bleacher Report to get the scoop on the scruff. I also managed to tear them away from their fond recollections of beards past for some thoughts on this year's playoffs.
B/R: What are the basic rules governing the playoff beard? Jeremy, when is the right time to start one?
Jeremy Roenick: For me, it was right when Game 82 was done. That's when all the shaving gear goes away. That's the day that my wife starts kicking me out of the bedroom and into a hotel room because she can't stand the facial hair. It starts that first day of the playoffs for me.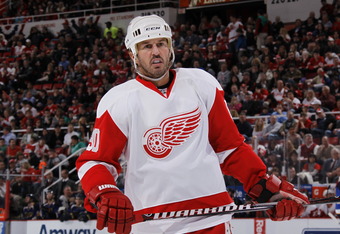 Gregory Shamus/Getty Images
B/R: Any grooming allowed in there?
Roenick: No grooming. Wherever it wants to go, you just let it go. Let it go wild.
B/R: Mike, what was your most memorable playoff beard in regards to the playoff run that went with it?
Modano: It probably wasn't until our last one where we had a real good run in '99, 2000, those two years where we got to the finals that finally, at that point. I had some spots early in my career that finally grew in. It was, you know, a little touchy the first eight, nine years of playing, but those two years it finally grew in, it got a little thicker to where it covered most of the face eventually.
B/R: Like anything else, it comes with experience, right?
Modano: That's right. A lot of weird things happen when you get older.
B/R: What's the difference between maintaining and living with the playoff beard in Dallas and Phoenix, with you both playing in southern states, as opposed to Chicago, Minnesota or Detroit?
Roenick: I think if you go that far into the season it's going to be warm anywhere you go. In the playoffs, you're never going to be comfortable anyway. You're never going to be comfortable with your body. You're going to be sore, you're going to be tired. It's almost a badge of honor. The longer your beard grows the more you know you're staying in the playoffs. The scruffier you get, the rougher you look.
That's what's great about this promotion with Norelco. We have got three spoof commercials that poke fun at NHL guys not being real beard-wearers. We're half-hearted beard-growers. We do it out of a tradition of the National Hockey League, but we can't wait to get it off. What's the best way to get it off? Norelco has the perfect (solution) to getting it off with as little pain as possible, because when you're growing that playoff beard, it can get pretty hairy.
B/R: My next question was going to be how many non-playoff beards have you guys ever sported. I'm going to guess very few.
Roenick: Never. Never. Not me. I'm sure you don't either, Mike. Mister Baby Face...
Modano: Yeah, once you can start growing it and once it looks decent and kind of made you look a little tough, you know, you try to do it. For the longest time I tried growing it and it just didn't come over as mean as those guys in the '70s and '80s. As long as I can remember, it (playoff beard) was the deal and we all tried to do it. It's such a long-running tradition and it's part of this time of the year.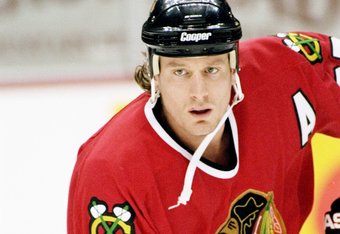 Glenn Cratty/Getty Images
B/R: I'd imagine that in a sport where you sustain facial cuts as often as you do, a beard gets in the way when that happens.
Roenick: Yeah. Obviously getting stitches becomes a whole new realm. It's not a fun thing to have to do with the big beard.
Mike was talking about the '99-2000 playoffs. I remembered when Brett Hull scored the overtime goal and Mike jumping up on Hully and how full his beard was. Not only was I envious of the fact that he won a Stanley Cup but that he could grow such a big beard.
B/R: Speaking of other players, who was the toughest guy you played with sported the wimpiest playoff beard?
Roenick: I'd say probably for me for being pound-for-pound one of the toughest guys I played with is Dallas Drake in Phoenix. He would hit as hard as anybody I can remember for his size, and for some reason he could barely get any kind of facial hair anywhere.
It was all spotty, just a patch of hair here and there, but boy he was tough. He looked like a homeless rat trying to grow a beard. Cuts all over his face, no teeth. It was one ugly sight.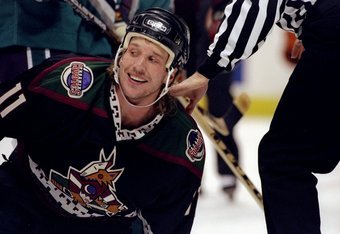 Elsa/Getty Images
Modano: I was going to say Shane Churla. He was one of the toughest guys in the game at one point in the early and mid-90's that I played with, but come the playoffs, he just couldn't do it. He really didn't need a beard to be tough. He was as tough as they came.
B/R: What are fans going to expect to see when they get a chance to watch the videos?
Modano: Like Jeremy said, it's going outside the box a little bit with the way Philips has come up with an idea of just having fun with the playoff beard and being such a tradition. Something that not only the players do but the fans as well and they're very involved in it.
Like J.R. said, it's a little bit of a spoof, poking fun at beards, so we hope it comes across that way. We've seen a little bit of the previews and we laughed at it. If we can laugh at ourselves, hopefully that's a good sign.
Roenick: I think that's important to note. This is a light-hearted kind of celebration of the beard. It's corny, it's funny in a way but it's bringing the toughness of hockey players have and having some fun with it.
It's a Funny Or Die Lampoon, kind of an under-the-collar, funny little spoof on what the playoff beard means. What it means to hockey players and what it means to the normal, everyday person. I think everybody will get a chuckle out of it. I'm sure Mike and I are going to get a lot of teasing and ripping over it but that's what it's all about, isn't it?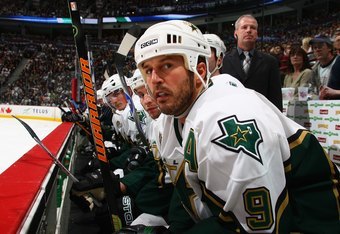 Jeff Vinnick/Getty Images
B/R: Mike, did you go back and watch The Mighty Ducks a couple of times before you went out and shot the series?
Modano: (laughs) Well, I haven't done much since The Mighty Ducks! It's been a long time. I didn't know how we were going to come across but I was excited to see that it was going to be kind of a comedy having fun and looking back. I'm glad it kind of went that way. Any drama, love stories, I'm not that good at anymore.
Roenick: I will say, Jon, that it was a really good team, a really good combination. Not only just Norelco, but with Mike and I to get together again and do something like this together. We're closer as friends after retirement than even before we retired. We've been friends for a long time but I think now being out of the game…this is a good relationship and a good partnership that Mike and I can join Norelco and have some fun. Probably the most fun time in the National Hockey League.
B/R: Jeremy, you played for Phoenix for a while and Mike, I know that Dave Tippett was your coach in Dallas. You've been to a conference final with him. What is he telling his players down two games and trying to get back in the series in L.A.?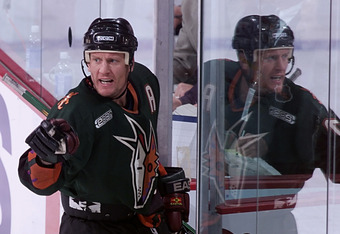 Brian Bahr/Getty Images
Modano: I would say they (Phoenix) are feeling pretty disappointed and defeated a little bit this morning losing two in a row at home. L.A. has been, I think they've been 8-0 on the road. They've just been a phenomenal road team in the playoffs. Dave's always had an even-keel kind of demeanor; he doesn't get too high or too low.
What's important now is the preparation and getting ready for just Game 3. It's not really a series until both teams have won a game. If L.A. gets three, then it's a different story. There's a lot of urgency to winning Game 3, if they don't do that, then I think it's over.
B/R: Jeremy, what's been the most impressive part of this Phoenix run to the conference finals to you so far?
Roenick: Mainly, it's that they're a team without any major stars. They don't have anybody who really jumps off the page at you whether it's on paper or on the ice. They all have their own jobs and perform those jobs to a tee. Dave Tippett has put in the system and it's a system that matches the roster that he has.
Mike Smith has been an unbelievable addition to that team this year. Tippett brought him over from Tampa. He had him in Dallas, knows what he's all about, and he's taken the league by storm right now. It's a good story. It's that combination of everybody doing their job, winning by committee.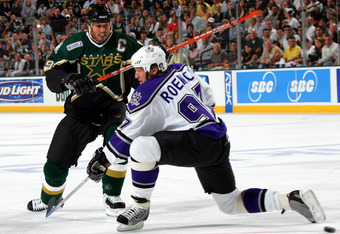 Ronald Martinez/Getty Images
B/R: Of the four teams remaining, who do you like to take the Stanley Cup?
Modano: I did the NHL Network in October and I actually had L.A. in the finals against Philly, so I'm almost there. They keep getting better. They've gotten better and better as the playoffs have gone on and now (Jeff) Carter and (Mike) Richards are playing great. Their main guys are playing at such a high level that I just think they're tough to beat.
Roenick: I had the Rangers in the finals and I predicted the Rangers to win the cup before the playoffs started. I think that L.A. is playing at such a higher level than any of the four teams that are still left.
If the Rangers get by New Jersey, I think the brutal schedule of playing two seven-game series and then another emotional series against New Jersey could be too much for them when it comes to a team that's flying as high as the L.A. Kings are. I would have to give the Kings a little bit of the edge there.
Fans can become a part of the playoff beard conversation by sharing their bearded look on Twitter with the hashtag #HairiestStanley for a chance to be honored as "Beard of the Week" and win free Philip Norelco grooming and shaving products to keep their style in check.
For more information and to see the Funny or Die Playoff Beard Follies presented by Philips Norelco, visit Facebook.com/PhilipsNorelco and follow @ShaveExperts.