Dear American Soccer Haters: We Don't Need You Anymore (A Thank You Note)
May 8, 2012
Scott Heavey/Getty Images
In the vast landscape of American sports, soccer has still yet to make a significant impression. Frankly, soccer has always been treated as something of a sixth toe in the footprint of American sports, with many fans calling soccer—and anyone who has grown to love it—every name you can imagine.
Soccer is boring. Soccer is for sissies. There isn't enough scoring. Just last week, I did a radio interview and mentioned an estimated 650 million people would tune in to the Manchester Derby, a statistic beset by comments like, "Soccer is only for people who weren't good enough to play real football." 
Clearly, the commenter was right. Half the planet must be a bunch of sissies.
The good thing for soccer fans in America is that FINALLY, we no longer need people like that to care.
So thank you, haters. We actually don't need you anymore.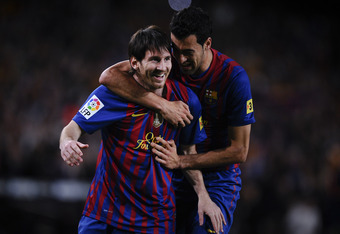 David Ramos/Getty Images
It's true. Soccer fans who tried to convert general-interest American sports fans have been misguided for years. Forcing American sports fans to care about soccer cannot work from a fan level. It can only work from a TV executive level.
We were misguided in our pleas, and now, finally, we've gotten to the point where we can stop, take a minute and realize how foolish we have been. The average American sports fan may not have been listening, but TV executives were. 
As the European seasons come to a close, the English Premier League has as much final-day intrigue as fans could wish. Not only is the EPL title still up for grabs, but so are two of the top four positions in the league table—to qualify for next year's Champions League—as well as the last remaining spot in the relegation zone.
Survival Sunday.
That's what Fox Soccer is calling this weekend's slate of matches, something it is taking very, very seriously.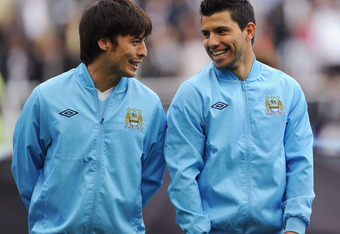 Michael Regan/Getty Images
While ESPN2 will air Manchester City vs. Queens Park Rangers, the most important match of the weekend, Fox and its array of networks will carry every other match on live TV. It's unprecedented, and it's an American soccer fan's dream.
City will bring home the title if they win, leaving QPR open to relegation if Bolton can beat Stoke. Should QPR win or draw, they will stay in the EPL next season, and the door swings open for Manchester United to beat Sunderland for the crown. 
And we can see it all. Fox is putting matches on all its cable platforms this weekend, including FX, Speed, Fuel and FSN. A lot of people who aren't expecting to see soccer this Mother's Day are about to get a big footy surprise. 
This weekend is a culmination of a dedicated effort by the American cable companies to provide more soccer content to fans in America. It's clear Fox, ESPN and even NBC aren't messing around.
Soccer is big business on TV.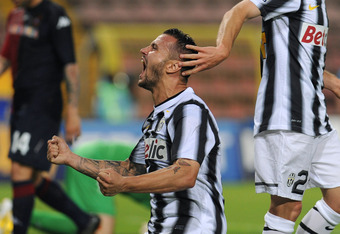 Valerio Pennicino/Getty Images
Not only have American fans been able to watch more soccer than ever this season with weekly matches on ESPN2, FoxSoccer Channel, FoxSoccer Plus, GOL TV, NBC Sports Network, ESPN Deportes and mobile apps like WatchESPN and FoxSoccer2Go, but soccer coverage has been expanding to more traditional non-sports platforms under those umbrellas as well.
ESPN has put many games on ABC during big international competitions. Fox has put Champions League semifinals matches on FX—available in many more homes than FoxSoccer—and routinely puts the Champions League final on Fox.
NBC has added coverage as well, with games not just on its sports network, but also slated for NBC, taking top MLS matches and a select number of U.S. international contests for the network TV audience. 
Soccer fans in America finally have what they have always wanted: access.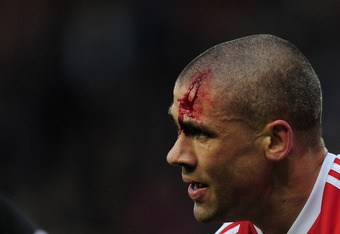 Jamie McDonald/Getty Images
Somewhere along the way, American soccer fans thought if they could convince more Americans to like soccer, the ratings would go up and the networks would respond by making soccer more accessible. That logic has led to far too many arguments about who is or isn't a sissy. It's enough.
Soccer TV ratings are significantly higher in America than ever before, buoyed by the recent success of both the men's and women's U.S. national teams. While MLS still struggles to find a television foothold, the international game is more popular than ever in America.
Clearly the advent of technology has helped bring the beautiful game to America. Fox and ESPN have been able to use pay services and mobile apps to bring more games to American fans, adding to the overall number of eyes watching soccer every week. Now, we are able to get more and more games over regular TV. This weekend, we can get all of them (at least from England).
Oh, right, it's not just England. Did you know you can watch virtually every match in Serie A week in and week out? You can watch almost every match from La Liga or the Bundesliga or a host of leagues in Mexico and South America, if you know where to look.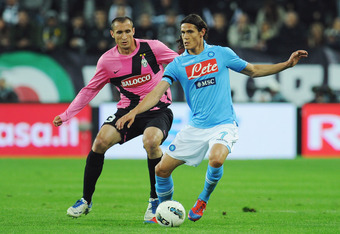 Valerio Pennicino/Getty Images
Just over a decade ago, you could turn on the TV, and the only soccer you could find was maybe one game from England and a host of Spanish-language matches. Now, you can literally watch more than 30 top-flight matches on cable or mobile platforms every week. 
Now that soccer fans have finally convinced the networks there is an ever-deepening, dedicated audience in America for international soccer, fans can finally stop trying to convince other people to watch.
We don't need the haters anymore.
Besides, more and more fans have found the game to be better than expected. (Note: I recently realized this about MLS, which has a much higher quality product than I snobbishly assumed.) American sports fans generally like what's popular. If ESPN convinced us that poker was popular, it shouldn't be too hard for it convince people to watch an actual sport. 
And that's the great part: It's not up to fans anymore. The networks have so much money invested in soccer, it's on them to convince people to watch. During this summer's Euro12 tournament, SportsCenter will be littered with highlights from matches. Soccer will be unavoidable on ESPN. We can just sit back and enjoy it.
This column is sincere. I'm not trying to troll people into a fight just to convince them how awesome soccer can be. The fact remains, soccer is boring. (I cannot get through a Serie A match without falling asleep.) There often isn't enough scoring or fluidity. I get that it's not for everyone.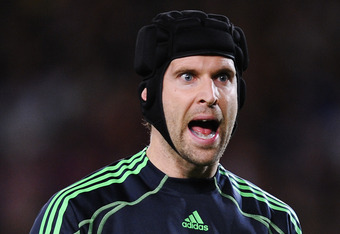 David Ramos/Getty Images
Sometimes, a scoreless draw in soccer is the most exciting match of the week, and sometimes, it makes soccer fans want to rip out their eyes. It can be a lot like a pitcher's duel in baseball that way—were the pitchers great or the offenses anemic? 
Like baseball, there is a lot of nuance in soccer, and that can be hard for people to appreciate unless they've watched a lot or played the game. Trapping a ball served from 60 yards away is probably one of the hardest things to do in all of sports, but world-class players make it look routine, so the level of skill does become hard to appreciate when there aren't headline-grabbing goals or game-saving stops in net.
Tactical soccer isn't exactly sexy.
Wait...enough of this! I'm falling into my own trap of trying to excuse the intricacies of the game to convince American fans to give it a shot. That's precisely NOT what I want to do!
If you think soccer is for sissies or people only play soccer because they aren't tough enough to play a "real man's sport," you have serious problems. Dial down the machismo and grow the hell up.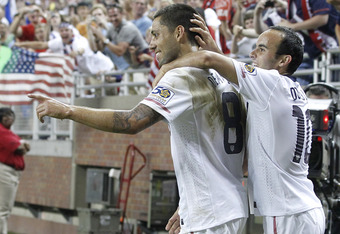 Gregory Shamus/Getty Images
But if you are like most American fans and just think soccer isn't for you...that's fine! Forget about all the other stuff about nuance and tactics. Seriously, please, it's totally fine if you don't like soccer. 
We don't need you anymore, so we will stop begging you to care.
At least I will. This season, culminating this week and into the summer, is a clear indication the TV networks are finally on our side. Save your energy for game day.