Tom Brady vs. Aaron Rodgers: Which QB Will Have the Better Year in 2012?
May 3, 2012

Matthew Stockman/Getty Images
Tom Brady and Aaron Rodgers: Both are names synonymous with greatness and success in the NFL.
Brady has won three out of his five Super Bowls with the New England Patriots, while Rodgers has won the first Super Bowl for the Green Bay Packers since Brett Favre did it in 1997. 
Both have impressive resumes to say the least. Aside from the championships, both quarterbacks have outstanding numbers on the field. 
The numbers say that Brady will have a better year, but I disagree. 
I am a strong supporter of the claim that Aaron Rodgers is the best player in the NFL right now. I'll probably get hung out to dry for this statement, but I see it as true. 
I'll start my argument with numbers. Rodgers' first year in the NFL was in 2008, the year Brady was taken out of action during the first game of the season against the Kansas City Chiefs. Since Brady obviously was not able to play, I won't include either Rodgers' or Brady's numbers from that year. 
So from 2009, Rodgers' second year as a full-time starter and Brady's ninth, up to last season, Rodgers has thrown for 12,999 total yards with 103 touchdowns and 24 interceptions.
During this time, Rodgers has won a Super Bowl title; secured both the AP (2010) and the FedEx Air NFL Player of the Year awards (2011); made two Pro Bowls; been selected as a first-team All-Pro; become the only player in NFL history to throw for 4,000 or more yards in the first two years as a starter; and become the only quarterback to throw for 45 or more touchdowns with six or less interceptions (2011).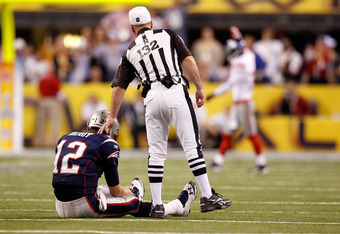 Rob Carr/Getty Images
During the same stretch of time, Brady has thrown for 13,533 yards, 103 touchdowns and 29 interceptions. 
For his efforts, Brady has received three Pro Bowl selections; been first-team All-Pro; been selected as the AP NFL MVP (2010), the AP Offensive Player of the Year (2010) and 2009's Comeback Player of the Year; and lost in last year's Super Bowl.  
Brady should be leagues better than Rodgers right now, but that's just not the case. Brady just can't close on a Super Bowl anymore. He did it three times before and he seems to have used up all his magic. 
Rodgers on the other hand is only one year removed from the Super Bowl. He almost pulled it off last season, only to be beaten in the last minute by the New York Giants.
Let's not forget to mention that Rodgers was leading his team to an undefeated season for the bigger part of the year and only dropped one game during the regular campaign.
People will argue that Brady had an undefeated regular season and only lost one game—also to the Giants—albeit in the Super Bowl. Since then, Brady hasn't been Brady; he's still putting up the numbers but he has no new jewelry to call his own. 
In the past, Brady has not bounced back well from heartbreak. His last two Super Bowl appearances turned out to be crushing losses at the hands of Eli Manning and his Giants. I don't see Brady bouncing back this upcoming season, much like he didn't in past years. 
Also, one must look at the team that is surrounding the player. For starters, the Packers had one of their best drafts in their history as they stocked up on lucrative defensive prospects to add to their already stellar defense.
Their offense gained a new lineman, but why fix what isn't broken? The existing offensive line is still in great shape, the existing wide receivers are still performing at maximum capacity and Rodgers is still looking good.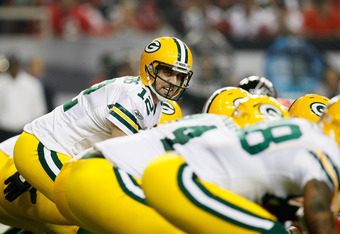 Kevin C. Cox/Getty Images
The Patriots had a solid draft as well, also focusing on defense, but with puzzling pickups like safety Tavon Wilson in the second round—along with a lack of picks in the later rounds—it makes people wonder if they could have spent that early pick a little better.
Veteran offensive lineman Matt Light has announced his retirement, opening up a hole in the starting offensive line. If you have Tom Brady as your quarterback, wouldn't you address this situation a little more proactively? 
Furthermore, Brady's top receiver last season was tight end Rob Gronkowski, who is fresh off ankle surgery. Brady also enjoyed hitting up wide receiver, Wes Welker but other than these two, Brady didn't really have much and will possibly have even less, depending on how the Gronk's ankle holds up. 
The Patriots' defense was not at all comparable to their offense, with most of the work falling on the shoulders of veteran defensive lineman Vince Wilfork and outside linebacker Jerod Mayo.
This two-pronged defensive strategy didn't pan out too well for the Pats as it led to them being last in the NFC for total defense. The Pats defense was outplayed by teams like the 2-14 Colts, the 6-10 Buffalo Bills and the 8-8 Oakland Raiders. Pretty sad considering the Patriots went 13-3 last season. 
A quarterback cannot have a successful year without a solid group of personnel behind him and it must be questioned if the Patriots have such a group to back up Brady. 
Rodgers, on the other hand, has just that.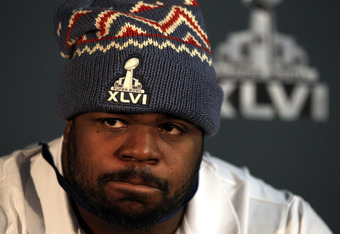 Scott Halleran/Getty Images
Finally, Brady's history with coming up short after a loss—coupled with his championship drought and lack of stable personnel—makes me think that he will not have the same season that Rodgers will have.
I'm predicting the playoffs for the Patriots, but I don't foresee a ring or even a championship appearance.
In fact, I don't think Brady will win another for quite some time—if ever—and he's only getting older. He's going to be 35 soon; Rodgers is only 28. 
It's getting close to the time where people will start to wonder if Brady is starting to slow down. Sure he's still putting up the numbers but he isn't making anything out of the positions he's put himself into.
His previous two failed Super Bowl attempts seem to have left him burned and lacking something that was very prevalent during his years at the top of the football world. A certain something that seems to have been picked up by none other than Aaron Rodgers. 
Rodgers is today what Brady was before his knee injury. He has the league and the football world wrapped around his little finger.
He has amazing energy and positivity surrounding everything that he and his team is doing. He's got the makings and the ability to make this upcoming season another championship season.
I'm picking them to avenge their last minute loss and make it to the Super Bowl. Depending on who steps in at running back and how these new defensive prospects work out, I can easily see Rodgers coming away with his second ring in three years. 
It's now that time where the NFL elite is shifting from the Indianapolis Colts and New England Patriots of yesteryear to the new elite of the Green Bay Packers, the New York Giants, San Francisco 49ers and possibly the Denver Broncos. 
So while Brady and his Patriots are looking back on their Lombardi trophies—now dusty with age—the Packers will be enjoying some much deserved time in the sun.