Detroit Lions 2012 Draft: Rookies Will Provide a Spark to Mediocre Special Teams
May 2, 2012
With the Detroit Lions 2012 draft over and done with, it is time to move on and analyze the heck out of something else for a change.
Namely the upcoming 2012 regular season and how these rookies will impact the team.
One thing everyone seems to agree on is that Riley Reiff, the Lions first-round selection, will be a name we see early and often. He was a steal at No. 23, and he has the skills and versatility to break the starting lineup from Day One.
Third-round pick Dwight Bentley could also contribute immediately in the defensive backfield. He certainly has the talent to do so, and he enters a situation where there is a cornerback vacancy to fill.
Other Detroit rookies won't find such ideal situations waiting for them.
They either will have solid veterans ahead of them on the depth chart, or they may need a season or two of development before they're ready.
That does not mean they will sit on the bench twiddling their thumbs though. They can fill an important role and impact the game significantly on special teams.
As this article from DetroitLions.com points out, the Lions' return and coverage teams were among the best in the NFL in 2010, but took a big step back last season.
They didn't rank above 15th in any particular category.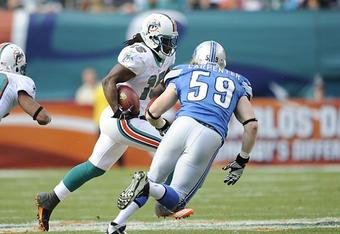 To make matters worse, key special teams players—Isaiah Ekejiuba, Maurice Stovall, Bobby Carpenter and Rashied Davis—left via free agency this offseason.
So the Lions have holes to fill on a unit that was already underperforming.
This could be a blessing in disguise for Detroit.
Ronnell Lewis, the Lions' fourth-round pick, is a guy that played outside linebacker in college but will play defensive end in the NFL. This season he will see most of his time on special teams.
Nicknamed "The Hammer," Lewis' attitude and style of play have all the markings of a special teams demon.
At his press conference, he spoke about the highlight reel hits that earned him his nickname and his fondness for "inflicting pain" on opponents.
I'm sure the Lions can't wait to turn this wrecking ball loose on opposing return specialists.
Lewis is not the only one.
Four out of the Lions' final five draft picks will likely be special teams stalwarts in 2012. Lewis, Tahir Whitehead, Chris Greenwood and Travis Lewis all will all have an opportunity to make a name for themselves via special teams.
Why? Because special teams breaks football down into it's most simplistic form—running, hitting and tackling. There are no complicated reads to decipher. One simply goes all out and tries to hit the closest person as hard as they can.
They may not have the bulk or the acumen to start in the NFL, but these rookies certainly have the ability to do that well. They are all known for their above average speed and tackling skills.
Whitehead is an undersized but speedy linebacker/defensive end. Travis Lewis is the same. Plus he is a tackling machine and has a chip on his shoulder after falling to the seventh-round.
Greenwood has a rare combination of speed and size that makes him valuable on coverages.
Who knows? Maybe speedy second-round pick Ryan Broyles will be fully recovered from his ACL injury and challenge Stefan Logan for return duties.
When you look at this crop of late-round selections, it's hard not to think Martin Mayhew didn't have special teams on his mind when drafting them.
Wait, what am I saying? That's just crazy talk. We all know Mayhew drafts best player available and never targets team needs.
Or does he?