Nuggets vs. Lakers: Highlights, Twitter Reaction and Analysis for Game 1
April 29, 2012

Harry How/Getty Images
With a 103-88 win over the Denver Nuggets in the first game of their first-round series, the Los Angeles Lakers are off to a good start and should be feeling great about their performance.
It wasn't always easy, but the Lakers were the far better team for most of the game, received huge performances out of some key players, and, of course, Kobe Bryant scored a ton of points.
Denver just didn't have the firepower to hang with the Lakers, from a scoring perspective, and they weren't big enough down low to compete with the likes of Andrew Bynum and Pau Gasol.
As if that weren't enough, Steve Blake and Jordan Hill gave the Lake Show great contributions off the bench. That proved to be too much for the Nuggets to handle.
All in all, the Lakers have to be feeling pretty good about themselves heading into the second game.
Tweets of the Night
Magic Johnson started the conversation off with a question that's on many minds. Are the Lakers good enough to win a championship this year?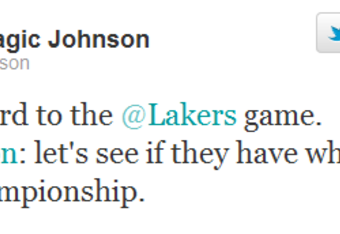 Condescending Wonka has some thoughts on everybody's favorite team: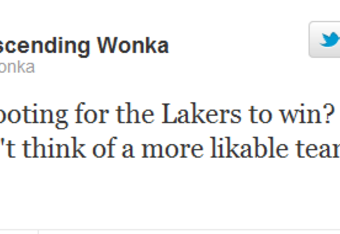 Haters are gonna hate, but Stephen A. Smith thinks Andrew Bynum's game was deserving of praise today, and I have to agree: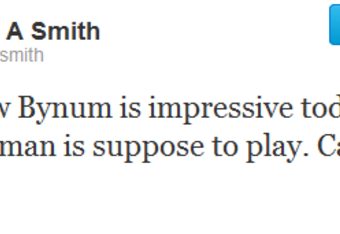 As you can tell, suspended Laker Metta World Peace was really into the game, wherever he was: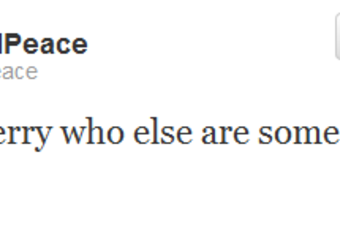 Here's a very interesting tweet I'd like to leave you with from a handle called @Rasjid. What are your thoughts on this?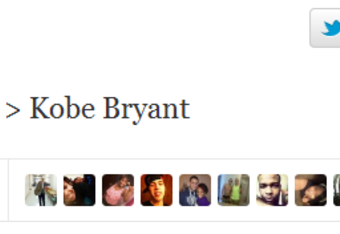 Must-See Highlights
The only thing worse than getting blocked by one guy is getting blocked by two. The Lakers provided the must-see highlight of this game with this awesome double-block by Gasol and Bynum:
The Nuggets didn't have much to be happy about this game, so let's throw them a bone here and take a look at this pretty play from Kenneth Faried:
Grades For Key Lakers Players
Kobe Bryant: A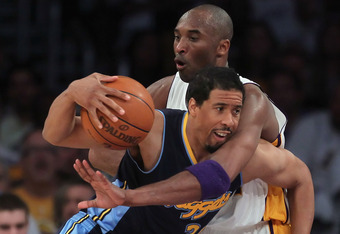 Jeff Gross/Getty Images
Per usual, Kobe finds a way to come up big in the playoffs. It's just what he does, and he's great at it. Bryant led the way for the Lakers with 31 points on 11-of-24 shooting.
Andrew Bynum: A+
Bynum didn't play a huge role offensively, but the game he had on defense and on the boards was more than enough for the Lakers. He was tremendous in the paint today, swatting away 10 shots and snagging 13 rebounds. Oh, and he did add 10 points to that line, which would be a triple-double if you're keeping score at home.
Grades For Key Nuggets Players
Danilo Gallinari: B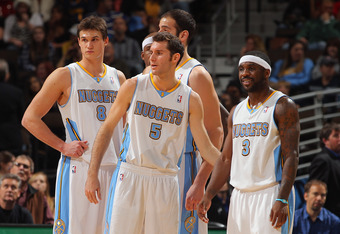 Doug Pensinger/Getty Images
I have to give credit to Gallinari for making the effort and doing his best to keep his team in the game, but in the end, his 19 points weren't enough to get the job done. 
Kosta Koufos: F
This wasn't a great game for Koufos, but who can blame him? He had to go against the likes of Bynum and Gasol all game, and success just wasn't in the cards for the big man. He wasn't able to score a single point, and he only grabbed five rebounds. Those are pretty pathetic numbers for your center in the playoffs.
Game MVP: Andrew Bynum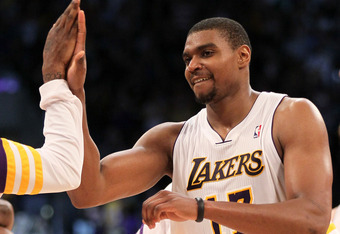 Stephen Dunn/Getty Images
He didn't put up incredible offensive numbers, but he was dominant down low. Anytime you put together a triple-double in the playoffs, you deserve the game MVP honor, in my opinion.
What's Next
The Lakers just have to keep doing what they are doing right now, and it will lead to success. They need Bynum and Gasol to play huge roles down low, and they need Kobe to be his normal, dominant self offensively.
The Nuggets, on the other hand, have to go back to the drawing board. They need to figure out a way to be effective in the paint against this L.A. defense, while somehow forcing the Lakers to solely rely on Kobe, stifling their offense.
Game 2 should be extremely interesting.