NBA Debate: Who Is Currently the NBA's Best Shooter?
April 17, 2012

Steve Novak. Ramon Sessions. Ersan Ilyasova. Stephen Curry. Ray Allen.
These the players with the top five three-point percentages in the NBA this season. But of those five, how many would you put in the debate for best shooter in the NBA? Two, maybe?
When it comes to shooters, a person can use a number of factors in determining which player is indeed better. Some will look strictly at field goal percentage, but that only tells a fraction of the story. Field goal percentage can include layups and shots in the paint, which of course are easier to make than, say, a 20-foot jumper.
Some will look at John Hollinger's "true shooting percentage," which is a formula that combines a player's field-goal, free-throw and three-point percentages. True shooting is a fun stat to consider but again doesn't tell the true story of who is indeed the better jump shooter. For example: Hollinger's TS percentage leader this season is Tyson Chandler. And we all know Chandler isn't much good outside of the paint.
I chose to implement statistics from 82games.com in my assessment of great jump shooters, using each player's shooting performance on shots outside of the the lane. I also took into account the number of made jump shots that were assisted (catch-and-shoot baskets) as well as the ever-faithful eye test, specifically what I have seen over the course of the season with my own eyes.
Narrowing down the field of great shooters currently in the league, here are the five players that best fit my criteria (playing time, shot attempts, percentages on jump shots and three point percentage): Ray Allen, Ryan Anderson, Kevin Durant, Kyle Korver and Steve Nash. Let's take a look at each, in alphabetical order: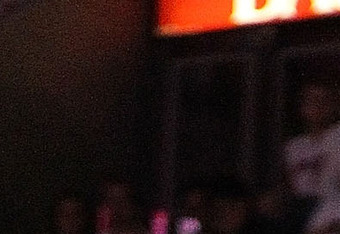 Mike Ehrmann/Getty Images
Ray Allen, Celtics (14.2 PPG, .458 FG%, .453 3P%, .915 FT%)
84% of FGA are jump shots
.554 eFG% on jump shot attempts
82% of jump shot makes are 'catch-and-shoot' or assisted
Not only in Allen annually among the top three-point shooters in the league percentage-wise, "Jesus Shuttlesworth" is also the NBA's all-time leader in three point makes. Allen has shown little signs of slowing down at 36, and still is a threat to bury a deep jumper from anywhere on the floor.
At his age, Allen takes more catch-and-shoot jumpers than he has in past seasons, evidenced by the 82% rate on his jump shot conversions. Allen is taking fewer shots this season than his career rate (10.7 to 15.5) which may help his percentages a bit. Allen's .453 percentage from three-point land this year is .53 greater than his career .400 percentage, meaning Allen is shooting smarter instead of more frequently. Kind of like an anti-Kobe.
Ryan Anderson, Magic (15.6 PPG, .431 FG%, .401 3P%, .871 FT%)
69% of FGA are jump shots
.574 eFG% on jump shot attempts
95% of jump shot makes are 'catch-and-shoot' or assisted
Anderson has the second lowest overall field-goal percentage of any shooter on this list, but his 57 percent conversion rate on jumpers inside the three-point line this season proves that he definitely belongs in the conversation.
Not only is Anderson a deadly spot up shooter, he is also 6'10" with a quick release, making his shot almost impossible to bother. Anderson is currently leading the NBA in three pointers made by a healthy margin (156 to Jason Terry's 133 as of April 17) and is a prime candidate for the NBA's Most Improved Player award. We also can't forget how Anderson celebrated his invitation to the three-point contest, by knocking down four threes in the first quarter against the Sixers in February.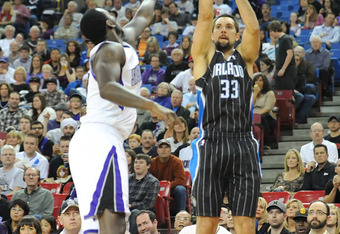 Kevin Durant, Thunder (27.8 PPG, .501 FG%, .375 3P%, .852 FT%)
82% of FGA are jump shots
.517 eFG% on jump shot attempts
51% of jump shot makes are 'catch-and-shoot' or assisted
Durant has the highest volume of shots on this list, by far. Considering that over 80 percent of Durant's 19.4 shot attempts a game are of the jump shot variety, his overall field-goal percentage of .517 is off the charts. Factor in that about half of those jumpers are off the dribble and you can make a strong case that Durant is probably the most well-rounded jump shooter in the game.
Some people wouldn't consider Durant a typical shooter due to his high isolation rate, but he's just as deadly coming off a screen as he is creating his own shot. If more of Durant's jumper came via the catch and shoot his percentages would be much higher than their already-impressive levels.
Simply put, at 6'9" with guard-like abilities, Kevin Durant is the most versatile outside shooter in the NBA today.
Kyle Korver, Bulls (8.0 PPG, .430 FG%, .437 3P%, .833 FT%)
96% of FGA are jump shots
.565 eFG% on jump shot attempts
93% of jump shot makes are 'catch and shoot' or assisted
Korver is the definition of a player whose game lives and dies by the jump shot. Ninety-six percent of his 6.2 shot attempts per game are jumpers, and 4.1 of those are taken from behind the three-point line, where Korver knocks shots down at a .437 clip, good for ninth in the NBA.
Korver is another relatively tall shooter at 6'7" and has textbook balance with a high release and little wasted motion. Korver takes the least amount of shots per game in this study, but he makes them count just the same.
Korver also relies heavily on others to get him the rock as he comes off screens and rarely creates his own shot. In short, Korver is the NBA equivalent of a designated hitter in baseball. He's the Bulls unquestioned designated long range shooter.
Steve Nash, Suns (12.6 PPG, .535 FG%, .400 3P%, .890 FT%)
83% of FGA are jump shots
.543 eFG% on jump shot attempts
18% of jump shots are 'catch and shoot' or assisted
Steve Nash is the only point guard on this list and for good reason. No other point guard in the NBA shoots the basketball as efficiently as Nash, evidenced by his .535 overall field goal percentage on shot attempts that are mostly jumpers. 
Nash is excellent at maintaining his dribble and looking for his teammates before creating a shot opportunity for himself. Nash is also the master of the pick and roll and will torch opponents all night if they chose to go under the pick.
It's amazing for a player Nash's age to still maintain such a high conversion rate with only 18 percent of his scoring opportunities coming via assist from a teammate while still remaining among the league leaders in assists. No player in the NBA is as efficient an outside scorer as Steve Nash.
In conclusion, who is the best NBA shooter? By reputation, you could go with Ray Allen. As far as volume and versatility, Kevin Durant would be the clear choice. But for overall efficiency, Steve Nash just might take the crown.
Honorable mentions: Steph Curry, Anthony Morrow, Jodie Meeks, Matt Bonner, Klay Thompson