Are Andrew Bynum's 30 Rebounds More Impressive Than Rajon Rondo's 20 Assists?
April 12, 2012

Wednesday night, fans of the NBA were treated to a couple of outstanding performances—a rare triple-double featuring 20 assists from Celtics point guard Rajon Rondo and a dominant 30-rebounding effort by Lakers center Andrew Bynum.
A question was posed to me earlier today: Which performance was most impressive, Rondo's 20 assists or Bynum's 30 rebounds?
While both performances were impressive in their own right, my initial response was rebounding. Rebounding is an individual's skill that is achieved through effort, athletic ability and instincts to position themselves to secure a loose ball.
An assist also requires instincts in getting the basketball to a teammate in the right position to score. But once the ball leaves your hand the rest is up to your teammate. Every player doesn't possess the ability to put their teammates in the best position to score.
But even less players possess the ability to rebound at a high rate.
I took a deeper look into the NBA record books to back up my response and here is what I found to support my claim:
Being able to rack up 20 assists on any given night is nothing to sneeze at, but the feat has been pulled off an average of three times a season since 1997. Lesser known point guards such as Will Bynum (20 on 3/12/10), Ramon Sessions (24 as a rookie on 4/18/08), Jamaal Tinsley (23 on 11/22/01), George McCloud (22 on 3/26/01) and Chris Duhon (22 on 11/29/08) have all reached the 20-plus assist plateau.
In that same span, 30-plus rebounds has only been accomplished twice; Kevin Love (31 on 3/12/2010) and Bynum on Wednesday night.
Advantage: Bynum
Rondo has recorded 20-plus assists four times prior to Wednesday
Bynum has reached 20-plus rebounds only three times prior to Wednesday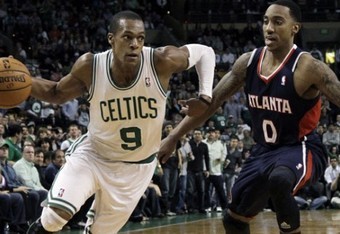 This is of no fault to Rondo. Actually, it's more of a testament to Rondo's ability to distribute the basketball. But the fact that Rondo has reached the 20-plus assist plateau four previous times may take away from the feat's glamour a bit.
Bynum's previous career high in rebounds was 23 against the Jazz last season and the Lakers were matched up with the second-seeded team in the Western Conference. For the hardcore stats fans out there, according to basketball-reference.com, Bynum's overall game score was a 19.0, compared to 12.6 for Rondo. 
Advantage: Bynum
Bynum almost single-handedly out-rebounded the Spurs (30 to 33)
Rondo single-handedly matched the Hawks in assists with 20
To his credit, Rondo managed to dish out 20 assists in a game where neither the Celtics or Hawks were able to reach 90 points, including an overtime period. The Celtics were also missing Ray Allen, who is nursing an ankle injury.
So what Rondo was able to pull off with a short-handed Celtics team is pretty amazing.
Bynum and the Lakers were playing without Kobe Bryant, who on any given night is good for 10-15 extra rebounding opportunities. Nonetheless, the Lakers do have two 7-footers on their roster and are one of the better rebounding teams in the league. The Spurs had little to no chance of holding both Gasol and Bynum off the glass.  
Advantage: Rondo.
Overall, I give the edge to Bynum's 30-rebound performance. History shows that 30 rebounds is a less common occurrence in the NBA than a 20-assist game, and securing a rebound takes more of an individual effort than getting an assist does.
Rondo's triple double was still quite impressive in it's own right. It's not everyday that a player can shoot 3-16 and still manage to rack up 20 assists. But personally, I'd take the 30 rebounds, the 30 extra possessions and controlling the tempo of the game any day.