Bobby Petrino: Arkansas Needs to Look to Alabama's History and Fire Petrino
April 10, 2012

Wesley Hitt/Getty Images
As Arkansas fans gather in support of head coach Bobby Petrino, I harken back to a time not so long ago when Alabama was going through the same thing not once, but twice.
From 2000-2007, Bama had to go through four coaches in seven years. First was Mike Dubose who, after coming off an SEC title in 1999, had an affair. Dubose was allowed to coach the following season, which turned into a disaster for the Tide.
Cut to a few years later when Alabama introduced another head coach—Mike Price. A lot of people were excited about Price because of the high-powered offense he coached at Washington State. What no one knew was the coach liked to hang out after hours instead of looking at game film.
All of this came to a head when Price was found to have spent money in a strip club, and then had $1,000 in charges linked to a woman who was staying in his hotel room. Naturally, the word got back to Alabama administrators, and Price was immediately fired.
Since it was only a few months away from the season starting, Alabama had no choice but to hire Mike Shula. Although Shula only had one winning season at the Capstone, he brought back dignity and pride to Alabama football and held the ship together for a few years before Nick Saban came along. A lot of those players who helped Bama win a National Championship in 2009 were Shula recruits.
What the University of Arkansas and its fans need to understand is that you can survive a scandal.
Looking back on the situation, the best thing that ever happened to Bama football in awhile were those scandals, because once the program got through all the muck, they were able to bring in Saban, and as you can tell, the program hasn't looked back since.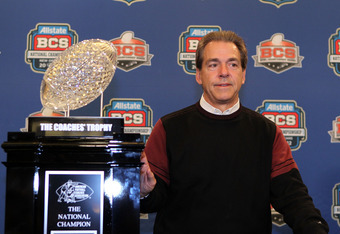 Andy Lyons/Getty Images
If Arkansas decides to get rid of Petrino and take the hit, it will survive. Keeping Petrino adds to the humiliation of the program, and it doesn't guarantee that the Hogs will contend for a National Championship. When Bama decided to hold on to Dubose, it was simply because it thought the program again would contend for a National Championship. But as the season played out, everything fell apart.
If an interim head coach can keep the program afloat for at least this year, Arkansas can always go after Garrett McGee or Gus Malzahn next year. And like Alabama's situation, the move may end up paying off in the end.
Keeping Petrino may be a risk that could sink the program for years to come, so the Hogs need to ask themselves, what's more important? Petrino or the football program?