Bulls vs. Knicks: Video Highlights, Twitter Reaction, Grades and More
April 8, 2012

Chris Trotman/Getty Images
The Chicago Bulls and the New York Knicks put on a show at Madison Square Garden in a spectacular preview of a potential first-round playoff matchup on Easter Sunday, with the home team scoring a thrilling 100-99 victory in overtime. The Bulls came charging back from a 21-point first-quarter deficit before surrendering a nine-point lead of their own in the fourth while failing to register a point over the final 3:45 of regulation.
Credit goes to Carmelo Anthony for shouldering the burden for the Knickerbockers, with 43 points (his most as a Knick) and two huge threes in crunch time to propel his hometown team to a triumphant result.
As a result, the Bulls will head into the last nine games of the season with no better than a two-and-a-half-game cushion over the Miami Heat for the top spot in the Eastern Conference playoff picture, while the Knicks will start the stretch run with a one-game lead over the Milwaukee Bucks for eighth place.
Tweets of the Night
Former Bulls big man Bill Wennington was on hand for Sunday's game, and was quick to note Chicago's history of come-from-behind performances at MSG:
Up up up in my perch for Bulls Knicks. Always a battle.DRose will be on the court.MSG has been a good place for Bulls players come backs #55

— Bill Wennington (@34billy42) April 8, 2012
Richard Hamilton's debut season in Chicago has been a perplexing disappointment for everyone involved, though JE Skeets of The Basketball Jones was particularly confused by Rip's dome accessories:
How'd Rip get away with wearing a red headband instead of Green Week one? #Bulls #Knicks

— J.E. Skeets (@jeskeets) April 8, 2012
You didn't think "Bill Walton" would make it through an entire Knicks game without poking fun at Baron Davis' pudginess, did you?
Who on the Knicks can handle Derrick Rose? Jeremy Lin is hurt and can't guard him, and Baron Davis ATE the last guy guarding him!

— The Bill Walton Trip (@NotBillWalton) April 8, 2012
Must-See Highlight
What's that you say? Hero ball doesn't work? Try telling that to Carmelo Anthony, who hit this shot to send the game into overtime:
And this one to set the final score at 100-99:
Grades for Bulls' Key Players
Derrick Rose: B+
Derrick Rose nearly led his team to victory, thanks to a 29-point performance, despite struggling to distribute effectively from the point guard position. Rose was particularly prolific in the third quarter, when he chipped in 14 of Chicago's 30 points to help erase the final remnants of that daunting 21-point deficit.
Rose misses out on "A" territory, though, on account of racking up just four assists against eight turnovers and failing to convert key shots down the stretch, from the field and the free-throw line.
Luol Deng: C
Luol Deng had a decidedly forgettable day at MSG. The Bulls' other All-Star scored 13 points on 4-of-16 shooting while allowing Carmelo Anthony to rack up a game-high 43 points on the other end of the floor.
To his credit, Deng ripped down nine rebounds and two assists, though it's admittedly tough to ignore the weaker points of his latest performance. 
Grades for Knicks' Key Players
Carmelo Anthony: A
Carmelo Anthony put up a strong line on Sunday to push the Knicks to victory. 'Melo managed a season-high 43 points on 16-of-31 shooting against the usually-stellar perimeter defense of Luol Deng, along with seven rebounds and three assists.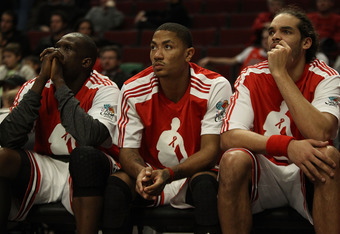 Jonathan Daniel/Getty Images
More importantly, Anthony hit a three late in the fourth quarter to send the game into overtime and another at the end of overtime to secure the win.
Iman Shumpert: A-
So, is anyone still complaining about the Knicks' selection of Iman Shumpert in the 2011 NBA draft? Shump stuffed the stat sheet with 15 points, nine rebounds, six assists and four steals while blanketing Derrick Rose for most of the afternoon, pestering the reigning NBA MVP into eight turnovers.
I think New York might have found its shooting guard for the foreseeable future, even if the point guard position remains somewhat unsettled, with or without Jeremy Lin. 
Deciding Factor: Free-Throw Shooting 
Simply put, the Bulls should've won this game, but failed to make plays down the stretch in the fourth quarter while allowing the Knicks to claw their way into overtime. In particular, Luol Deng and Derrick Rose went 0-for-4 on free throws in the final 34 seconds, giving New York the sliver of hope it needed to escape with a victory after the extra period.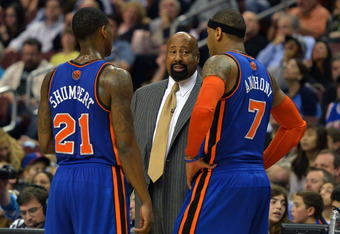 Drew Hallowell/Getty Images
Game MVP: 'Melo
A game-tying three at the end of regulation. A game-winning three in overtime. Forty-three points in all.
Yeah, 'Melo's the MVP of this game.
What's Next?
These two teams will do this same song and dance again on Tuesday at the United Center in Chicago.