Courage Defined: The Story of The Palestinian National Soccer Team
February 17, 2012

What is courage to you? It could be your wife running out in the cold weather in the morning to grab the newspaper. It could be a friend who's getting in a swimming pool for the first time.
It could be a child speaking in front of their entire school, getting over their anxiety of being in front of a large crowd.
Whatever your view of it, by definition, courage is simply a person enabling themselves to face difficulty or danger without fear. But what if courage, the way we know it, didn't come close to how it's known to others? What if courage wasn't just something that you got a pat on the back or rewarded for?
What if courage was your way of life?
That is the reality for the Palestinian national football team. A game on the pitch is great. That means that enough players were allowed to leave Gaza or the West Bank, without the team having to forfeit.
They haven't always been as fortunate.
The difficulty in obtaining exit visas from Israel has often times prevented players from being able to leave the country. In some cases, all of the players from Palestine have been denied visas.
In November of 2006, in the final match of the 2007 Asian Football Confederation qualification group stage, every player based inside Palestine was denied exit.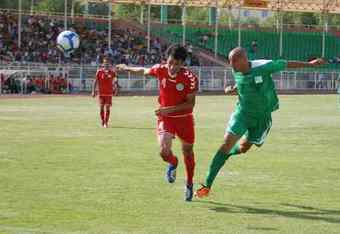 The game was called off by the AFC since the result of the contest was inconsequential to who advanced in the group.
But in 2007, there was a little bit more on the line.
Palestine had found themselves on a pivotal match of World Cup 2010 qualifying against Singapore. With the chance to represent their country in front of the world at stake, all West Bank- and Gaza-based players were again denied exit visas to leave the country.
Palestine were forced to quit, and concede what they had worked to that point for.
The Palestinian Football Association protested vigorously that the game be rescheduled, but Singapore were awarded with a 3-0 victory.
To have the World Cup qualifiers end that way, was absolutely deflating to the squad.
But even this is nothing compared to what has become an all-too-familiar part of life for these players.
Tarek al-Quto, a talented midfielder with real promise to not only star for Palestine, but to broaden his career throughout the world, was killed in the conflict, allegedly by the Israeli Defense Force.
Striker Ziyad Al-Kord was denied the ability to travel, and subsequently had his home destroyed.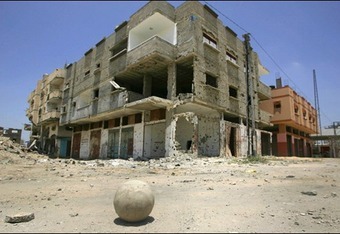 In 2008, the team was hit extremely hard.
A total of three Palestinian players died in the Israel-Gaza Conflict; Ayman Alkurd, Shadi Sbakhe and Wajeh Moshtahe.
But as is the way of life, you mourn those passed on, but celebrate their impact; and move forward. In the end, for the players, it's about playing the game.
Just being able to get out on the pitch is something that works to keep one's mind away from the negative, which is great, because it's something that the players haven't always had the luxury of doing.
Despite having a rich football history that began with organized youth leagues in the 1920s, Palestine wasn't even allowed to compete in FIFA-sanctioned events until 1998.
Since then, they have competed when they can. When they are able. With every qualification, comes a chance that it is going to happen; that the team will simply make it to their destination together, and be on the field to see their flag, and hear their anthem, as everyone stands.
It's hard to not want to watch a team like this succeed. Heck, it's hard to not just want to watch and see if they will simply be there to play.
And the wonderful part about that...is that Palestine will have that chance to show everyone.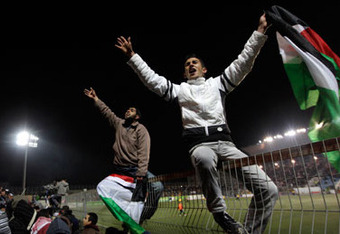 Enter 2012.
After managing to qualify for only their second time ever in the event's history, Palestine will be competing in the 2012 AFC Cup Challenge. On March 8th, Palestine will open play in the tournament against host country Nepal.
Their play in Group A will continue on March the 10th against Turkmenistan, and conclude on March 12th against Maldives.
Should they make it out of group stage, they would play a team from Group B in the knockout stage, with the possibilities being India, Tajikistan, North Korea or the Philippines.
We will always be able to spot courage when we see it, because we know by instinct what it is.
But in the case of the Palestinian national team, "courage" is defined by the players simply being there together.
NOTE: Due to the sensitive nature of this story, please be sure to keep your comments respectful and within the guidelines of Bleacher Report. Comments will be checked regularly, and anything that is viewed as containing even a slight hint of hate toward any people, group, idea or otherwise, will be removed and reported.