Philadelphia Phillies: Learn from Yankees/Pettitte Divorce to Sign Cole Hamels
January 23, 2012
Hunter Martin/Getty Images
Cole Hamels recently signed his one-year deal with the Philadelphia Phillies for the 2012 season. It is the last year he is under club control.
There is every indication that they will try and push back the year that will represent his last season under the club's control.
Ruben Amaro acknowledged that the Phillies would like to bring him back, but the agent for Hamels, John Boggs, threw the gauntlet down when he implied the Phillies would have to significantly exceed Jared Weaver's $85 million contract.
This may be an indication that Amaro's group thought that was Hamels' value and that the two sides are off in negotiations. Regardless, it would be wise for Amaro to not let his youngest ace get away from Philadelphia.
The reason is not because of his regular season success, that part is easy. Nineteen players have won more regular season decisions than Hamels' 74 since his arrival in 2006. Six left-handers have exceed him in that category in that span as well.
Not one person has surpassed his seven career postseason wins in that span, however, and that is his biggest value. That is what separates him from Jared Weaver, not the fact the Philadelphia is not where he grew up before reaching the majors.
History has been said to repeat itself and we can look to history, with regards to the postseason, to fully understand Hamels' value and importance to a team looking to compete for multiple championships in the coming years.
Following the 2003 season, the New York Yankees let their postseason ace Andy Pettitte walk in free agency. Pettitte fled the Yankees to go to Houston, a city close to where he grew up as a child. The Astros immediately became a contender.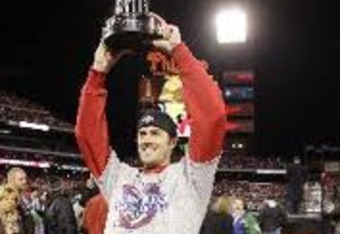 The Yankees did not drop off much, except for being able to close out series', something Pettitte greatly aided them in doing. In 2004, the Yankees undoubtedly could have used him against the Boston Red Sox in their epic collapse. The following year, in 2005, they could have used him in their sudden death game against the Angels (or earlier in the series). In 2006, they certainly could have used him over their Jaret Wright/Cory Lidle combination.
Did they perhaps take it for granted that they are the Yankees, that is where Pettitte came through the system, and that they could easily sign him after the season? Maybe, it would make sense. We've seen them take this approach with several other players, including Rivera, Jeter and Pettitte in future seasons. Whatever the flaw was, it hurt them big time.
The first lesson? Do not underestimate the power of a player getting a chance to return to his hometown or the area he was from to pitch.
Do not think Cole Hamels is above waving goodbye to the Phillies to return to where he is from, on the west coast. "Hollywood" Hamels, as he is called, would be a logical fit to join Clayton Kershaw and maybe another arm in Los Angeles when the Dodgers have more money following this season. Sound familiar to Pettitte teaming up with Roger Clemens and incumbent Astros star pitcher Roy Oswalt?
The second lesson is that postseason games are won by dominant pitchers.
Clearly, the Yankees could have used Pettitte's value in the years he was not there. Javier Vazquez, Kevin Brown, Jaret Wright, John Lieber and Esteban Loazia, although successful regular season pitchers, for whatever reasons struggled in the postseason. It was not wise to assume their regular season success would translate in the postseason.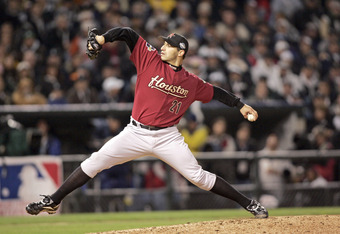 G. N. Lowrance/Getty Images
It is fresh in most people's minds that the Phillies went down in Game 5 of the National League Division Series in a game Roy Halladay allowed one run. No, Hamels did not pitch in that game, but remember, the Phillies would not even have been in that game if it were not for the series of 0's Hamels posted on Game 3's scoreboard.
So for Philadelphia, do let mistake number one allow you to  commit mistake number two. Do not even put Hamels in position to walk away. Lock him up before he can even grab a map to see the proximity of Los Angeles to his hometown of San Diego.
And most importantly, DO NOT overlook the fact that you still need to win in the postseason. Regular season wins are replaceable, but it does not equate to postseason success.
Just ask the Yankees of the mid-2000s.