Alabama vs. LSU Game Time: Underrated Players Who Will Carry Tigers To Victory
January 9, 2012
Kevin C. Cox/Getty Images
Tonight's BCS National Title game not only will continue the SEC dominance over the BCS National Title, as they have won the last five, but it's the first time two schools from the same conference will meet to determine who is the best team in college football.  
When tonight's game kicks off at 8:30 p.m. ET, Alabama and LSU will have a chance to make up for their defensive struggle that clouded their first meeting. Fans who love seeing an offense show hated their 9-6 contest back in November.  
LSU vs. Alabama part two will see at least one touchdown scored from the LSU side. However, it will not be from Tyrann Mathieu, aka "The Honey Badger," or quarterback Jordan Jefferson. 
Instead, one of these three underrated players will step up and shine on the biggest stage to help LSU capture their third BCS National Title. 
Running Back: Michael Ford
Ford has been a solid running back for LSU this year, gaining 755 yards on 123 carries and averaging 6.1 yards per carry. However, when the stakes have been the highest, Ford has shown up with some of his biggest games. 
In LSU's first game against Oregon, Ford went off for 96 rushing yards on 14 carries with two touchdowns. He was a huge reason why the Tigers were able to control the game clock against the Ducks, as LSU had a six-minute advantage over Oregon. 
Against Alabama earlier this year, Ford was the only LSU offensive player who could do anything against Alabama's suffocating defense. In the BCS National Championship Game, he will find a way to have around 100 yards and two touchdowns, helping LSU control the flow of the game.
Wide Receiver: Rueben Randle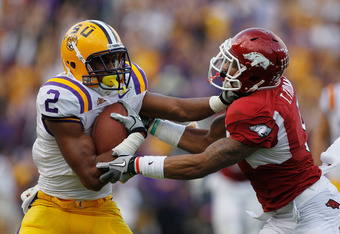 Chris Graythen/Getty Images
Randle was held in check in the first meeting between Alabama and LSU. However, tonight LSU's top receiver this year will not be shut out again. 
This year, Randle has had six games where he's caught five or more passes, with four games where he's gone over 100 yards receiving. Randle is a big play threat when he is on the field, as he had five games where his longest catch was for over 40 yards.  
If Alabama pays too much attention to LSU's running game, it could lead to Randle sneaking behind Alabama's great secondary. If he can get some separation, you can look for Jefferson to find Randle deep to break this game open. 
Kicker: Drew Alleman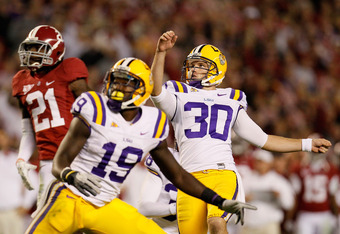 Kevin C. Cox/Getty Images
If there is ever a game where the kicker could end up being the only player to score not just a touchdown but the only touchdown, it's tonight's BCS National Championship game.  
In their first meeting, you can say that LSU's defense was the reason why they won the game, but you would be wrong. The defense didn't score any points against Alabama in their first meeting; the only player to score against Alabama was Alleman, as he was perfect in three field-goal attempts in a 9-6 win.
Tonight you could see Alleman pull a fake field goal where he surprises the Alabama special teams and runs in a 20-yard touchdown. 
Alabama vs. LSU will be a special game that lives up to all of it's hype. However, it will be another low-scoring contest where the final score is LSU 13 - Alabama 6.