2012 NFL Mock Draft: Matt Barkley's Announcement Shakes Up First Round
December 24, 2011
Stephen Dunn/Getty Images
The announcement from Matt Barkley that he will be returning for his senior season at Southern California has caught millions across the nation off guard.
Barkley, who was expected by many to be a top-10 pick, has shaken up draft boards with his announcement to remain a Trojan one more year.
The move opens up the opportunity for Landry Jones or Ryan Tannehill to solidify themselves as first-round talent in the upcoming months.
If they fail to do so, we could see some draft boards really changing in upcoming weeks.
The move has certainly already shaken up my mock draft, where I had Barkley going to the Dolphins at seventh overall.
Here is an updated mock with the draft order determined on current record.
1. Indianapolis Colts: Andrew Luck, QB, Stanford
Andrew Luck is being discussed as the closest thing to a franchise quarterback that has ever been seen in the NFL Draft.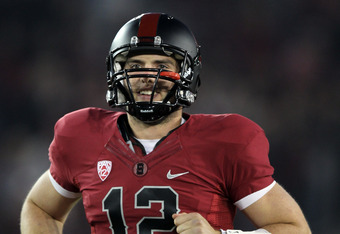 Ezra Shaw/Getty Images
Nobody has talked so highly about a quarterback prospect since, maybe, Peyton Manning back in 1998.
If the Colts have the first pick, they won't be able to pass on the chance to get another Manning on their roster.
This doesn't mean Manning's future with the Colts is over, either.
Imagine if Peyton Manning had somebody like himself to teach him when he entered the league. Luck could be lucky enough to get just that.
2. St. Louis Rams: Justin Blackmon, WR, Oklahoma State
The Rams got their franchise quarterback two years ago in Sam Bradford. Now, they need to get him a dangerous target on the outside.
3. Minnesota Vikings: Matt Kalil, OT, Southern California
The Vikings aren't going to quit on Christian Ponder just yet. They do, however, need somebody that can protect his blind side for the next decade.
4. Jacksonville Jaguars: Alshon Jeffery, WR, South Carolina
Much like St. Louis, the Jaguars have a quarterback they want to build around in the upcoming years. They need to get him some help at wide receiver.
5. Tampa Bay Buccaneers: Morris Claiborne, CB, LSU
Claiborne isn't quite the physical beast that Patrick Peterson was out of LSU a year ago, but he has the skill set to become a Pro Bowl caliber corner.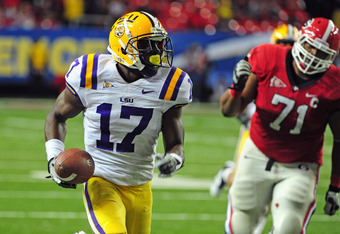 Scott Cunningham/Getty Images
That said, Claiborne probably is a better pure cover corner than Peterson. He is nearly 40 pounds lighter and quick on his feet.
He may not be the same physical specimen, but he will be able to shut down top receivers in the league.
6. Cleveland Browns: Trent Richardson, RB, Alabama
The Browns have a huge decision to make here. They will settle with Colt McCoy and pass on a quarterback to get much needed help at the running back position.

7. Washington Redskins: Robert Griffin III, QB, Baylor
Right now, there are some who believe Heisman Trophy winner Robert Griffin III should be the top pick in this year's draft.
As great as Griffin has looked this year, it's still difficult to put him above Andrew Luck. Any other year, there is a strong chance he'd be the top pick in the draft.
That should show what a steal Washington is getting all the way down at the seventh spot.
Griffin may be the most prolific dual-threat quarterback the country has ever seen. He is a pocket passer with elite accuracy that can make plays with his legs.
He has the ability to change the profile and view on dual-threat quarterbacks.
8. Miami Dolphins: Riley Reiff, OT, Iowa
Luck and Griffin are off the board. With Barkley in USC the Dolphins pass on a quarterback in Round 1. They get an elite tackle and should focus on a quarterback like Russell Wilson or Brandon Weeden in the second round.
9. Carolina Panthers: Quinton Coples, DE, North Carolina
Panthers need to focus on defense and Coples is the best defensive player available.
10. Buffalo Bills: Devin Still, DT, Penn State
Devin Still has shot up draft boards after a remarkable year at Penn State. He'll squeak into the top 10 with the Bills.
11. Philadelphia Eagles: Jonathan Martin, OT, Stanford
The Eagles need a linebacker or safety, but there is no way Andy Reid takes one this high. He'll focus on the line and address the other issues with later picks.
12. Kansas City Chiefs: Landry Jones, QB, Oklahoma
Landry Jones becomes the luckiest man alive with the announcement that Barkley is returning to school.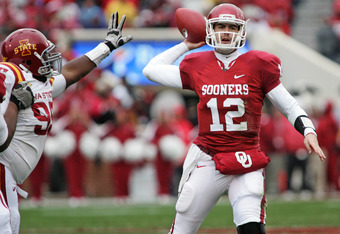 Brett Deering/Getty Images
Before the announcement, Jones was a late first-round pick that could have fallen into the second round.
Now, teams in the 10-15 range will give him a look since their isn't as much depth at the position as before.
Jones is a very talented quarterback. He has every right to be a first-round pick. Hopefully he will be enough to solve some of the Chiefs' offensive woes.
13. Tennessee Titans: Vontaze Burfict, LB, Arizona State
Vontaze Buflict is one of the most exciting players in this year's draft class. His aggressive attitude has made him a key piece on the Sun Devils defense.
14. Seattle Seahawks: Dre Kirkpatrick, CB, Alabama
If Kansas City didn't nab Jones, Seattle likely would have. Instead they will choose to address some of the issues in their secondary.
15. San Diego Chargers: Dont'a Hightower, LB, Alabama
San Diego is one of those teams that just underperformed this season. They don't have too many dire needs. One of the biggest is at linebacker.
16. Cincinnati Bengals: Alfonzo Dennard, CB, Nebraska
The Bengals had one of the best defenses in the league this season in terms of stopping the run. They will add Dennard in an attempt to build on their pass defense.
17. New York Giants: Luke Kuechly, LB, Boston College
Kuechly has the best instincts of any linebacker in the draft. If you need proof, go look at how many tackles he picked up this season.
18. Chicago Bears: Michael Floyd, WR, Notre Dame
With Justin Blackmon and Alshon Jeffery in this year's class there is a strong chance that Michael Floyd drops a lot further than he should.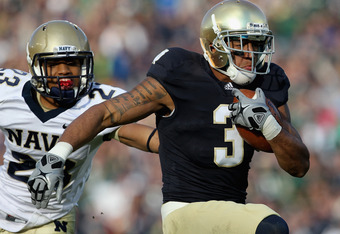 Jonathan Daniel/Getty Images
Floyd has the talent of a top-10 receiver, but there just isn't a very strong need around the league other than some teams picking in the top 10.
The Bears are the first team outside of the top 10 that need a wide receiver badly. Floyd will be Cutler's primary target for the next few seasons.
19. Arizona Cardinals: David DeCastro, OG, Stanford
The Cardinals are winning a lot of games and hurting their stock in the draft. They have a bunch of needs and will fill the biggest one they can with DeCastro.
20. New York Jets: Courtney Upshaw, LB, Alabama
The Jets don't have the same fearful defense that they have had the last few seasons. They have allowed too many yards on the ground. They bring in Upshaw in an attempt to turn that back around.
21. Denver Broncos: Zach Brown, LB, North Carolina
Broncos go linebacker for the second year in a row in the first round. Brown fits the scheme in Denver better than any linebacker available.
22. Dallas Cowboys: Ronnell Lewis, LB, Oklahoma
The Cowboys look to get another outside linebacker that can cause as much mayhem as DeMarcus Ware off the opposite edge.
23. Cincinnati Bengals: Montee Ball, RB, Wisconsin
Montee Ball may be the most overlooked player in this year's draft class. There are many who would make the debate that he deserved the Heisman Trophy.
He finished the season with 1,759 rushing yards and 38 total touchdowns.
There isn't much more that needs to be said.
24. Detroit Lions: Peter Konz, C, Wisconsin
The only center worth taking in the first three rounds. Lions start building their offensive line with an interior pickup.
25. Cleveland Browns: Kendall Wright, WR, Baylor
The Browns go offense again with their pick acquired from the Falcons last year for Julio Jones. Wright may not be Jones, but he has the ability to be a solid receiver.
26. Houston Texans: Brandon Thompson, DT, Clemson
The Texans already have one of the best defenses in the league, but with most of the offensive talent gone they take the best player available.
27. Pittsburgh Steelers: Mike Adams, OT, Ohio State
How much longer will Ben Roethlisberger be able to survive behind this offensive line? Much of that is his fault for holding onto the ball too long, but offensive line is still a big need for Pittsburgh.
28. Baltimore Ravens: Janoris Jenkins, CB, Northern Alabama
The Ravens will have to think hard about Ryan Tannehill here after Flacco blows another postseason game for the team. They will end up going defense instead.
29. San Francisco 49ers: Mark Barron, S, Alabama
The San Francisco defense has been the reason the team has had so much success this year.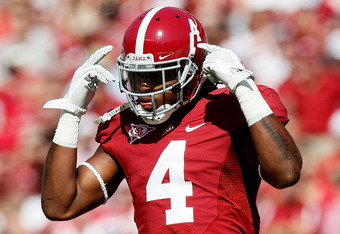 Kevin C. Cox/Getty Images
However, they still have a weakness in the secondary that will ultimately cost them in the playoffs. With Jenkins taken one spot ahead of them, the 49ers will go safety instead.
Barron is one of the only safeties that is getting much attention as a possible first-round selection. He has been making plays in the best defense in college football for years.
30. New England Patriots: Cordy Glenn, OG, Georgia
The Patriots are having problems on the offensive line and in the secondary. Nobody worth this pick is available at corner or safety so Belichick will address the offensive line.
31. New England Patriots: Jared Crick, DT, Nebraska
Some of the reason that the Patriots have been struggling on defense has been the lack of pass rush. Crick fits the mold of a defensive lineman for the Patriots with the ability to play tackle or end.

32. Green Bay Packers: Jerel Worthy, DT, Michigan State
Worthy isn't going to take the place of Raji in the middle, but he has the ability to move outside and play defensive end in the Packers 3-4 scheme.