Daniel Bard Being Prepped to Start: What This Means for Boston Red Sox
December 11, 2011
Jim Rogash/Getty Images
Even though the Boston Red Sox have, to this point, come up short in their efforts to land a closer via either free agency or trade, new Red Sox manager Bobby Valentine announced that Daniel Bard, who had appeared to be fast-tracked for inheriting the position, would instead be prepped to start in Spring Training.
"I told him to prepare to be a starter and if that, in fact, does not happen, to be ready and willing to be our closer," Valentine said.
Of course, Valentine has left the door open to move Bard into a closer role if needed. The Sox's intentions of starting him say a number of things about the current market for pitchers in general. 
It means that the Red Sox clearly see an easier path to replacing Jonathan Papelbon by signing a free agent closer or by trading for one. Yes, the Red Sox could still make a run at a starter such as Gio Gonzalez or Matt Garza, but for now, it appears the team feels more confident in acquiring a closer than big-name starter. 
This was going to be a big year for Bard in one way or another. Bard has been tapped for greatness since his emergence as a top prospect in 2008. Bard is a former first-round pick and is another in a long line of very good picks by former Red Sox general manager Theo Epstein. 
Epstein, whose reputation suffered in Boston due in large part to a number of high-profile free agent signings that failed to meet expectations, was without question one of baseball's top general managers when it came to finding talent in the draft.
Indeed, when last season ended, the Red Sox's roster was dotted with a number of Epstein picks of consequence. Bard, Jacoby Ellsbury, Dustin Pedroia, Jonathan Papelbon, Jon Lester, Clay Buchholz, Jed Lowrie and Josh Reddick all are products of Epstein drafts.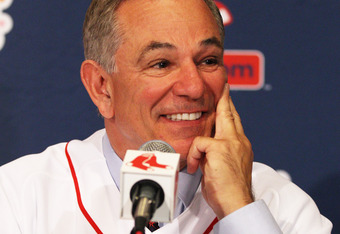 Elsa/Getty Images
Making Bard a starter, or at least the intention to do so, would seem to signal that the Red Sox are less likely to pursue some of the remaining high-profile starting pitchers on the free agent market. Roy Oswalt, Hideki Kuroda or Yu Darvish, who's posting winner will be revealed this coming week.
It also makes it more likely that the Red Sox will continue to pursue closers on the market as well as those available via trade. Ryan Madson is still out there, as is Francisco Cordero. The Red Sox have already had some discussions with the Oakland A's regarding Andrew Bailey . 
This is clearly not going to be an offseason that reminds the Red Sox or their fans of last year's. It was last offseason that the Red Sox made one huge trade in which they acquired star first baseman Adrian Gonzalez from the San Diego Padres for an enticing package of prospects, as well as sign free agent outfielder Carl Crawford to a massive seven-year, $142 million contract.
Red Sox fans, like fans of many teams in baseball, watched last week's winter meetings with a degree of both awe and jealousy. The Miami Marlins and Los Angeles Angels each made a pair of tremendous moves. Miami reeled in closer Heath Bell and shortstop Jose Reyes while Los Angeles made an even bigger splash when it acquired Albert Pujols and C.J. Wilson. 
The Red Sox simply don't have a ton of money to spend this offseason. They're not a team hurting for cash, but they've got a ton of contractual commitments on the books, and at this point, trades or lower-profile signings seem to be the inevitable course of action.
Starting Bard next season has some risk. He was very shaky as a starter in his very limited minor-league experience. In 2007, he started 22 games at two different levels of A-ball and amassed a 3-7 record with an earned run average of 7.08 and a whip of 2.053.
Those are abysmal numbers, but they're also about four levels of professional baseball and four years ago. Bard is a better pitcher now both physically and mentally.
Bard is a player whom Boston has coveted for years. He's been the object of many other teams' trade requests, and those teams have consistently been denied. The 2012 season is going to be the most critical of Bard's young career.
If he is able to find success as a starter, then his value will skyrocket and the Red Sox will have to shift their priorities to keeping Bard in Boston long term. If he falters, then many will question his value as well as the team's decision to move him into a starting rotation that has fallen short of expectations for the past two or three seasons.
In the meantime, look for the Red Sox to continue their pursuit of a pitcher to take the place of the departed Papelbon.