Philadelphia Flyers: How High Is Jaromir Jagr's Upside?
October 19, 2011
Jim McIsaac/Getty Images
Jaromir Jagr shocked the hockey world and reversed his Keystone State Legacy on July 1, 2011, signing with the Philadelphia Flyers after spending about 15 seasons of his career as a divisional foe.
Jagr's acquisition was an exclamation point to an offseason that saw the Flyers forever alter their organizational culture.  
Through five games, the Flyers are 4-0-1 and have scored the second most goals in the Eastern Conference, trailing only the Pittsburgh Penguins who have four more goals in three more games played.
Jagr is yet to score a goal, but has four assists and always seems to be in a position to make something happen.
As a fan who spent his youth cursing and despising Jagr, his play through the first 16th of the regular season has been a pleasure to watch.  
The ease with which he controls the puck, his heat-seaking laser-like ice vision and humble leadership, are all any fan could ask for from a 39-year-old still shaking off the rust from a three-season hiatus in Russia's KHL.  
Watching Jagr from afar did not prepare many fans for his dedication and work ethic.  
I expected a significant offensive output from Jagr based on the Olympics and Worlds of the past few years.
However, the pleasant and welcomed surprise is Jagr's defensive responsibility and hustle on the back check.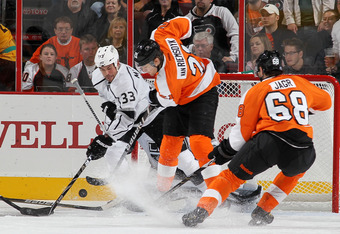 Jim McIsaac/Getty Images
Despite having no goals through the first five games, there are no questions about the decision to sign the veteran winger.
But there are still, at least, 77 games remaining.  With the emergence of several young players looking like stars-to-be, the question remains, "How high is the upside for Jagr's tenure in Philadelphia?" 
Surely if all the Delaware Valley's prayers are answered and Lord Stanley's Cup is hoisted on Broad Street, then Jagr and all of the Flyers' moves this past summer will be validated.
However, there are 29 other teams with a similar goal in mind.  I've personally picked Philadelphia to reach the Eastern Conference Finals.  Beyond that, most series come down to heroes and goats; hot goalies and stupid penalties.  Trying to say, "I know the winner" at this point in the season is a waste of space.
Jaromir Jagr turns 40 in February.  So far he has averaged about 15.5 minutes of ice time per game, currently seventh among Flyers forwards.  
Limiting Jagr's exposure and capitalizing on power plays and offensive zone faceoffs is a way to get Jagr the time he needs to affect the game while still preserving him for the postseason war always looming in players' and fans' minds.  
This strategy has paid off so far, as Jagr looks like the best player on the ice every shift.  
Jagr's offensive production has yet to peak.  Claude Giroux is a playmaker much of the same ilk as Jagr.  The two have only just begun to develop chemistry with one another.  The entertainment value of this pairing alone as they get more comfortable with each other on the ice will make the signing worthwhile.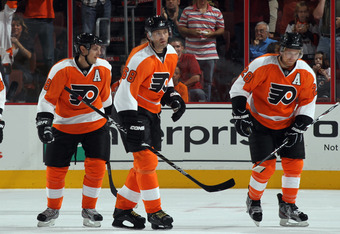 Bruce Bennett/Getty Images
But the numbers are NOT the most important key to determining the success of Jagr's signing.  
While Jagr's age and one-year contract prohibit thoughts of a long tenure in the City of Brotherly Love, his presence on the team should pay dividends for years to come.
Claude Giroux is one example.  Giroux is on track to become one of the next great players in this league.  Now Jaromir Jagr is able to repay hockey for allowing him to be mentored by Mario Lemieux.  
Learning to deal with the ups and downs of superstardom in a big hockey market are lessons easier learned from someone who has experienced them.  In terms of hockey, there is not much Jaromir Jagr has not experienced.  
Jagr's dedication to greatness is a trait that Giroux and many of the young players should notice, as 1990's fifth overall pick is still one of the hardest working players in the game.
Once Jagr arrived in Philly, word of his work ethic spread, and how he had his own key to the practice facility in Voorhees because he's there before and after everybody else.
After getting a few games of coach Peter Laviolette's system under his belt, Jagr admitted to never having to work so hard on every shift.  His response to being more exhausted than ever after games was further conditioning.  
While writing this article I have heard reports on Daily News Live that Jagr kept Matt Read on the ice after practice to work a little overtime, and maybe send the message a four-point game is just the beginning and not a sign one can rest on their laurels.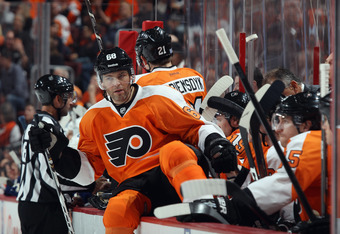 Bruce Bennett/Getty Images
Such dedication is a lesson to be learned by all the young Flyers, contrasted against the work ethic of Captain Morgan and Admiral Nelson, the former "leadership" of the franchise.  
Jagr's role as a leader amongst a locker room full of potential cannot be understated.  
Giroux, James van Riemsdyk, Sean Couturier, Brayden Schenn and Jake Voracek are all former first-round picks looking to take the next step.  
Jagr has been there and can help these young players turn high expectations into success in the National Hockey League.  
In a locker room getting seemingly younger by the day, and possibly even more so with the re-calling of Brayden Schenn and the rumors surrounding Scott Hartnell, Jagr brings another credible veteran voice in addition to the established leadership group of Chris Pronger, Kimmo Timonen and Danny Briere.
Jagr does not need a letter on his sweater.  Most of the players in the dressing room grew up admiring Jagr, and saw first hand how great he was.  
Now what made Jagr the most recognizable player in the game for most of his new teammates' childhoods will become evident and, hopefully, rub off on the promising young crop of 20-somethings who make up the majority of the Philadelphia Flyers roster.
How high is Jaromir Jagr's upside with the Philadelphia Flyers?  Statistically speaking, probably about 75-80 points.  Having 25 goals and 45 assists would be fine, and anything extra would make the Flyers look like geniuses and have fans clamoring for a contract extension.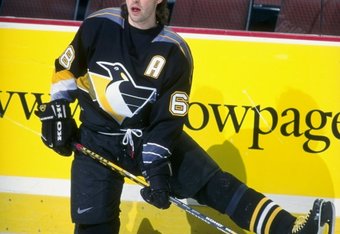 Steve Babineau/Getty Images
But the real upside of the signing will be the career arcs Giroux, JvR and the rest of the young Flyers follow.  In a league where even the fighters have "talent," so many careers come down to coaching and mentorship.  
Adding Jagr to this core gives this Flyers team the perfect combination of veteran leadership and youthful exuberance.  
The experience Jagr can impart, as well as the win-now mentality any signing of a 40-year-old professional athlete demonstrates, will combine for career-defining experiences for all of the young players as the season progresses.  
Really, the only way the Flyers could improve upon their decision to sign Jaromir Jagr would be to force him to re-grow his mullet.  
Thanks for reading, now tell me what you think.  Will signing Jagr be worth it in the long run, or would the Flyers have been better served to save that cap space and allow all of their young players to develop together in the NHL from the beginning of the season?