Are You Ready for Some PC Football?: In Defense of Hank Williams Jr.
October 5, 2011
Mike Ehrmann/Getty Images
ESPN, the great sports network of cable and satellite. During the National Football League season, there is nothing like settling down for some "Monday Night Football."
Opening the game is the famous Hank Williams Jr. song, "All My Rowdy Friends." Well, at least that is how it was until this past week. ESPN made the executive decision to ax the famous opening tune due to some politically charged comments.
Appearing on Fox News, Mr. Williams was being interviewed on "Fox and Friends," regarding which presidential candidates he liked for 2012. 
The conversation turned to a golf game with President Barack Obama, House Speaker John Boehner, Vice President Joe Biden and Ohio Governor John Kasich. When asked about the golf game, Williams responded "Come on! It'd be like Hitler playing golf with (Israeli Prime Minister Benjamin) Netanyahu." 
When asked to elaborate he elaborated "They're the enemy! Obama! And Biden!" 
ESPN responded by stating that they were pulling the theme from the show stating the following: "While Hank Williams Jr. is not an ESPN employee, we recognize that he is closely linked to our company through the open to 'Monday Night Football.'"
ESPN went on to further state, "We are extremely disappointed with his comments and as a result we have decided to pull the open from tonight's telecast."
Now when reviewing Williams' statements the way they have been reported in the mainstream regular and sports media, you might think that Mr. Williams was a bigot.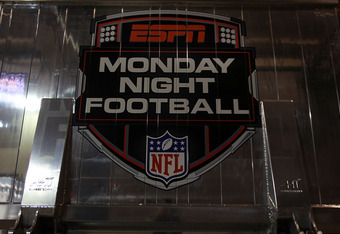 Ronald Martinez/Getty Images
But further study and research has led me to a different conclusion. The media, especially ESPN, took Hank Williams Junior's statements out of context.  Mr. Williams was not happy with the US Federal melodrama that took place a few months back, especially the golf game between President Obama, a Democrat, and House Speaker John Boehner, a Republican.
He was making an analogy between political adversaries playing golf as part of the dealmaking process between the White House and the Republican led US House of Representatives. He, in my honest opinion, was not comparing President Obama to Adolf Hitler or Speaker Boehner to Benjamin Netanyahu. He was just commenting that staunch adversaries don't golf together during serious budget negotiations. 
Mr. Williams, a Republican, was using an extreme analogy, that the politically correct ESPN and media chose to take out of context. It seems that we live in a society where famous people make comments that in former years wouldn't have even been newsworthy.
But now certain buzz words deemed to be politically incorrect are more newsworthy than real news. Taking statements out of context is not new. When ESPN hired Rush Limbaugh eight years ago as a football analyst, he made some comments that also appeared to be taken out of context in regards to then-Eagles QB Donovan McNabb.
Limbaugh stated McNabb, who is African-American, said the media overrated him and that the media wanted a black quarterback to succeed. ESPN flipped, and Limbaugh was forced to quit. Limbaugh did not make a racist statement. He was merely reflecting what he perceived was an issue between the sports media, race, and McNabb.  Limbaugh's call screener Bo Snerdly is in fact African American. So why would Rush Limbaugh make intentional racist comments demeaning blacks, when one works for him?
It seems like Hank Williams Jr. is another victim accused of making racially-charged statements and ethnically-charged statements where none really exist. The media love to take statements out of context by certain individuals and yell "See, see! There is a racist, bigot, homophobe!"
Williams has further clarified his statement as an analogy he was trying to make and meant no offense. But some media will gloss over this point, and continue to make something out of nothing.
ESPN should grow a spine and quit taking things people associated with them out of context. Common sense and a little investigation will reveal the most likely intent of the person who uttered them.
So I hope that ESPN can work out its differences with Mr. Williams and take responsibility for its own offense at the statement. Mr. Williams may not have used the best analogy, but ESPN did not choose the best response.
Political correctness ruins so much in the media today, including sports media. I think it is time for people and institutions to start investigating intent and quit focusing on manufactured bigotry where none exists.
In this case ESPN gets a flag on the play. Foul. Half the distance to the goal and loss of down for unsportsmanlike reacting.