Boston Bruins: Andrew Ference Lives Like a Champion On and Off the Ice
September 17, 2011
Swimming amidst the sea of art that adorns the physique of Boston Bruins defenseman Andrew Ference is the inscription, "Learn like you will live forever. Live like you will die tomorrow." Pretty strong words to have etched onto your body in indelible ink. But a man isn't defined by an adage he scribbles on his skin, but more so by the attitude he wears upon his sleeve.
Ference exhibited that mantra loud and clear when he chose to spend a portion of his day with Lord Stanley's Cup at the Spaulding Rehabilitation Hospital in Boston this past week. Flanked by his wife, Krista, and his two young daughters, Stella and Ava, the spirited B's blue-liner spent Labor Day Monday brightening the spirits of patients at Spaulding by sharing an hour or two with the world's most famous trophy.  
"I just wanted to have my day with the Cup represent the type of person I try to be," Ference explained. "I didn't want to be on a pedestal with people patting my back. I just wanted to make people smile and take their own memories home with them."
Ference, known as one of the more socially conscious players in the NHL, arrived at Spaulding pedaling his powder blue felt mountain bike with the Stanley Cup in tow behind. Dressed in a gold t-shirt and black shorts to match the laundry he wears on the ice each night during the hockey season, Ference ascended the front steps of the hospital entrance to the delight of about two dozen rabid fans who awaited his arrival.
Amongst the guests to greet Ference were two New England sports notables, who had been personally invited to attend the event by Ference himself.

Dick and Rick Hoyt are widely recognized sports icons, having competed in 29 Boston Marathons, and are to New England sports what the spoked "B" is to the Bruins. Rick Hoyt, aged 49, was born a spastic quadriplegic with cerebral palsy, the result of oxygen deprivation at birth, and has spent his entire life in a wheelchair.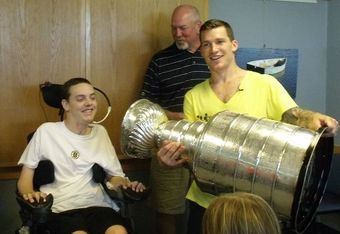 His 71-year-old father, Dick, has pushed, pedaled and pulled his son over the courses of more than 1,000 athletic events over the past three-plus decades, spreading their powerful life-changing message, Yes You Can.
The Hoyts have a long and interesting relationship with the Bruins organization and it may have been some incredible foreshadowing on the part of Rick Hoyt that indirectly led to their unexpected invitation from Ference.
Rick Hoyt, who is non-verbal, first spoke in 1972 at the age of 10 through the use of an interactive computer built by a skilled group of engineers from Tufts University. When the computer was originally brought home, Rick began tapping out his "first words" using a pad connected to his wheelchair and the side of his head.
Instead of saying, "Hi, Mom," or "Hi, Dad," Rick's first "spoken" words were, "Go, Bruins!" Until this year, 1972 was the last time the Boston Bruins won the Stanley Cup.
Noted in Ference's invitation to the Hoyts, the father and son team may have also had a hand in this year's Stanley Cup success as the B's watched the Hoyts' inspirational video prior to the Finals. The invitation read as follows:
Hi guys. I asked Zdeno Chara for your contact info, but he is already back in Slovakia and tough to get a hold of. First off, I want to say thank you for a new perspective on digging deep and giving it all you got. Our team watched your video before our finals and it was a great lesson for all of us.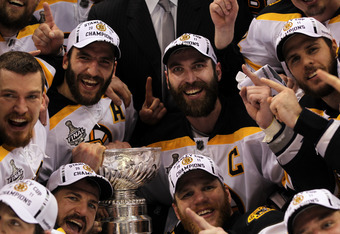 Bruce Bennett/Getty Images
Another New England sports champion also received a personal invitation from Ference. Matt Brown, a high school senior at Norwood High, was injured in a freak hockey accident in January of 2010 when he was pushed into the plexiglass during a game against rival Weymouth. Despite making huge strides over the past 18 months, the ever-positive Brown remains paralyzed from the neck down and relegated to a wheelchair. 
Nearly from the moment the accident occurred, Brown received cards, visits and support from many of the Bruins players and has an upcoming fundraising event on September 24 in partnership with the Boston Bruins Foundation, being held at TD Bank Garden.
To Ference, it was a no-brainer to include Brown and the Hoyts when writing out his exclusive guest list of attendees at Spaulding.
"The Hoyts, Matt Brown and the kids at Spaulding are all true examples of meeting challenges head on and I have more respect for that than I could properly explain," Ference said. "I was aware of how much they liked the Bruins as well and it would have been just wrong if they did not get a chance to spend some quality time around the Cup.
"Watching the Hoyts' video before our finals against Vancouver really grounded us and gave us a focus and determination about our own situation. We knew that we all had more to give and that we too could live without regrets."
Both the Hoyts and Brown were overjoyed at the thought of spending their Labor Day with Ference and sport's most popular silver urn.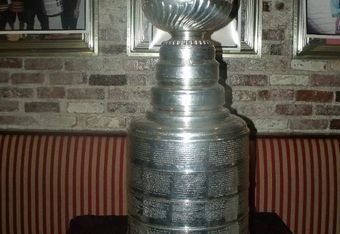 "Rick and I have been involved with the Bruins for quite a few years," Dick Hoyt said. "But to be included in Andrew Ference's day with the Stanley Cup was one of the highlights of our long relationship with the Bruins.
"Meeting Andrew and his wife, Krista, and their daughters, Ava and Stella, at Spaulding and then again spending time with them for dinner was unbelievable. He was gracious enough to not only invite Rick and I, but also my other two sons, Russ and Rob, our good friend and Social Media Director Todd Civin and Rick's care attendant, Mike Adams. It does not get any better than that."
The inspirational Brown, who was joined by his father, Michael, added, "For Andrew to share his day with the Stanley Cup with the patients and the families at Spaulding Rehab was a really special gesture in my eyes. And to be included in the day was awesome!"
Amongst the multitude of media outlets hoping to get a word from the 31-year-old Bruins blue liner was a video team from National Geographic; perhaps sort of an unexpected guest for those who don't know Ference.
"Nat Geo is interested in documenting parts of my life outside of hockey. I try and do things instead of just talk about them so they wanted to catch some of it, especially related to environmental initiatives."
One of the initiatives that Ference is responsible for is the Carbon Neutral Challenge started by the native of Edmonton, Alberta along with environmentalist Dr. David Suzuki in 2007.
"The Carbon Neutral challenge is based around NHL players offsetting their huge carbon footprint created by our travel by purchasing Gold Standard Credits that help developing nations build clean energy projects instead of coal burning power stations. 
"Travel is a necessary thing in our sport, but if we can help create more clean power then some good is being done. I started the program when I played for Calgary six years ago. It has had up to 500 players participate in a single season."
Ference and family proceeded to Boston's famous North End following their two-hour stay at Spaulding; a stay which included a tour of several of the hospitals floors and a brief presentation for about 200 guests, presided over by Boston Mayor Thomas Menino.
Ference had several months to plan for his big day and wanted to share his day with the fans of Boston; fans who have waited 39 years to see the beloved Cup return to Beantown.
"I had a whole summer to plan and I didn't want to have any wasted time. Nothing was going to trump my time on the ice after the game and in the locker rooms, so this was more about setting up a day that would be memorable for family and friends first. I just wanted to make sure we included everyone that we are close to in this city and all the family that could fly in from Canada as well.
"Nothing can top the inspiration of just wanting to be champions and to accomplish our biggest goal together. The only real external motivation for some of us was to meet the standards that have been set by the other sports teams in Boston, we wanted to be part of the winning clubs in this city."
The trek to the North End included an informal parade along the narrow streets of Boston's most famous city neighborhood and was capped off by a flash mob featuring hockey stick carrying dancers and a cameo appearance by Ference and the Cup itself. 
The memorable day was capped off by an exclusive dinner for about 150 invited guests at Vinoteca di Monica, a quaint Italian restaurant in the North End. The multi-course affair was attended by many of Ference's close friends and family, Team Hoyt, Brown and family and, of course, the guest of honor, the Stanley Cup.
Ference said, "Dinner was the most intimate part of my day. All of my friends and family that flew in for the day came, as well as, our closest friends from Boston. I wanted the Hoyts and Matt to enjoy some quieter time as well and was honored to have them as well."
Amongst Ference's distinguished guests was Staff Sergeant (SSG) Lucas Carr, an Army Ranger from the 2nd Batallion 35th Infantry Regiment, 25th Infantry Division. His friendship with Carr falls right in line with everything Ference stands for and believes in on and off the ice.
"I became good friends with Lucas through some mutual friends and just admired his honesty and bravery. Through him I met many Rangers, who blow me away with their humbleness and service to their country. Our games are a source of camaraderie for them and an escape at times of what they are working with overseas. I feel honored to be their friend."
As the incredible day came to an end, I asked Ference if he thinks Bruins fans will remember him and his Cup-winning teammates in much the same way they immortalized heroes of 39 years ago like Orr, Cashman, Hodge and Esposito. 
"I really don't know if the casual fan will remember me, it doesn't really matter to me," he said. "Most of the people I made friends with around town had no idea I was a hockey player until after we were already friends, so I guess I would rather be remembered as a good person more than a good hockey player."
Learn like you will live forever. Live like you will die tomorrow.
* * *
Todd Civin is a Senior Writer for Bleacher Report. Unless otherwise noted, all quotes were obtained first-hand.