NBA Rumors: Chicago Bulls Signing Jason Richardson Is the Answer to a Ring
August 29, 2011
The Chicago Bulls came so close in 2011.
The squad consisting of MVP Derrick Rose, veteran leader Carlos Boozer and defensive animal Joakim Noah were in the NBA Eastern Conference Championship game. Starting along the three of them was small forward and longtime Bull Loul Deng and veteran shooting guard Keith Bogans.
As you can see though, somehow a piece from another puzzle found its way into the Chicago Bulls plans. That piece is Keith Bogans.
I know Bogans is an excellent defender, but outside of Chicago he is nothing more then a guy giving fives on the end of the bench of any other team in the NBA. He is a great locker room guy, and a solid defender. One thing he isn't, though, is the starter of an NBA Championship team.
Who should be there instead, you may ask?
The Orlando Magic shooting guard finds himself as a free agent this offseason, and the man is still seeking a ring. Chicago could be the place he finds himself getting one.
Why does Richardson fit so much better with Chicago then Bogans does? Well, first of all, let's look at points. Richardson has a career average of 18 PPG over 12 seasons. Keith Bogans? Well, he has averaged 6.7 PPG over 10 seasons.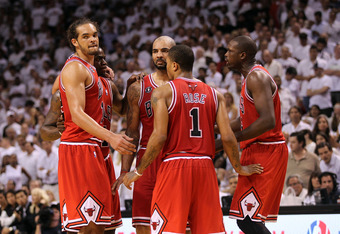 I know the argument for Bogans is that he is an excellent defender, and he thrives in Thibodeau's system. Jason Richardson is a pretty good defender himself, and checking in at 6'6" and 225 lbs, he covers more floor then Bogans even if he is 6'5." Richardson is stockier and has a more athletic build. The Chicago Bulls need a player like this in their backcourt.
The other reason why Richardson is a better option for the Bulls is that he is a high flier. This is what the Chicago Bulls were hoping to get in Ronnie Brewer, but he really has yet to perform as expected after recovering from a hamstring injury. Derrick Rose is obviously a player that can get to the rim, but Chicago would benefit from having two players who can get there.
Not only can Richardson get up, but he can also shoot the three pretty well. He has a career average of 37.3 from beyond the arc (Reggie Miller shot 39.5 percent just to put it into perspective), and adding another deep threat will help spread the Bulls floor.
The Chicago Bulls should have interests in lots of shooting guards, but no one suits them better then Jason Richardson. Richardson has made a ton of money over his career and would probably be fine with taking a pay cut to get a raise. We will have to wait until the lockout ends to see what actually happens, but look for the Bulls to look at Richardson to put them in the best position possible.