San Diego Chargers 2011 Team Preview, Part I: Defensive Secondary
August 28, 2011
This may mark the very first time in NFL history that "San Diego Chargers" and "shut-down secondary," have ever been used together in the same sentence.
That said, if this unit can come close to fulfilling its potential, it may not even be the last time this season. Pass defense has long been an Achilles heel for the Chargers franchise.
Since 1972, San Diego has sent a total of two defensive backs to Honolulu in February, which might explain why the unit has remained a perennial weak spot for four decades running.
This season promises to be different though, at least on paper. If newly-acquired SS Bob Sanders can avoid falling under any scalpels between now and Christmas, the group could turn out to be dominant this season.
Cornerback
CB Quentin Jammer has long since established himself as a shut-down NFL corner. Quite an accomplishment for someone born with bricks for hands. No, he can't catch, but Jammer is exceptional in coverage and the respect opposing offenses have for his abilities is evident in their reluctance to throw to his side of the field.
He's also the best tackler, from the corner position, that the league has ever seen which is why Jammer will make a fine strong safety one day, bank on it. But, for the time being at least, the coaching staff likes Jammer just fine right where he is.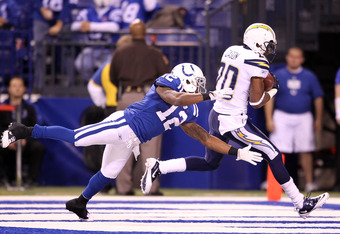 Although CB Antoine Cason has yet to earn "shut-down" status, he has proven himself to be a legitimate starter on the defensive backfield's right side. Cason possesses above-average coverage skills and has made more than his share of game-changing plays over the course of his three seasons with San Diego.
At 26, Cason still has plenty of upside potential and already plays at a very high level at this early stage in his career.
CB Marcus Gilchrist, drafted 50th overall in this year's draft, has been outstanding during camp. Veteran CB Dante Hughes, who had been slotted to start in the nickel defense, has a real battle on his hands and will be pushed hard by Gilchrist.
Both players stand to benefit from the competition as does the Chargers secondary.
Safety
Having only played in nine games over the course of the last three seasons, Indianapolis had little choice but to let standout SS Bob Sanders go given the girth of his paycheck. No one's questioning the former Defensive Player of the Year's heart, nor his ability to make plays when on the field.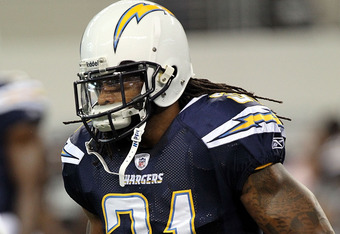 But Sanders does need to prove that his 5'8", 200 lb. frame has the sort of physical durability needed in order to play the game at this level. If they can manage to keep him in one piece for the playoffs, Sanders, only 30, has the kind of enthusiasm, leadership and play-making abilities that could be enough to carry the Chargers to the next level.
There are few players in the league today as underrated at their position than FS Eric Weddle. Expect Weddle to win over the critics of his new $40 million contract by season's end. With Sanders on his left flank and Cason settled in underneath, Weddle will be freed up to roam the secondary like a true free safety.
Coming into his fifth season, Weddle is smart and athletic enough to take advantage of the opportunity. Expect big things. S Steve Gregory is a versatile, experienced veteran safety who, along with second-year man Darrell Stuckey, provide excellent depth at safety for the Chargers.
Only time will tell if this unit will reach its full potential. If it can, a trademark weakness could become a team strength for the first time in club history for the San Diego Chargers.