LA Lakers Must Put Their Egos Aside, Come Together as a Unit If They Want to Win
August 24, 2011
The Los Angeles Lakers will contend for a championship if they can just get out of their own way. 
Being the eternal optimist, I think there will be an NBA season, albeit a shorter version that probably starts around Jan. 1. On paper, the Lakers have the personnel to win it all. In person is a whole different story.
With the Lakers, you always get questions and drama—it just seems to go with this franchise. From the days of Wilt, Baylor, Goodrich and West to the Showtime teams of Magic, Kareem, Cooper, Worthy and Scott; from Shaq and Kobe to Kobe and the rest of the guys. There are questions, there is drama and there are big egos.
The first question has to be: How will this team perform for its new coach, Mike Brown?  Whatever your perceptions are of Phil Jackson as a coach, there is no denying his accomplishments. He led the Lakers to five World Championships (11 overall as an NBA head coach), including three in a row when he first joined the team for the 1999-00 season. 
In fact, Jackson won three straight titles as coach of the Bulls, took a year off and then returned to grab three more with L.A. How does Brown top that and how can the Lakers accept and play hard for a coach who hasn't won anything? Answer: put the egos aside and put "team" first.
Kobe Bryant still has not publicly acknowledged support for Brown—it is widely known he wanted the job to go to Brian Shaw—and the guess is that he still harbors some resentment for management not consulting him on the decision. 
Bryant is a pro, and he'll show up every day for work ready to win and take his team to another championship. But he might not be happy about it and that could be a problem. Kobe not only needs to show up ready to play, but also he needs to support Brown and buy into his philosophy if the Lakers are to have a chance this season.
Will Andrew Bynum grow up and take his job as one of the league's emerging centers seriously enough? There is no question that Bynum the player has developed tremendously since coming straight from high school in 2005 at the age of 17. 
His skills were always there and, despite a series of serious leg injuries, he's become an integral part of the Lakers and heading into this season has six years under his belt at the still tender age of 23.
But Bynum still has not matured to the point of where the team can count on him to lead. On the court, the fans mostly remember his terrifying clothesline of miniature Mavericks point guard J.J. Barea in Game 4 of last season's Western Conference Semifinals against Dallas. It got Bynum ejected, at which point he threw off his jersey before leaving the arena and failed to apologize for his inappropriate play.
Off the court, Bynum was videotaped parking his career illegally in a handicap spot at a local market, with many open spaces nearby. Bynum has yet to apologize for that sophomoric incident.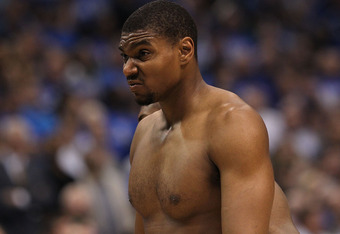 To his credit, Bynum has been working out this summer with famed boxing trainer Freddie Roach. These hard two-hour sessions will surely improve Bynum's stamina and footwork. But he'll need to check his ego at the door and play with passion for his coach and his teammates and that remains to be seen. 
He did tell the L.A. Times' Lance Pugmire that, "We got embarrassed and we all need to come back focused, ready to win. You lose 4-0, there's not much more to be said. I was the first one to admit we didn't work hard enough to win. Let's tell the truth. It was due to a myriad of reasons—our collective drive and determination. It's about being accountable. Me included. Everyone included."
If it seems like I am railing on the Lakers, I am not. This team has as much talent (Dallas included) as any in the league. That is why last season was such a disappointment and why so many people felt they just stopped playing as a unit. 
The Mavs beat the Lakers soundly because Dallas played as a team and because they absolutely wanted it more.
When camp finally starts and the season gets underway, the Lakers will need to check all of their egos at the door. That includes Kobe, Bynum, Ron Artest, Lamar Odom and Pau Gasol. 
The Lakers must re-discover the collective hunger they had in 2010 when they toppled Boston in seven games. Is it in them? I'm not so sure.