Joakim Noah: Chicago Bulls Review and Predictions
August 6, 2011
Gregory Shamus/Getty Images
In this series of articles, I will provide a review of each player on the Chicago Bulls from this past year and give an insight or prediction for the following season. In this particular article, I will be discussing Bulls center Joakim Noah.
After signing a five-year, $60 million contract with the Bulls, the expectations were pretty hefty for 6'11" center Joakim Noah.
In the 2010 playoffs, Noah played outstanding, averaging 15 PPG and 13 RPG. The expectations for Noah were that he would continue this streak into the regular season the following year.
Noah has always been a winner, especially in his college days when the Florida Gators won back-to-back NCAA championships in '06 and '07. Noah has brought his competitive spirit to the NBA, becoming the emotional leader on the Bulls, although he doesn't give as many high-fives as "The White Mamba" Brian Scalabrine does.
It seemed as though in the beginning of the season Noah was having an All-Star caliber season, averaging around 16 PPG and 13 RPG and shooting near 52.5 percent from the field through the month of November.
However, on December 15, it was discovered that Noah had ligament damage in his right hand and he had to have right thumb surgery. As a result, Noah missed 30 consecutive games making his return on February 23.
After he made his return, Noah wasn't producing at the same high level as he was in the beginning of the season. Whether that hindered his production towards the end of the year is unknown, but he seemed to be struggling a bit averaging around 11.5 PPG and about 9 RPG.
In the playoffs, Noah still seemed to be struggling, except for the series against the Pacers. In that series, he averaged 12 PPG and 10.6 RPG. However, against the Hawks and Heat, Noah failed to reach double figures on the scoring front.
My Grades for Noah in His 2010-11 Campaign
Regular Season: B- 
Noah looked like he was having a very promising season before he injured his thumb, averaging career-highs in both PPG and RPG. If Noah continued that streak the entire season, he would no doubt be getting an "A."
While only playing 48 games this season, I think it was even a stretch giving him this high of a grade. The only things making his case are the promise he showed in the beginning of the season and his selection to the All-Defensive Second Team.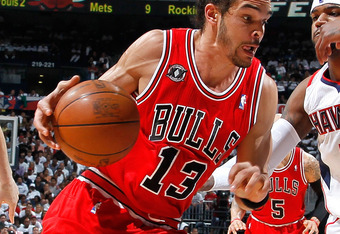 Kevin C. Cox/Getty Images
Playoffs: C-  
This was Noah's worst postseason of his career. His PPG was down, his rebounds were down and his shooting percentage was 11 percent worse than in the regular season.
Honestly, his defense is the only thing keeping him from a D here. He kept one of the best centers in the league, Al Horford, to less than 11 PPG on lower than 45 percent shooting.
My Predictions for Noah in the Upcoming Season
First, I predict that Noah will play in 69-74 games this season. Noah was very unlucky last season, playing in only 48 games because of ligament damage in his thumb. My only hope is that the ligament damage from that thumb is completely healed for next season. It seemed like that injury affected his playing at the end of the season.
Second, I predict that Noah will develop a reliable post game this offseason, making it much easier for him to score. Noah had a shot from the post in which he called the "tornado" and it seemed to be very successful in the beginning of the season.
The only other post move he does is the left-handed hook shot from close to the hoop. Noah has said that he would like to work on his post game this offseason, but the key I think is to work with a former great.
I know Kareem Abdul-Jabbar has said that Noah would be an offensive powerhouse with a good post game. He can't just rely on put-backs and tip-ins on offense to make up the majority of his scoring load if he wants to be considered an offensive threat.
Lastly, I predict that Noah will make the All-Star Game next season. Noah, in my opinion, was on his way there last season until he injured his thumb. I'm not saying he will start, because he won't over Howard, but he has a good chance of beating Al Horford for that final center spot.