LeBron James vs. Tim Tebow: Would You Take LeBron's Talent or Tebow's Heart?
August 5, 2011
Doug Pensinger/Getty Images
LeBron James and Tim Tebow have been thrust onto the sports stage by a national media hungry for sensationalism.  
They have achieved enough success to warrant a permanent place among the pantheon of this generation's sports icons.  
And despite an obvious disparity in sheer athletic talent, the question of which athlete you, the sports fan, would rather have isn't as easy to answer as it may seem.
James and Tebow crossed paths Thursday after ESPN pundit Merril Hoge took to Twitter and ripped the second-year Denver Broncos quarterback, tweeting, "Sitting watching tape off bronco offense from last year! Orton or Tebow? It's embarrassing to think the broncos could win with tebow!!"
And with that bold Tweet, the magical interwebs lit up like Times Square.  Somewhere far, far away, King James took notice and rushed to Tebow's defense on his own Twitter account.
"Tim Tebow will succeed in the NFL. He's a hard worker, a student of the game, a natural born leader and most of all a WINNER!"
It would be easy to get caught up in editorial opportunity created by this blossoming bromance involving two of the brightest stars on the planet, but instead let's use the bizarre exchange to answer a simple question: Whose talents would you want on your favorite team?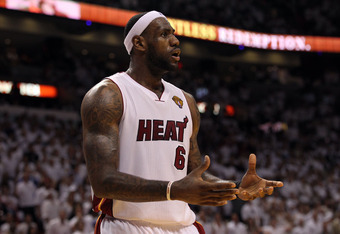 Ronald Martinez/Getty Images
Aside from wooing the national media, Tim Tebow and LeBron James have very little in common, as people or as athletes.
Tebow rode the coattails of Urban Meyer, the talents of Percy Harvin and stole the show ever since committing to Florida as a heralded dual-threat QB out of Jacksonville.
His collegiate numbers were eye-popping, his ability to sense the moment, uncanny.  With the eyes of millions of college football fans watching, "Tebow time" seemed to last an eternity.
Meanwhile, a thousand miles to the North, LeBron James already had his feet wet and an MVP on his mantle.  All eyes had been on James ever since he graced the cover of Sports Illustrated as a prep.
While Tebow has always raised his game in the clutch, LeBron has found every possible way to melt under pressure.  
And for those fans who say he will learn from his performance in the 2011 NBA Finals, I must point out he was supposed to learn from his woeful effort in Game 5 of the 2010 Eastern Conference semifinals against the Boston Celtics.
Until we actually see LeBron shine in the clutch, it's safe to expect almost nothing from one of the most talented athletes the world has ever seen.
Saying LeBron is physically gifted might be the understatement of the century.  At his size, with his vision and creativity, there is no reason anyone should be able to stop him.
Meanwhile, Tim Tebow has very little going for him besides a solid football IQ.  His unorthodox throwing motion hasn't completely disappeared, and his running abilities that made him a superstar in college are average for NFL quarterbacks.
And his arm strength and accuracy?  Not even worth discussing.
So we come to the crossroads. We have talent against attitude, unmet potential against limited potential and woeful work ethic against inspiring dedication.
And the first pick in this mythical draft is...Tim Tebow.
Sports fans live for those moments of jubilation when the unexpected happens, when teams and players overcome incredible odds and accomplish something so unexpected it will never be forgotten.
As fans, we love upsets, we love underdogs.  We treasure those moments, when Dave Roberts steals a base to ignite a seemingly impossible comeback, when Willis Reed inspires his team by playing on one leg.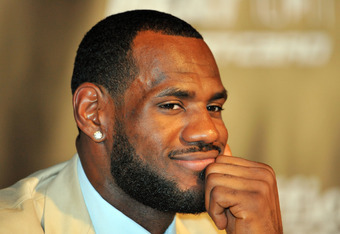 Doug Benc/Getty Images
Tim Tebow in the NFL is just that; an underdog who hardly anyone outside of Denver and the state of Florida believes can win as a starting quarterback.
The King of South Beach is not only a villain, he is a complete and utter failure.  Historic statistics, multiple MVPs and a growing business portfolio mean nothing.
Unless he wins not one, not two, not three titles with the Heat, LeBron won't even be in the same sentence as Michael Jordan or Kobe Bryant.
He has chosen a different path, one where competitiveness is nowhere to be found.  He checked his massive ego at the scorer's table, forgetting he has the physical prowess to destroy everything preventing him from being the best ever.
By doing so, he has gained thousands of haters and left the rest of us scratching our heads. 
Ultimately, we should heave stones at Goliath and hope David manages to survive 16 games in the lion's den under center for the Broncos.
Once David beats out Kyle Orton, that is.