Why Carmelo Anthony Is Not Overrated and Actually Better Than Kevin Durant
August 4, 2011
Mike Ehrmann/Getty Images
July 1 has come and gone. NBA fans didn't get free agency. Instead, they got a lockout.
July 8 has come and gone. Impact free agents—such as the Denver Nuggets' Nene and the Atlanta Hawks' Jamal Crawford—haven't been able to communicate with NBA teams, much less sign new contracts.
Aug. 1 has come and gone. The NBPA met with the league's leadership, but instead of moving closer toward a new collective bargaining agreement, we were left with the NBA filing an unfair labor practice charge and a federal lawsuit, both asserting that the NBPA is negotiating in bad faith.
In New York City, the dog days of summer have arrived and they have done what NBA fans hoped the league and its players union's negotiations would do. Heat up. They haven't. And now, more than ever, it appears as though the cancellation of the 2011-2012 NBA season is very likely.
So, what's a fan supposed to do? The simple answer is: manufacture something to talk about.
Clearly, Michael Jordan is the best player ever. Unless, of course, you determine that one's ring collection is the ultimate determinant. Then, you'd anoint Bill Russell...but then again, Oscar Robertson averaged a triple double for an entire season—a feat which nobody has since come close. Maybe he's the best? Or, is it Magic Johnson? He is probably the most versatile player in the history of the game. Five rings. Leadership. Legitimately able to play five positions.

Do you see the point?

Those who love and live for sports enjoy nothing more than arguing about things that have no clear cut answer. And asking who "the best" is at anything is often futile. Being dubbed "the best" is subjective, especially when comparing individuals whose existence never overlapped. Ultimately, the question as to who is "the best" is one whose answer will be determined by what the opinion owner holds to be most near and dear to their subconscious.

If you go by rings, it's Bill Russell. If you go by leadership qualities, it's Magic. If you go by legend and legacy, it's Jordan. If you go by stats, it's Oscar.

But for sure, you can't sit back and claim one player is better than another if there is absolutely, positively no objective basis for doing so. You need something.
That's why the recent allegation of Carmelo Anthony being the most overrated small forward in the NBA is a contention that is laughable at best. It might be appropriate to suggest that the nameless offenders that are responsible for starting this mess—whose intention was to generate traffic and water cooler talk—deserve to be tarred and feathered.
But bigger shame on those who bought into this nonsense. Carmelo Anthony is not overrated. He's one of the best players in the league. He has a track record of proven success. That youngsters like Blake Griffin, Derrick Rose, and even Kevin Durant are often mentioned in the same sentence as all-time greats while someone like Carmelo Anthony being tagged as "overrated" is borderline insane.
As I wrote in a previous piece, we get too caught up in trying to figure out how good a young player can be. It's ironic that we often overlook or take for granted greatness that is before us. How quickly we forget.
So, there you go. Carmelo is not overrated. In fact, right now, he's better than Kevin Durant. You disagree? Durant is better?
I dare you to prove it.
I don't think you can, because at this moment (intentional emphasis added), there is no objective basis upon which one can prove that assertion.
Here's the truth: In 2001, after we witnessed Allen Iverson join the dubious rank of reigning NBA MVPs to lose the NBA Finals, members of the media stopped giving shoot-first gun slingers the type of respect they deserved. Fans followed suit. Prior to the Shaq and Kobe show dismantling Iverson in 2001, we rarely heard the greatness of the likes of Dominique Wilkins, Mitch Richmond, Glen Rice, or even Tracy McGrady questioned. Each were considered with the greats of their generation. All deservedly so.

Fast forward to 2011, and we have the audacity to diminish the effect and the credibility of the NBA's most clutch performer over the course of the past eight years.

For that, you may thank Jason Kidd's New Jersey Nets and Steve Nash's Phoenix Suns. These two all-time great point guards helped to resurrect the concept of "No 'I' in team." Unfortunately, the net effect has been to ignore the simple fact that you need to score to win. Winning basketball requires guys who pass, guys who rebound, guys who play defense and guys who score. History has shown us that scoring is the most difficult thing to do, consistently, in the NBA. Since when is it the least important? Why do we diminish guys whose greatest attribute is their ability to score? It makes no sense.
You need to score to win, just ask the Dallas Mavericks. Then ask the Miami Heat if they would have traded one of their "all around" players for another guy who could have given them 20.
Today, we all too easily dismiss the greatest skill of them all—the ability to say "Give me the ball, get out of the way, and we will have a chance to win."
So, go ahead and call Carmelo Anthony a gun slinger. Call him borderline selfish. Call him out for not bringing consistent intensity on the defensive end, or not using his better than average passing ability more often.
But one thing you can't call him is overrated. How can you be overrated when those who love you most know who you are? Indeed, Carmelo is who we thought he was. He's the game's most versatile scorer. He has range out to the three, but he's quick enough and strong enough to get to the basket and finish. If you've never seen Carmelo play in person, you cannot fully appreciate his rare combination of size, strength and agility. He gets to the basket as well as LeBron, but has a midrange jumper as good as Dirk. Best of all, he can finish over bigger, stronger defenders—something Durant could only dream of.
Enough of the fawn fest. Scoring titles aside, Carmelo is a more complete, more versatile scorer than Kevin Durant.

Carmelo also happens to be the player who has made the most game-winning shots over the past eight years. And THAT is a fact that can be looked up.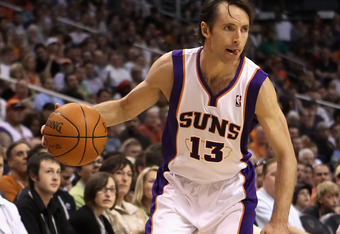 Christian Petersen/Getty Images
'Melo is who we thought he was. A dangerous offensive weapon who needs to improve a few facets of his game. But even more so, one who needs an effective playmaker to make the game easier for him and help him become a more efficient scorer.
But 'Melo is also who I thought he was. That is, the type of player who is capable of being the go-to scorer on an NBA Championship team—but more importantly—one whose on-court track record is filled with nothing but success and evidence of being a capable winner.
Carmelo—as I have pointed out previously—has never missed the playoffs. Not many players can make such a claim. And yes, that includes Kobe, LeBron, Wade and Durant. In his rookie season, Carmelo led the Denver Nuggets to a 26-game turn around. They nabbed him with the third pick of the 2003 NBA Draft after going 17-65 in 2002-2003. With 'Melo, in 2003-2004, they posted their first winning season at 43-39 since they went 42-40 in 1993-1994.
Never mind the fact that he is the only "one and done" freshman who led his NCAA team to a National Championship as their bona fide leader and "go-to guy." Forget the fact that Carmelo, as a member of the Redeem Team, was one of the most consistent and versatile forces the Americans utilized en route to winning their Gold Medal in the 2008 Summer Olympics. And by golly, his regular season career win percentage of .586 means nothing.
How can someone with this track record ever be overrated? Aside from LeBron James and Paul Pierce, which small forward, using objective criteria, can legitimately claim to be better?
Somehow, this has gotten lost. Somehow, Carmelo Anthony is "overrated," while Kevin Durant—who didn't lead his Longhorns to an NCAA Championship—is the heir apparent to the NBA's crown. Durant—who has led his Oklahoma City Thunder to the NBA Playoffs twice in four years—is a better player. Durant—whose regular season career win percentage is .451—is more of a winner.
Head to head, they've played 11 times. Carmelo's team's record against Durant is 10-1. Carmelo has outscored him (29.6 to 26.8) and has shot better from the field (.502 to .423). Durant has a slight edge in rebounding (6.8 to 6.5), while Carmelo—surprisingly—has dished more dimes (3.8 to 3.0).
(And in case you're wondering, Carmelo's record against LeBron is 9-4. Yet, for some reason, players who play the same position and guard each other when they play are never compared in their head-to-head battles when trying to determine who is "better." Isn't there valuable data here? Does Carmelo not merit any credit for completely owning LeBron and Durant? Doesn't a combined 19-5 record mean anything?)
So go ahead and analyze the advanced statistics and try to find an argument as to why or how Durant is better. Just make sure you have objective data, because if there's one thing that's sure, it's that since Steve Nash won back-to-back MVPs, team success has been the ultimate barometer of determining greatness.
So, save yourself the trouble and admit the obvious: Any belief that Kevin Durant, right now, is better than Carmelo is not based on any objective proof. It's not based on any fact or number that can be proven. It's based, simply, on what you think. And it's probably also grounded in the fact that Durant is a quiet, likable kid who devoted himself to Oklahoma City, and by all accounts, is a model citizen. Is it fair to accuse the Durant proponents of not being completely objective? That's the way it looks.

And the truth is, that's okay. It's okay for one to "prefer" Durant over Carmelo, or to like or dislike anyone for any reason or no reason. That's your right. But you've got to know why you're saying what you're saying. For goodness sake, don't try to assert Durant's supposed superiority on any objective fact. You're free to think whatever you like.

So while we're here, I'll tell you what I think. I don't think Carmelo Anthony has played with any single player who is as good at creating plays and scoring opportunities for him as Russell Westbrook. I also think that the Knicks front office knows that such a vital cog is what is missing from their team. If the head honchos at Madison Square Garden can find a way to deliver a playmaking point guard to the fans of Gotham, I think we will see the most efficient Carmelo ever.
And what I also think is—if that happens—we'll see Kevin Durant and Carmelo Anthony square off in the NBA Finals. 
Maybe, once and for all, we can settle this argument. Winner takes it.
But until then Knicks fans, don't get played. And Durant fans, at least acknowledge the aforementioned facts.
During the NBA lockout, the press and media are going to appeal to your emotions. They're going to give you ill-reasoned theories and assert them as facts. Be prepared for merit-less arguments and fallacious reasoning.
Because drawing the conclusion that Carmelo Anthony is anything other than a Top 10 player in the NBA can only be made by employing such. 
Moke Hamilton is a Featured NBA Columnist for Bleacher Report and a Juris Doctor candidate at Hofstra Law School. Follow him on Twitter (@mokehamilton) for the latest on the NBA lockout, as well as mindless banter on all things NBA.