NBA Free Agency 2011: Why Vince Carter Should Come Back to the Toronto Raptors
July 3, 2011
Christian Petersen/Getty Images
"7 or 8 years ago, Kobe vs. T-Mac & Kobe vs. VC on back 2 back nights would be highlight of season. Now, just makes us all feel old."
Earlier this week, the Phoenix Suns determined they would buy out the contract of former great swingman Vince Carter. Carter, now at the ripe age of 35, finds himself on the free agent wire begging for a roster spot.
Rumor has it that VC in Chicago to play alongside reigning MVP D-Rose is the perfect fit.  But as nice as he sounds as a Bull one blaring fact remains, Carter does not play defense.
How long would he last in Tom Thibodeau's system before wearing out his welcome?
The very thing that ultimately pushed him out of Phoenix, where he now metaphorically wanders as a free agent vagabond in the Arizona wasteland, is the very thing that would ultimately axe him in Chicago.
With but two or three good seasons left in the tank, it is unrealistic to think Carter would welcome another role induced experience for a rocky short-lived marriage.
Nothing in VC's character screams: "Get me a ring!," and though I am sure he desires it like every player does, Carter has always had a way of beating to his own drum.
Like many modern NBA stars, Vince has taken to the "get mine" concept more than any other. His shoot first mentality coupled with an aloof sensibility for defense staples him as the text generations poster child.
For this reason alone, I don't envision him in Chicago. I think he and Rose would clash, ousting the veteran back into the fray of free agency.
There are more plausible suitors who'd welcome the high-tempo scorer with a killer step back game and insatiable personality. His endorsement size smile is an active ingredient to attract a rebuilding squad hoping to one, broaden their fans base, and two, their athletic sex appeal.
With a young identity-less core in Toronto, built around perimeter-oriented players such as Andre Bargnani, Demar DeRozen and Linas Kleiza, a veteran presence like Carter would not only gel the Raptors with a dangerous quartet but could catapult them into the lower echelon of Eastern Conference playoff teams.
No, Carter is not the Mr. Air Canada he once was or the athletic enigma with a freakish way of jumping over people, but he is an attractive idea for a Raptor team on many different levels.
On a superficial level Carter is the x-factor that broadens the Toronto fanbase by bringing in the younger hip hop crowd.  This diversifies the Raptors economic driving points and takes pressure off of Bargnani, who though popular, lacks the pop to be considered the business level face of the franchise.
From an X and O standpoint, Carter bring veteran leadership and his abilities to score. A veteran superstar is always of value when trying to raise up youngsters like DeRozen in the hoopla of the paparazzi world. On a Raptor team that ranked 17th in total offense, Carter bumps them into the top ten offensively and lengthens their bench by replacing Kleiza in the starting lineup.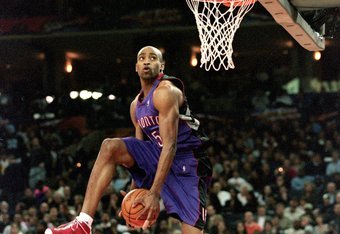 Jed Jacobsohn/Getty Images
I and so many love Carter because he reminds us of our childhood. And like every person wishes at one point or another to go back home, I too wish the same for VC. A hall of fame career approaching 21,000 career points is worthy of retiring right. As a fan I have never been able to envision the product of Dean Smith in anything other than Raptor purple.
I know how Carter feels. His age is becoming a hindrance to a guy who still believes he has some good  years left. He's been smitten with the Allen Iverson bug, judged less by his age and more by the mileage on his arthritic knees.
When I was 18 I too could run through walls. I tried it once with a pillow to cushion the face, and despite a minor scratch at the lip I still had the baby face of Ashton Kutcher.
Now at 29, my parties consist of a tofu salad, game of Cranium and a bottle of Pinot Grigio.
I hustle less in the streets and now get my exciting fix in the halls of Bed Bath and Beyond.
For VC the last six years away from home have too bruised his legacy. But with age comes great power and responsibility. With a wiser sense of things, one is able to outwit  the self-aggrandizing nature of youthful ambition.
For a man like Vince Carter life has been a road long traveled through many peaks and valleys. Which is why bringing the elder statesman full circle in Toronto is the rightful end to an unforgettable career.