Portland Trail Blazers: Greg Oden Offer Is a Head Scratcher
July 1, 2011
Jonathan Ferrey/Getty Images
The NBA regular season is 82 games long.
Since being drafted No. 1 overall by the Portland Trail Blazers four years ago in the 2007 NBA draft, Greg Oden has played in exactly 82 games in his NBA career.
That's it, 82 games. 
Oden has been sidelined for the entirety of two seasons: The 2007-2008 season and the 2010-2011 season (while having micro-fracture surgery on each of his knees). 
Micro-fracture surgery, the same surgery that helped hasten Chris Webber and Tracy McGrady's falls from superstars to role players, has a history of not always being kind to its recipients.
Entering free agency for the first time, one might expect Oden to latch-on with a contender seeking a big man off the bench. His contract would probably be one, maybe two, million a year, until he proves he can stay healthy, at which point he will be rewarded with a richer contract.
The Trail Blazers pulled a fast one on the NBA, extending a qualifying offer of $8.8 million to Oden, making him a restricted free agent and forcing any team that wants to sign Oden to pay at least that amount for a one-year deal.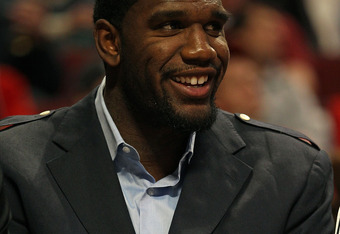 Jonathan Daniel/Getty Images
There are a multitude of reasons why Portland made this offer to Oden (some good, most bad), which will no doubt be analyzed to death by the talking heads on all of the major sports networks. No matter the reasoning behind Portland's offer, it will forever be a head scratcher; none of the potential reasons for re-signing Oden make any sense.
Yes, Greg Oden is only 23 and, at that age, has plenty of time left to develop into an NBA star, but he has shown no signs that he is physically capable of playing at a high level for extended periods of time in the NBA. 
Even when he was healthy, Oden was playing little more than 20 minutes per game. Oden just simply does not have the look of a durable seven-footer. Think of players like Shaquille O'Neal, Tim Duncan, David Robinson and even Dirk Nowitzki. At seven-feet tall, these players have all been able to handle the rigors of NBA games.
But, they're built differently than Oden. Oden's body type just looks ill-suited to handle the running and jumping required to play basketball. There have been plenty of seven-footers who were betrayed by their body's inability to hold up over time—and Greg Oden appears to be the next.
Even before his injuries took their toll, Oden's offensive skill-set was very limited. Yes, the Trail Blazers probably never expected Oden to develop into a 20-10 guy, but time away from the game has likely so dulled his already limited offensive repertoire that he will probably be reduced to playing in a Joel Anthony-like role, providing solid defense for a few minutes at a time while being an offensive liability.
There is plenty of room for a seven-footer on the offensive end of the court, as proven by players like Nowitzki, Pau Gasol and Tyson Chandler, but those players have the ability to work within an offense, create their own shots, finish at the rim or knock down an open jumper when left open.
Oden never had any of these abilities. His offensive game was limited to back-to-the-basket post moves which are quickly becoming a thing of the past in the NBA.
Perhaps the most likely reason Portland is willing to hold onto Greg Oden is their refusal to accept the fact that choosing Oden over Kevin Durant was a bad pick. 
This is the team that drafted Sam Bowie over Michael Jordan, after all. 
If the Trail Blazers are somehow able to get No. 1 overall-pick value from Greg Oden, they will vindicate their decision to pick a defensive-minded center over one of the greatest scorers the league has ever seen.
If this is indeed the case, the Trail Blazers' front office is making one of the worst decisions of all time. 
Just look at the Oakland Raiders. After finally admitting defeat in the case of JaMarcus Russell, the franchise was able to move on. Holding on to a player simply because they were a high draft pick can cripple a franchise and hurt the development of other players.
The San Francisco 49er's and their continued support of Alex Smith are a prime example.
Nothing against Greg Oden, he seems like a great young player and human being. It is truly saddening to see someone struggle to overcome his body's limitations. It should, however, be more saddening to Portland Trail Blazer fans to see their team throw nearly nine million dollars at a role player.