Charles Jenkins: Mama There Goes That Man, from New York to Golden State
June 28, 2011
Every sport has their region. Football is big in Texas. Baseball is big in the West Coast (Long Beach State has a lot of current MLB players). But basketball can easily be debated between two cities, Chicago and New York. 
The two cities have been known to produce some of the NBA's best talent, as reigning MVP Derrick Rose is from Chicago himself. As the 2011 NBA Draft rolled around, there was one player that scouts knew of, his fans adored, but the casual NBA fan wondered "who?" That man is Hofstra's very own, Charles Jenkins.
Jenkins, who was born in Queens, New York, has been playing basketball his entire life. In fact, it's clear that basketball is his life. Jenkins enjoyed a great four-year career at Hofstra, in which he totaled 2,513 points, making him the all-time leading scorer for the Pride basketball team. 
As all great, young, humble players do, Jenkins doesn't put himself first. In fact, Jenkins has motivation in him every time he steps on to the court. Back in 2001, Jenkins' older brother was murdered at the age of 22, which is why he will always wear the number, 22. You can read more of that story from the New York Post here.
While Jenkins enjoyed his time at Hofstra, he isn't done yet. For Golden State Warrior fans, the adrenaline should be flowing. It seems as though Monta Ellis will be on his way out after the Warriors drafted Klay Thompson and Jenkins, who can both score the ball at will.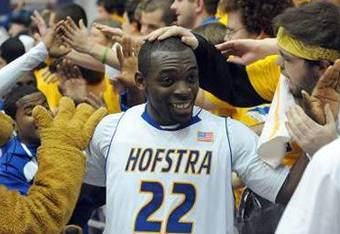 His ability to light up the scoreboard with points is one worth watching, but Jenkins also averaged nearly five assists and four rebounds a game for the Pride. If his numbers don't show that he is willing to do it all, then his heart will. 
Jenkins plays humble, plays hard, and plays ready. For a young man who has faced adversity all throughout his life, from his brother's murder to being a star player at a small school, Jenkins has come through it all. 
We can all be sure Jenkins knows the rule, but will his defenders? Hand down, man down as his coach would say, and once he starts lighting it up, new Warriors head coach Mark Jackson might just think "mama, there goes that man."
Jenkins became only the fifth active college basketball player to have his number retired (Duncan, Laettner, Bobby Hurley, and Grant Hill are the other four) and while his number hangs in the rafters at Hofstra, his number, 22, will be talked about all throughout the Golden State organization.
Here's a young man from New York, where basketball is born. He has faced adversity all his life and came out on top each time. His personality of humbleness and love will make him a fan favorite, and his passion for winning will make him a coach favorite.
From the east coast to the west coast, Charles Jenkins is truly a great story. The best part about this all is that his career is just getting started.