LeBron James, Terrell Owens and Lolo Jones: 3 of a Kind
June 28, 2011
Mike Ehrmann/Getty Images
An over-hyped athlete is like an ineffective politician: It's always those who are most responsible for the problem that complain about it the loudest.
The same TV network to send an embedded reporter to stalk a baseball legend/pariah is the same network to wag its finger at paparazzi coverage. The same writer to crystallize Hall of Fame visions for a teenage hoops phenom is the same writer to blast past phenoms as underachievers. The same radio host to fill his time slot with a controversial quarterback's sound bytes is the same host to beg his audience to change the subject.
It's a sadistic cycle. And three victims who have recently been tossed from the moving vehicle—LeBron James, Terrell Owens and Lolo Jones—appropriately have a lot in common.
In the past month, national sports coverage has been dotted with mentions of T.O. (the NFL superstar) and Lolo (the world-class sprinter), while being dominated by LeBron (the NBA icon).
T.O. made headlines last weekend when news of a torn knee ligament—allegedly suffered while taping a reality show—led to widespread speculation about his football future and knee-jerk retrospectives on a decorated career that may now be over.
Lolo was also in the spotlight, promoted as one of the main attractions at last week's USA Track & Field Championships. But she failed to make the final in her event, the 100-meter hurdles, costing herself a spot at this summer's World Championships after getting out of the blocks too slow in the semifinals.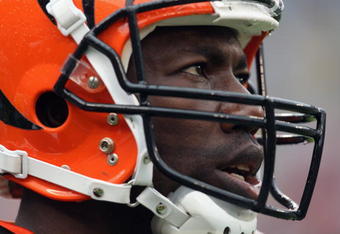 Streeter Lecka/Getty Images
And then there's LeBron. Coming off a second NBA Finals loss where he played below his superstar standard—the culmination of a season under fire that began with his free-agent move to Miami—LeBron has been personally and professionally dissected more than Heidi Montag's face.
The lesson seems clear enough: You didn't create the hype, but since you profit from it, either live up to it or accept whatever criticism comes your way.
All three cases present an unflattering look into American celebrity culture and sports values. All three show definitive examples of the "build them up to tear them down" method. All three are reminders that we're getting it all wrong.
*** *** ***
LeBron, T.O. and Lolo are not only three of the most talented athletes in their respective sports, but they are also among the most marketable personalities.
Check the credentials:
Lolo has finished each of the last five seasons ranked in the world's Top 10 in the 100-meter hurdles, including a No. 1 ranking in 2008 and a No. 3 ranking in 2010. She has two gold medals from the World Indoor Championships in the 60-meter hurdles (2008, 2010), and her personal best time of 12.43 seconds in the 100-meter hurdles is tied for 11th-best in history.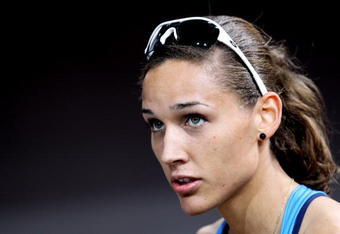 Dean Mouhtaropoulos/Getty Images
T.O. sits fifth on the NFL's all-time receptions list, second in receiving yards and second in receiving touchdowns. He ranks fourth all-time in total touchdowns for all players, and has been an All-Pro five times.
LeBron has two league MVPs, a scoring title, five All-NBA First Team selections and owns a slew of "youngest ever" NBA records. He ranks fifth all-time in postseason scoring average (28.0 PPG) and 15th in postseason assists (6.9 APG).
By all rights, these three should be considered among the greatest performers in the history of their respective sports—and we'll hype them up as such with magazine covers, TV features, best-selling books and a steady stream of merchandise.
But being one of the best isn't good enough in a society obsessed with only being THE best.
When high-profile athletes like LeBron, T.O. and Lolo lose, suddenly we label the hype as over-hype. Suddenly they're overrated, becoming more famous for their public missteps and high-profile failures.
On the biggest stages, where even the casual fans become experts, LeBron, T.O. and Lolo have experienced their most visible defeats. And so they are winners, publicly miscast as losers.
LeBron is the arrogant diva that can't even win a championship with two superstar teammates.
Owens is the bad teammate with no Super Bowl ring who ruins every team he plays for.
Lolo is the choker with no Olympic or World Championship medals, who almost fell on her face when Olympic gold was only steps away.
But if you are truly a fan of sports and of good people in sports, you would be rooting for these three athletes and appreciating what they have accomplished rather than reveling in what they haven't. Because what are T.O., LeBron and Lolo but walking testaments to perseverance and professionalism?
T.O. came from a small town and a small school to carve out a 15-year NFL career worthy of the Hall of Fame. He takes care of his body better than perhaps any football player in the world, and has never been in trouble with the law. Even in his controversial press conferences, T.O. is nothing but honest and forthcoming, which we say we want from athletes.
LeBron was born to a teenage single mother and an ex-convict father. Without going to college, he has built a multi-pronged business empire as one of the world's richest athletes. And trust me, I know a lot of guys who grew up with an incarcerated dad and a young single mom; the fact that LeBron has never been in trouble is a success story in itself.
Lolo was also raised by a single mom, her father was also in and out of jail, and for a period of her childhood she was homeless. Yet she's also stayed clean and went on to graduate from LSU with an economics degree.
If each of these athletes retired right now, would you call them failures, even though they are better at what they do than 99.99 percent of the world? Would you say that they weren't successful, even though they've been at the brink of championships and left most of the competition in the dust? Would you call them losers, even though they've won so much already?
If you look at LeBron, T.O. and Lolo and all you see are a front-runner, a diva and a choker, isn't the problem more with you than with them? If we focus so much on their shortcomings and overlook their success, aren't we the ones dropping the ball?