2011 NHL Draft: Grade for Washington Capitals GM George McPhee So Far
June 25, 2011
Bruce Bennett/Getty Images
For the first time since becoming the Washington Capitals General Manager in 1997, George McPhee traded away the Caps' first-round pick today on the drafting floor. 
GMGM dealt the Capitals' 26th overall pick to Chicago in exchange for the rights to RFA—and arbitration eligible—left wing Troy Brouwer.
This is good and bad.
First of all, the deal spells almost certain doom for Brooks Laich's career in the district. Laich is the kind of guy you don't want to see go—as Dean Evason told me in a personal conversation, "he's a good, hard-working Canadian kid."

OHL coach Shawn Camp, who worked as a development camp coach for the Ottowa Senators, said that he hated seeing Laich dealt to the Capitals because Laich is just one of those guys that always gives you 110 percent and is a pleasure to work with.
Seeing Brooksie go will be really hard for the Caps fan base, organization, coaching staff and players. Brooks worked his tail off in every situation. He was phenomenal on the PK, usually solid in front of the net on the man-advantage, contributed solidly to the forecheck and was a great locker room presence—he would've made a great captain had Ovie not been given it. 
Also, we may not see any more tires changed on Woodrow Wilson bridge by Caps' players.
However, Brooksie is now worth more than the Caps' can afford to pay him. He's a great player and deserves a pay raise—one that plenty of organizations in the NHL would be more than willing to offer him.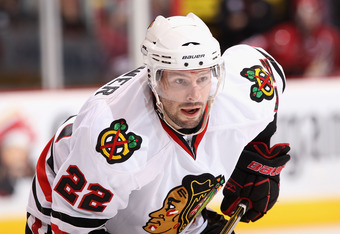 Christian Petersen/Getty Images
So, goodbye Brooks Laich. Welcome—maybe—to Troy Brouwer.
Troy Brouwer is a big right-handed power forward who plays the left wing. Brouwer is only 25 and so he is just entering his prime as he is looking to round out into a annual 20-goal scorer. He potted 22 goals in the 2009-2010 season and contributed well in the Blackhawks' Stanley Cup run. This past season he posted 17 goals for the offensively-starved Hawks.
He's good in front of the net and on the forecheck. He's the kind of the player the Caps need. Unfortunately, he is simply a replacement for Brooks Laich instead of being an additional power forward in Washington's lineup. 
Unfortunately, Brouwer does not come with a contract. The Caps only dealt for the rights to negotiate with him as a RFA. While he made just over $1 million the past few seasons, he's due for a raise but he won't be worth as much as Brooks Laich but will be a suitable replacement—plus, he's been to the top.
One has to assume that McPhee has either already had talks with Brouwer or is confident that he and Brouwer can nail out a deal since he dealt a first-round pick for his rights just before the free-agent market opens. 
On the other hand, he is a restricted free agent, so the Caps have the security of arbitration and offer sheets should a reasonable deal not be agreed upon.
Also, this draft class is not that impressive overall, so McPhee may have made a good move here.
The second round of the draft begins tomorrow. McPhee doesn't have any more picks until the fourth round. But, again, McPhee may have known what he was doing here—the third-round pick was used to get Dennis Wideman, who will still be under contract for the Caps for the next year. 
McPhee has shown some adeptness at drafting very well in the later rounds of the draft. So, look for McPhee to draft some players in the fourth round on that, although they may take a few years to make it to the show, will be valuable NHLers. 
McPhee's grade after the first round is a B.
He has plenty of room to raise that grade. McPhee's work with this draft has been good so far. Realizing that it is not a strong class, he already dealt the third round draft pick (and a prospect who looks to be going nowhere) for Wideman.
That deal was an incredible steal, so McPhee gets props. Wideman, in the few games he played before suffering a hematoma after a nasty hit to the leg, looked to be the answer to the Caps' struggling power play. Wideman is also incredible on the backend in even-strength play and on the PK because of his great poise, positioning, vision and shot-blocking ability.
The second round pick was used as part of the deal to bring Joe Corvo to the Nation's Capital in preparation for a potential Cup run in the 2010 Playoffs. Corvo would've been handy in sharing ice-time with Mike Green quarterbacking the power play and moving the puck up-ice. The deal had potential to be a good one, but because of the Caps' early exit, it was hard to measure Corvo's performance.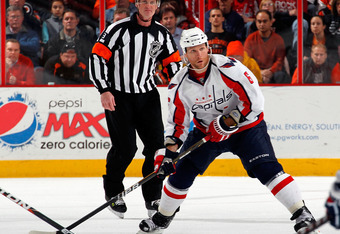 Paul Bereswill/Getty Images
While Corvo didn't do much of anything in his short time in the District, it was a smart move for McPhee to make considering the amount of trouble Mike Green had in the playoffs in years passed.
As for the first round pick, trading for Brouwer was a good move. It was a good move but it wasn't anything extraordinary as McPhee was really just fulfilling a basic necessity in replacing a top-six forward.
So, for his use of his first three picks in this sub-par draft, McPhee gets a B. He can definitely bump his rating up should he make any quality picks in the fourth round and on or if he makes any trades.
What really stands out, however, about McPhee's decision-making so far is that he seems to have a game plan that fits his organization's needs. The Caps have plenty of skilled stars and potential stars—the type of player you draft in the early rounds. The Caps also have plenty of young players and players just entering their prime, so they won't be hurting if they pass up on a few draft picks.
What the Caps really need are battle-tested playoff caliber guys: quality role players, two-way forwards, power forwards and grinders—the kind of guys you trade for or pick up in free agency.
The Caps, for the past few seasons, have had plenty of players on the roster who should've been able to fulfill a role-playing position but came up incredibly short time and time again.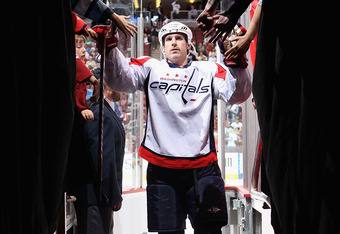 Christian Petersen/Getty Images
With Matt Bradley and Brooks Laich on their way out of D.C., it looks as if McPhee is separating the wheat from the chaff. The Capitals' role players in the past few playoffs have under-performed. Laich only had one goal and two points this postseason and Bradley had zero points. 
Chimera, who had two goals and four points, this post-season is returning. Matt Hendricks—Matt Bradley 2.0, if you will—is returning. Troy Brouwer, who had four goals and eight points during Chicago's Cup run, looks to be taking Brooks Laich's spot.
Troy Brouwer may produce a few less points than Laich, but his willingness to drop the mits and his bruising style of play may turn out to be an upgrade to a Caps team that needs to learn to play a more North American style of play, rather than European (see: Nick Backstrom, Alex Semin). 
Hopefully, this is indeed McPhee's game plan.
Stay tuned to Bleacher Report tomorrow for more coverage on the draft to see if upgrading his team's grit and battle-hardenedness is indeed George McPhee's course of action.
Not to mention, there have been plenty of other brilliant moves (see: Philadelphia dealing Mike Richards and Jeff Carter for Jakub Voracek, Wayne Simmonds, Brayden Schenn and the eighth overall pick used to get Sean Couturier).
There have also been some are-you-out-of-your-freaking-mind type moments (see: Philadelphia committing to Bryzgalov for nine years at a cap hit of $5.67 million per year—seriously, Bryz is a phenomenal goalie and will most likely do well in Phillie but no goaltender is worth that much and after all the goalie troubles Phillie has had, why commit to a goalie that's never played for your team for so much money and time?) 
Anyway, lots of teams have been making great moves and the trend is sure to continue, so tune-in tomorrow to follow the progress of Goerge McPhee and other GMs tomorrow as the draft continues and free agency approaches.